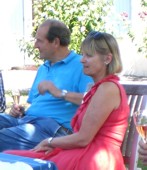 And makes a Video Star out of Jan!
Her video of Rives-Blanques appeared on the Purple Pages of her website, www.jancisrobinson.com in mid-November, followed the next day by the tasting notes of some 50 wines from a number of small, independent producers she met there.
« With its stunning views of the Pyrenees, Limoux is one of France's most fascinating appellations. There is real value to be found here, both in still and sparkling wines », the world's most famous female wine writer said.
Using her widely-read Purple Pages on www.jancisrobinson.com, Jancis Robinson rounded off her in-depthm look at this 'unappreciated appellation' on 13 November with a general write-up about the situation of the winegrowers working there.
Her column in the Financial Times on 14 November was also devoted to Limoux, and carries a list of the top wines she tasted there.