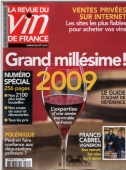 The 2009 vintage was a good one in the Languedoc … for white wines coming from high places, according to France's leading wine publication, La Revue du Vin de France in its exhaustive annual roundup of the best wines of the millésime throughout the country.
A wet winter and spring followed by a dramatically dry summer with less than 10mm of rain over 5 months, led to reduced yields and tricky conditions; it was difficult to successfully navigate the path between picking too early or picking too late. These conditions however, favoured white wines, and particularly those from Limoux
In fact, of the 180 white wines tasted from all over the Languedoc, ten from Limoux were described as being the great successes of the region – les grandes réussites.
The Rives-Blanques wine that seduced the magazine's tasters was the mauzac, Cuvée Occitania. This is the ninth consecutive vintage from Rives-Blanques that has been included in this rigorous selection.
The respected wine magazine agreed with the verdict that 2009 will be a legendary year for France, particularly for some appellations in Bordeaux, and mostly for red wines. The Languedoc was a marked exception, where the white wines from Limoux prevailed.