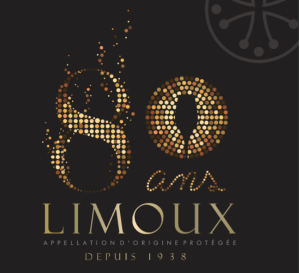 This month Limoux celebrates its 80th anniversary as an official wine appellation.  It was the first wine-growing region in the Languedoc to be given this status.
Thursday 8 February 2018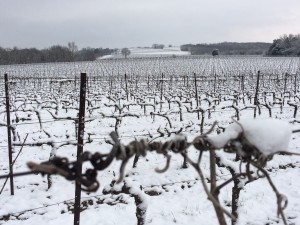 Lots of shaking of heads and « c'est pas normal » mutterings last month, as we walked around in T-shirts wondering where Winter had gone.  And then suddenly, snap!  Ice cold winds howl down from the Pyrenees, and our Icelandic volcanic-stone stove goes into volcanic overdrive.  And now today: snow!  All crisp and white and even, lying over Rives-Blanques  like a carpet.  Blanques in name, Blanques in nature – yes, our rives are truly blanques.  Which is not a bad thing:  cold can kill the bacteria hiding in the trunks of the vines.  Of course, cold can also kill the vines, so you don't want too much of it, or for too long …
And the snow keeps the roots insulated, all nice and warm down there.  It also melts into water that slowly trickles underground in the best possible way.  There is a simple equation for working out how many cls of water you get from x square metres of snow, but of course,  I can't remember it.  What I do know though, is that snow is the poor man's fertiliser.  It falls for free, and brings nitrogen with it – just ask Ahmed, he'll confirm that just from simple observation.
Friday 9 February 2018
New Assistant Receptionist at Rives-Blanques starts work today.  Benson, a three-month old English Springer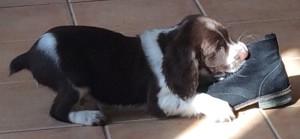 Spaniel has a big head and  a stocky build,  sure proof that this is a sportsman, not a beauty-contest candidate. He is also the biggest time-waster ever to enter our office, as we all give up any pretence of work and sit down to play with him …  Absolutely adorable.  Even thinking of starting a hashtag: #LoveBensonToBits.
Poor Bacchus.  #LoveBacchusToBitsToo.
Tuesday 13 February
S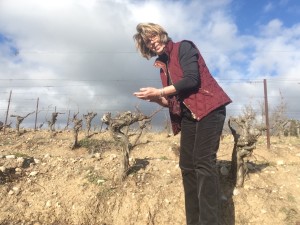 oul-destrying task today, counting the number of standing vines of Chenin blanc in our top field.  They're old vines, no one knows quite how old but probably around 50 years old.   They've been enjoying their view over the Aude Valley, unperturbed for decades, but today is their day of reckoning.
And it's shocking.
More than half of the vines are dead.  That is too many to replace on a piecemeal basis, the whole field or half of it at least, will have to come out.  It's ridiculous to be sentimental about a vine, but they are gnarled, beautiful, and full of character – and the truth it, it's sad. So sad.
But then, what new opportunities does this open?  Could they include vines that shape the « P » word???
Thursday 15 February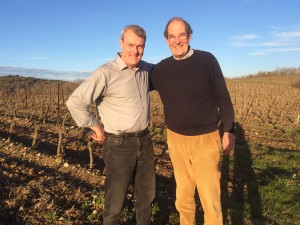 Our man in Quebec comes to Limoux to thaw out.  Last week it was so cold we thought we wouldn't have enough wood to get through the winter.  And today it's all blue skies and balm, and the temperature hitting 18 degrees.  What are the vines to make of this?   I have  horrible nagging feeling that this is shaping up to be another one of those years.
But for Benoit Lecavalier from frozen Canada, this fits the bills nicely as he settles in to spend a day and a night with us, ready to learn more more about Rives-Blanques than he ever wanted to.
Friday 16 February
This guy is unstoppable, he has the energy of firework – but he doesn't fizz out.  He gets off a plane from Canada, gets on a train to Carcassonne, spends the day tasting wine, walking fields, eating dinner, talking and tasting more wines, and then wakes up bright and early the following morning ready to run: a train back to Montpellier, some meetings, a dinner …  but before that, there's work to do.
Jan and Ben hit the road with a bottle of our special Facsimile to show some sommeliers in Carcassonne.  Ben has never seen Carcassonne before, and he loves the magic and mystery wrapping the old town.   But he loves even more the challenge of meeting the sommeliers, and convincing them that Facsimile is the best wine they have ever tasted.   It's what he does all the time on the other side of the pond, after all.   The sommeliers  agree with this personable Canadian, and buy it on the spot.  Ben's day is made.  Jan's day is made. The Sommeliers' day is made.
We wave him off, half wishing to keep him here for ever as our sales person, but even more hoping for a new era of soaring sales in Quebec … and turn our thoughts to the big bright spot on the month's calendar – Vinisud.  Which looms so brightly and so closely that it positively  burns.
Saturday 17 February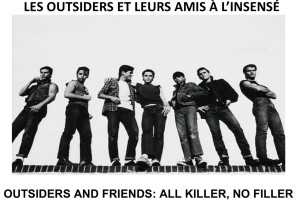 Saturday night fever tonight, and the temperature's suddenly rising.  From my corner  of the room at the Outsider's pre-Vinisud tasting, I spot the face I've been stalking on the internet: Robert Parker Wine Advocate's new Languedoc wine critic.
Cannot believe my eyes.
Look again.
Yup, that's him.  No doubt about it.
Please come this way!  Pu-leeeeze come this way!  Come, come this way, Please-pretty-pretty-please!
He walks over and says politely, « may I taste some of your wines, please? »
Well, this is a good beginning!  Who would have thought,  one of the world's most influential critics of Languedoc wines simply falling in from the sky and casually walking around tasting our wines, as if he really were a real-live person and not just some omnipotent by-line?
Does he like our wines?  I haven't a clue: this one's a poker playing Parker  critic, and I haven't the courage to call the cards.
Sunday 18 February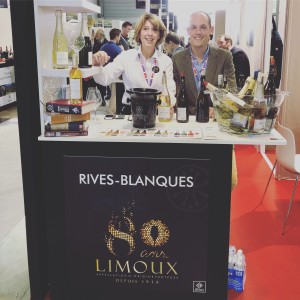 Jan-Ailbe and I are at Montpellier's convention centre at 08h00, prettifying our corner of the Limoux stand for the opening of Vinisud, the big Mediterranean wine trade jamboree.  Our colleagues on the same stand all point out how lucky we are that we face the entrance.  We are, but it's the luck of the draw.   « It was expensive » we reassure them.
Limoux is celebrating its 80th anniversary as an appellation, actually the oldest of the Languedoc, but there is very little evidence of that.
The buyers begin trickling in, and three long solid days of non-stop wine  tasting, sales talk, and networking begin.
« I cannot stand it » says the Austrian smelling our Odyssée, crossly « when people wear perfume at a place like this!  It was… » he sniffs the air around him -« … not Chanel, maybe Lanvin ».  Then he glares at the offending  back receding down the alley.  « I cannot stand it.  They have no right! »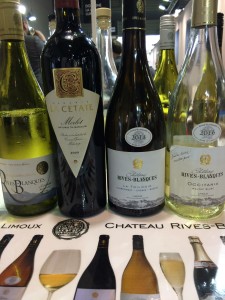 Turns out he's a super smeller, and with extra respect I ask him what he smells in Odyssée.  But he's too perturbed by the invasively passing  perfume to reply.
We talk and taste with visitors from all over the world, from British Columbia, from Estonia, from Armenia, from Britain,  Holland, Belgium Maine and Massachusetts, Finland, Sweden … it just goes on and on and on.  And there's always one of them in, front of us and demanding all our attention,  just as the Robert Parker Wine Advocate man walks past.  Now that we know what he looks like, he seems to be everywhere.
Tuesday 20 February
The party's almost over.  We're packing up and getting ready to run.  A last minute straggler comes by to taste: a wine merchant from Russia.  Nearly everyone around us has gone, and we're still battling on.  Jan, who has replaced his son for the day,  is becoming cross.
Come on! he says, it's time to go!
And without further ado we walk out with a few bottles of left-over wine, some glasses, ice buckets, a case of Cep d'Or Gigondas exchanged for a case of our wine,   a bottle of 2009 Le Cetate merlot which our Rumanian importer kindly brought us, and a couple of spittoons.
And thence  sit in the queue in the parking lot for over an hour trying to get home.
It's been a hard haul.
……/to be continued.