The wettest March in recorded history, followed by what seemed to be the sunniest April put the vines fair and square into May, doing all the right things at the right time. Growing. Glowing. Racing ahead and raring to go – Vintage 2015 has got off to a great start.
Friday May 1
Celebration!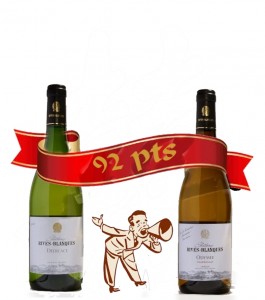 Some people die by "Parker Points", and some people die for them. Some swear by them … others swear at them.
But whatever you think, they are a force to be contended with, at the very centre of a whole debate about how much power a critic has or should have.
Robert Parker Jr no longer is the hand behind the famous Parker Points given out by the respected wine publication, The Wine Advocate, but they bear the heavy weight of his name.
And one thing is pretty certain: any producer who gets a decent rating by The Wine Advocate, even if (s)he professes to loathe the system, will be over the moon. And today the whole Languedoc is rejoicing, because the Wine Advocate's Languedoc specialist, Jeb Dunnuck, has published a comprehensive review of the region's wines. He talks about the great strides forward, the excellent quality of small family-run vineyards, and the "bevy of brilliant wines" the region has to offer.
Yes, of course, we all say that. But who ever listens to us? Very few people. Everyone however listens to the Wine Advocate, and the Wine Advocate has spoken. Loudly and convincingly. May Day becomes a day for celebration for the whole of the Languedoc.
And oh yes, a day of celebration at Rives-Blanques too! Imagine, two of our wines feature amongst the five most highly rated Languedoc white wines (all 92 points). I'll repeat that: two of the top five! To say we are pleased is a massive understatement. And our other two wines (we were allowed to present four in total) were very respectably rated at 88 and 89 points respectively …
Indeed, points to die for. To swear by.
Monday May 5
Ladies who Lunch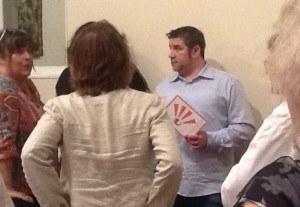 Extraordinary meeting of the Vinifilles, the female wine growers of the Languedoc, in the middle of the medieval town of Carcassonne, cocooned in the comfort of its premier hotel. An all-day session. 18 women all saying what they want to say, and generally all at the same time. Jerome Ryon, the hotel's Michelin-star chef comes in to see what all the hullabaloo's about, and is submerged by Vinifilles. He's a very nice guy and a very good chef… and with the build of a rugby player, just about able to fend for himself. Even when his back's against the wall.
Wednesday May 7
Vintage 2018 on the way!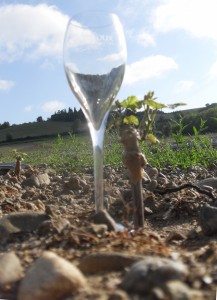 Today we planted the poles that support the wires that support the vines that we planted last month. Suddenly the fields look like vineyards, even though you can hardly see the vines. They are no higher than the glass they will fill … in three years time. This is a crucial period, and they are given nothing but kid-gloved love and attention
Monday May 11
Xaxa's turn
Got an amusing note from Graham Nutter of Chateau Saint Jacques d'Albas in the Minervois. The Chateau is, that is – Graham himself was in London, at the Maison du Languedoc on Cavendish Square.
Xaxa being kept very busy, as she is the first table in the shop and being « white wines », tends to be tasted first. The fact that she is tall, striking and original has nothing to do with it.
It was the gathering of the Outsiders, a group of winemakers who bill them/ourselves as being 'maverick'. I'm not so sure about that. « Maverick » is OK by me, as long as it also means sincere, hard-working, committed, quality-minded and ambitious to make the best wine possible … which are the main characteristics of the members of this group. Thanks to The Wine Advocate's new report on the region, we can also add that seven of them/us got 90+ Parker Points, which is pretty good going.
So today Xaxa feels the pain of standing on her feet all day long. She got caught out by a sharp-eyed journalist who said the Blanquette couldn't possible be 100% mauzac since the label said there was but 90% mauzac in it. Instead of explaining that she's the dumb one of the family ill-equipped to answer intelligent questions, which is why she's doing a PhD at Oxford instead, she admitted to a printing error.
Oh well, no one's perfect.
Tuesday 12 May
Perfection Plus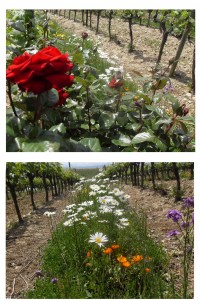 Vineyard inspection shows the vines to be doing splendidly. So are the roses, and the wild flowers between them. It's all humming along nicely.
But weather forecast for high winds and low temperatures has put us into overdrive. We've taken on extra hands. Everyone is out there, trying to get all the necessary treatments done, and binding the vines between wires so they don't get damaged.
Wednesday 13 May
Win some Lose Some

As if to prove a point: Decanter World Wine Awards gives a silver medal to Odyssée 2013: good, but not really good enough for a wine that has had such phenomenal reviews. It gives a « Commended » to our top wine, Trilogie 2012 … the best Trilogie we have ever made, we think, gold medalist of the top French competition, and generally considered better than the 2010 which romped home with a Decanter gold. So what do you make of that? Nothing much. Just seems to prove a point – if indeed there is any point to (be made about) wine competitions.
Friday 15 May
The heavy winds forecast for yesterday, which threw us into such a frenzy of activity, never came.
They came today instead.
Feeling quite smug.
Saturday May 23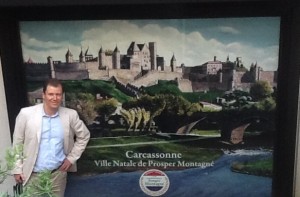 We take cold comfort from the fact that our wines travel or have travelled either on Aer Lingus' Premier Class or KLM's World Business Class … while we are in the back of the bus for a 15 hour trip from Toulouse to Tokyo. Toulouse to Tokyo has a nice ring to it, sounds so convincingly quick and comfortable . The first thing we see in Tokyo is a huge picture of Carcassonnne, and we do a double take. No, can't be Carcassonne, today is Tuesday and this must be Tokyo.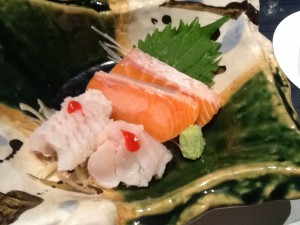 There's an amazing week awaiting us and it begins with tempura and ends with tempura, and there's an awful lot of sushi, tempanaki, sashimi and kaiseki in between: a round dozen of absolutely memorable, unutterably delicious meals.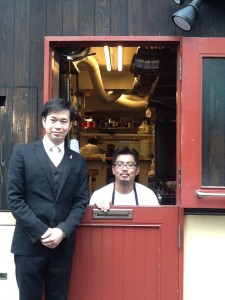 We learn to navigate Tokyo's wholly impressive metro system – right into the middle of an earthquake, as we learn from a fellow passenger's iPhone's google translate. But never mind, we emerge safely and are picked up by our importer's salesmen to visit Michelin star restaurants, ex-Michelin star restaurants, Michelin star restaurants-in-waiting, big restaurants, small restaurants, wine bars … about 25 of them, and nearly all have our wines on the wine list. They love Odyssée. And we love them for loving it. It is simply wonderful to see the fruit of our hard work being sipped and supped here on other side of the globe.
Odyssée is tempang says Masaki-san, explaining that the cast iron plate used for tempanaki is always a sure and safe bet.
Masaki-san passes us on to his colleague Sakiko-san waiting on the corner under a shady tree, and we're off again, up stairs, down stairs, into the metro, out of the metro visiting her customers. Then it's Yasuko-san's turn to scoop us up outside a wine bar and carry us onwards into dinner, as if to the finish line of a relay race.
The Double Brasserie is très francais and here we do a Wine Makers Dinner. We brought a bottle of our late harvest with us to give their guests a little extra surprise at the end of the meal, whereupon the waitress, Mathilda-san (not her name, obviously, but something very like it) rushes off and returns with a red face and a big bag full of surprises of her own. Out come various packets of tea, miso soup, tinned squid and other Japanese delicacies. This is an amazing visit.
Day Two follows on Day One in much the same way. And so too Day Three. We are eating for Rives-Blanques. We are walking for Rives-B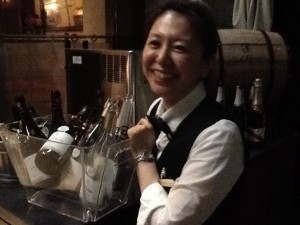 lanques. We are getting very used to this bowing thing, in fact it seems totally normal. Even the Metro guards performing their elaborate ritual for the arrival and departure of the trains have already paled into normality. So too the self-lifting toilet seat covers, heated seats and back-lighting in the bowl (with optional extra of « buttocks cleansing spray »). Not to mention delicate morsels of raw fish at breakfast. And we continue to be passed on from Hisae to Sakiko to Masaki, pouring Rives-Blanques all over Tokyo. We are getting to feel quite at home on Tokyo.
And then dinner. At the elegant chef Ohara's dining room (not to be confused with O'Hara, as we did, expecting an Irishman to appear) or rather the chef Ohara's elegant dining room, he himself being far too quizzical and cheerful to be called elegant, we are fed an incredible meal including eel on foie gras – a first even for Jan, born and bred in an eel-eating country. The guests who have come to Meet the Winemaker do not speak a word of English or French, but we become great friends with them. Heaven only knows how Jan discovered that the dynamic and vital woman sitting opposite him, whose name means Seven Villages, was actually a triathlon athlete …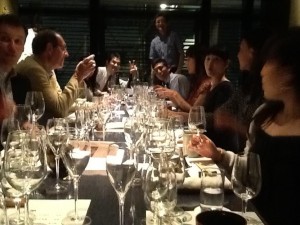 The following day, more of the same. More bowing ourselves in and out of restaurants, more going in and out of the metro, and then suddenly Masaki-san announces a
« little break ». We turn into a small door hidden behind a flutter of beige linen, and find ourselves installed behind a cup of green tea in a small back room of the Uotake restaurant (meaning » fish and bamboo »), while around us are the sounds of flurried and fervent preparation: the last Meet the Winemaker event of the week. The relay-race has been run, and we have been delivered to the finish line.
Describe it? Impossible. A large low table on a tatami-floored room. Cool shades of taupe on the walls. Low lighting. Masaki-san, our importer's salesman in real life has converted himself into an aproned waiter and is himself pouring the wine. The guests are all women, save one lone besuited banker who is a native English speaker. The kitchen is known as kaiseki, which roughly translates into haute cuisine and means that the chef is endowed with the special skills needed for taking out the tiny bones of the vicious-looking conger pike currently being paraded around the table. The first course has a tiny little crab sitting on a slice of beef and a decorative ring of corn kernels surrounding a corn mousse, a crab you eat in one crunchy, heavenly mouthful. Conger pike, seaweed, salmon, more conger pike in another form, bream and a miscellany of vegetables follow. I have never ever had such a delicious meal in my life.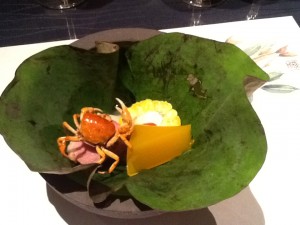 The best part is, our four Limoux wines go splendidly, absolutely made-to-measure, with this panoply of fine flavours.
It ends with a tiramisu made with aubergine, and our late harvest, another marriage made in heaven. The Manager comes out and says this is the first time in the 80-year history of this place that they have had a winemaker dinner, and he gives us a bottle of soju to take home.
We bow ourselves out of the restaurant, out of the month, and with some regret, out of Japan.
…/to be continued next month.