Maybe it's a Catholic sense of guilt that makes the local Limouxins say so gloomily, « rain's on the way again » as they admire this panorama of gleaming mountains hanging like freshly washed laundry against a pristine and perfectly blue sky. That is how February came to our plateau: on a plate, and dressed to kill.     So stunning you simply could not keep your eyes off the day.  We sit here, gaping, gawking and congratulating ourselves on the absolute beauty of this place.
Even though we'll probably have to pay for it.
So we save for a rainy day all the preparation that goes into exhibiting at Vinisud, the biggest trade fair of Mediterranean wines in Montpellier, later this month …
Monday February 3
There's a lot of Limoux in this glass of Le Limoux: immaculately pruned vines, sunshine, mountains, cool air, crisp blue skies … palm trees. There's also an awful lot of us in it: aspirations, dreams, ambitions, sleepless nights, trials, tribulations … triumphs. Don't ever tell me a glass of wine is just a glass of wine, when there is all that in it!
Moral of the story: it doesn't matter if your glass is half empty or half empty.  Just as long as there's all that in it  …
And a few stories at the bottom of it, as well.
Tuesday February 4
Chenin, by George! 
Well, Rosemary George, one of the world's 300-odd Masters of Wine, seems to have liked what she found in her glass at the Outsider tasting last week. Very nice tasting notes on her blog, which gladden the heart and give us courage. Clearly, our chenin blanc is a hit with her. A hit with us too: being a late bloomer, it escaped all the downs of last year's harvest and gave us barrels full of ups – saved the day, in a word. It's also our wine that has had the most acclaim from the most acclaimed, like Jancis Robinson. Why then is Dédicace the slowest seller of all our wines? And why are so many people shy of chenin blanc, one of the great grape varieties that expresses a sense of place better than almost any other?
Wednesday February 5
So the rain comes and falls in heavy wet ribbons with immediate and dire consequences: not one, not two but three tractors stuck in the mud – the second because it came to the rescue of the first, and the third because it came to the rescue of the second. I cannot bear watching this brutish lumbering as they slide and slip over blameless vines standing haplessly in their way, and retire to the office to watch instead the sun setting sleepily behind the mountains, promising another magnificent day that undoubtedly will promise more rain.

Thursday February 6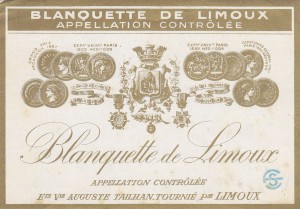 So here's a story in the bottom of our glass. For years we have declined to participate in the granddaddy of all wine competitions, which is revered in proportion to how long it has existed – for ever, apparently. In fact, the fellow who owned our land about three owners before we came along, used to win gold medals at it with his Blanquette in the late 19th century. Five years ago or so, we and a number of other small, quality-conscious Limoux vineyards wrote to the organisers saying we would never participate again: too many results were being rigged, too many bottles were being doctored into something better than they were, too many producers had their own family or staff members on the judging panels, judging their own wines, and some producers even got away with presenting someone else's wine dressed up as their own – in short, it was a mess. Then the big clean-up began, and some of us decided to give it a go again this year.
In order to guarantee complete anonymity, all wines have to be submitted in identical, unmarked bottles. We are asked to collect these bottles, take them home, pour our wine into them, and then wait for someone to come and pick them up and carry them off to the first round of judging.
« How do you know," I ask the fellow who comes to collect our anonymous bottles, "that I haven't gone and bought a Grand Cru Burgundy and put it in this bottle?"
« I don't", he agrees, "but I trust you."
Well yes, I trust me too. But even so …
« What a gorgeous view!" he says as he leaves. "It means that rain's on the way, you know."

Friday 7 February
Well it seems he's right on at least one count: it's raining again. Time to send out invitations to our stand at Vinisud: Hall A5 # A38
But by lunchtime the wind has chased away the rain, and another magnificent afternoon threatens to engulf us.   He was right after all – on one count.
Sunday 9 February
Iconic tonic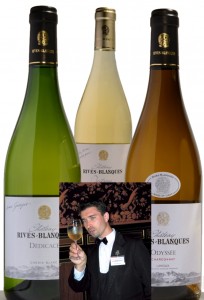 Dominique Laporte may not be a household name all over the world, but he's well-known in France.  At one time or another, he has held the title of Best Young Sommelier, Best Sommelier 'ouvrier', No 3 Best Sommelier in the World,  Best Sommelier of France, and International Port Master.  (That is, port as in port, not as in harbour).
He's the fellow who has been charged with the job of heading the selection committee to choose the 'Iconic' Languedoc wines that will showcase the region at Vinisud later this month.
Many were called (1525 wines) and few were chosen (530 wines).  We were glad to find three familiar faces amongst the great and the good: a chardonnay, a chenin blanc, and a mauzac … all from Rives-Blanques.

Wednesday 12 February
The organisers of the wine competition phone and complain.  The analyses supplied by the laboratory to accompany the blind bottles are not complete: they lack the exact number of hecto-litres that were made of each wine.
« I can fill that in for you, if you like », I offer.
« Oh no! » they say, shocked, « the laboratory has to do it! »
« But the laboratory doesn't know how many hl we made.  We  know how many hl were made. »
« That is so » she agrees, « but you will have to tell them, and they will have to re-do the analysis. »
Thursday 13 February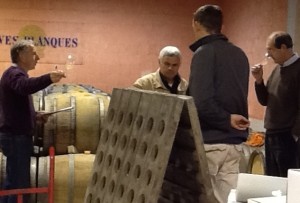 Big tasting day today, all the 2013 wines.  We plough our way through the chardonnay, the chenin blanc, the mauzac.  We taste and compare, we compare and taste.  Why is the mauzac that underwent completely natural fermentation so absolutely marvellous, whereas the chenin blanc that had commercial yeasts added to it is so much better than the chenin blanc that didn't?
It is clear that there are no rights and wrongs in this game.
Though the vintage does taste very right to us.
Friday 14 February

It's the wine competition on the line again, and they are not calling to wish us a Happy Valentine's Day.
« Madame Panman » is the prelude, followed by « thank you for the analyses.  But the laboratory has forgotten to include the lot number this time. »
« I can give you that.  It was on the previous analysis, the one without the Hectolitres … » I say.
« No, I am afraid it all has to be on one sheet, and only the laboratory can do that. »
« But the laboratory doesn't know  the lot number.  Only we  know the lot number …. »
She begins to interrupt me, but I already know what she is going to say.
« Okay, okay, I know. »
So back we go to the laboratory.
Saturday 15 February
Historic folkloric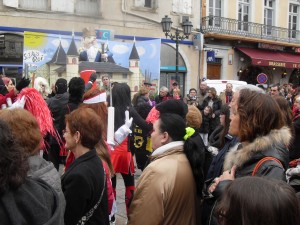 Limoux's carnival started this year on January 26, which coincidentally happened to be Australia Day, India Day, Burns Night, the Outsider Tasting at Montpellier, and the birthday of at least half a dozen people we know.
A propitious beginning.
And the end is still no where in sight.
It is the world's oldest, longest, and longest-running carnival in that it goes on, relentlessly, come rain or shine, for three months.  The locals are crazy about it.  They love their carnival with a passion.  Don't imagine that the people looking on with such rapt attention are tourists – no, they are local Limouxins: this is something they do for themselves, and only for themselves.
This year I got away lightly.  Last year our friend Francoise Antech of the eponymous fizz, invited me to join her carnival group.  A whole  day and a whole night spent dancing, drinking, eating, dancing; it took me a week to recover.  This year, we were invited to spectate – but even as a spectator sport, it's exhausting.
And each time we go with her, enthusiastic ambassador as she is, another veil is lifted off the misery … er sorry, mystery of carnival, and you get a brief and illuminating glimpse of the carnival glue that has held Limoux together through the ages.   Since 1600-something, in fact.
And you might also get a brief and dizzying moment of sheer enjoyment.
But if you ask the carnivaleers what is the meaning of this year's theme,  the King of Carnival (destined to be burned on the Nuit de la Blanquette which closes the year's festivities) in his beautiful Chateau, they will mutter something ambiguous or unintelligible.  And certainly in a low voice.  Because there are still veils to be lifted for the outsiders.
Wednesday 19 February
Get a phone call from the fellow who collected the bottles for the wine competition.
« About that wine competition … » he begins.
« Well, what is it now? » I bark back.
« Well, um, err, very sorry, but um, I took one bottle too many.  You'll have to come and collect the extra bottle.  And store it. »
A witness bottle!  Well, well.  Things are beginning to look up.
Friday 21 February
Bottling Day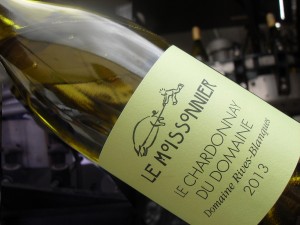 Went like  a charm, the bottling today.  According to the lunar calendar it's a good day, but not a particularly great day.  But the wine seems to think it's a great day, and came bounding off the bottling line with undimished joy.  First off the line: haute couture by haute cuisine – a special label done for one of Germany's top Michelin-star restaurants, le Moissonnier.  And it's looking good.
Didier, who drives and manages the bottling truck, came into the office to set the next and last bottling date for our Pays d'Oc. He can do 27 March.
« Impossible! » we say. « The 27th is a terrible  day.  It has to be the 28th! »
« Oh » he says, « I suppose it's that moon thing? »
Yes, it is that moon thing.  So he moves his other customers around to accommodate us.
Now, that's what you could call service.
Sunday 23 February.
Vinifilles Guiguette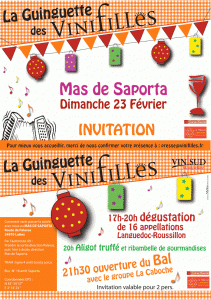 The invitation says « Guinguette », but you've got to know what a Guinguette is in order to know what a Guinguette is.  And what the promised the Aligot is in order to know what an Aligot is.   Now we all know.
This was the Vinifilles launch – lurch more like it – into Vinisud, the big wine trade fair of the Mediterranean region.  The Vinifilles are the female winegrowers of the Languedoc, and if there is one thing the female winegrowers of the Languedoc can do, it is throw together a party in no time at all.   The party they threw together was a Guinguette, a sort of Pop Up party, mid-20th century country style.   With lots of Aligot to eat –  bangers and mash, in other words.  And old fashioned Edith Piaf type music, with lots of accordion, and twinkling lights, and bunting and balloons all over the place, and tables covered with gingham cloths.  All put together in under three hours: ready, willing and able to face over 300 guests.
But the party started seriously, with a serious wine tasting.  Difficult to be serious for too long, when there's a crush four or five people deep.  You sort of give up.  They came from far and wide, wine professionals champing at the bit to taste more wines before the marathon of Vinisud begins.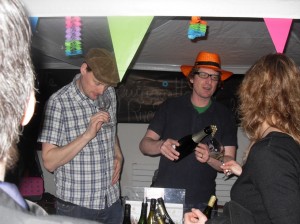 The Vinihusband of a certain Vinifille was late in arriving, leaving said Vinifille in a very tight spot.  Two wine importers on the other side of the table, tasting the wines, manfully stepped up and crossed the line.  Next thing, they were facing the crowd and pouring the wines. Bravo!  That's the true Vinifilles spirit!  Stewart Travers of Cambridge Wines and Derek Robertson of Harper Wells in Norwich – the best Hon. Vinifilles I have yet to meet.
Party ended late, but we ended later.  Being Vinifilles, we do it all ourselves, so down came the balloons, the bunting, the tents, the gingham curtains.  When the last candle was blown out, we were …. dead.
Monday February 24
Vinisud!
But up bright and early this morning, standing behind the counter at Montpellier's convention centre, bottles chilled, glasses put out, posters hung, and ready for our first 9 a.m appointment.  Which was not a good one.  In fact, a very bad one.  And we and our Irish importer decide to part ways … which is a shame, it is a bit like breaking up a marriage.  All that wasted energy and effort.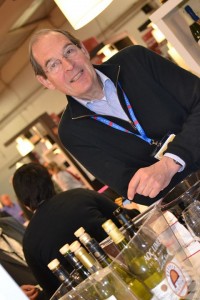 Even if you know it's for the best.

Wednesday 26 February
The party's over!  It's been a great Vinisud: we've met a lot of people, there has been a lot of interest in our wines, and we feel pretty buoyed up.  Tired though. The smile is becoming a bit fixed.    Feel ready to go home … and get ready to pack up and leave for the USA this weekend.
…./to be continued.