Spring comes to Rives-Blanques skyful of birdsong. We sit on tattered wicker chairs watching the sun sink behind the mountains … and into our glasses of Blanquette de Limoux. They shimmer with light. "This is what life's all about" Jan says happily, lifting his glass to his lips. In this complete, bird-punctuated silence, you can actually hear tiny leaves unfurling from vines that still look dead, bravely flagging the way to Harvest 2014. He's right: this is what life's all about.
Tuesday 8
USA Here We Come!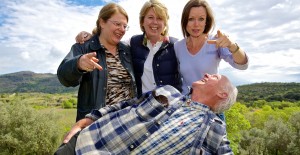 Meeting of the Outsiders in an appellation called Terrasses de Larzac: a lovely place with an unlikely skyline carved out of rugged rock. We're at Beatrice and Sebastien's Clos du Serres, a 15-ha estate full of carignan, syrah, grenache, and cinsault, with a bit of something called Oeillade on the side. Oeillade is a distant parent of Cinsault, and Sebastien is very keen on it.
What a great wine place the Languedoc is! Here we are in a totally different landscape, drinking totally different wines made from totally different grapes, just an hour and a half from Limoux. And not a white in sight … But what is in sight is that these lovely, diverse and different wines will be available to our American visitors at exactly the same price they pay when they visit us and buy them at the cellar door. Not Sebastien's Oeillade, but a lot of the others. So exciting!
So that is one hot topic of discussion at today's Outsiders meeting. Those of us who are embarking on this adventure huddle together for a little sub-committee meeting: Catherine of Chateau de Combebelle (Saint Chinian); Limoux is the monkey in the middle, and Liz of Domaine de Saumarez (Coteaux du Languedoc). Graham of Saint Jacques d'Albas in the Minervois reclines pasha-like on his couch, and missing is Vianney of Chateau d'Angles in La Clape, who has just walked out of the picture to give Graham his moment in the sun.
Friday 11
Limoux is dressing itself up at a frenetic, frantic rate: suddenly tulips pop up in neatly arranged beds all over town. Facades are being washed down and spruced up. Signs diverting the traffic lounge around ready to be hammered into place. This weekend belongs to the Cooperative Sieur d'Arques, the beleaguered but biggest producer in the appellation, hosting its annual Toques & Clochers auction of chardonnay. You can say many things about the CoOp, and not all of them always good, but no one can fault this: truly the party to end all parties.
Sunday 13
Something to celebrate?
The chardonnay auction beats all records (as it always does).  This is Toques & Clochers' 25th year – which it never is, or at least, is only once. Average price of a barrel is € 5000, which translates into about € 20 plus 20% tax plus auction fees plus commission etc per bottle. Holland is usually the biggest buyer, but this year it was outdone by Brasil, who goes home with 20 bright new barrels of chardonnay in its pocket. That's quite a lot of chardonnay.
Monday 14
Something to celebrate!
My new hero: a socialist senator from the Aude called Roland Courteau who got a standing ovation in the National Assembly while Limoux was busy fete-ing itself. "Wine is a living heritage!" he told them, "wine is a part of the culture, the gastronomy and landscape of France." And they agreed, and wine has now been given official Patrimonial status.
Wednesday 16
Wine Tourism
Everyone is talking about oenotourism, and so are we. It is the salvation of the Languedoc, say the pundits. We discuss it over dinner, as so many people do. "We're wine producers, not tour operators!" Jan affirms (loudly). "Our business is to make wine, not to entertain!" Quite so.
But some of us think we should do more about wine tourism, even more than our Tuesday Tour, Talk and Tasting – which is quite a lot, come to think of it. But right now there is a party of four people from the Americas lounging around the table on the terrace outside the office. They have a bottle of Blanquette in front of them and four glasses – and the best view in the world. They are smoking cigars and cigarettes, and have requested an ashtray. The Blanquette is warming up, as indeed they are too, and they ask us to chill it down. They have spent an hour tasting our wines, bottle by bottle, and now they are spending another hour drinking one of the three bottles they finally bought. They are really quite drunk. They are singing Irish ballads and they show no sign of leaving.
"So you think we should go into oenotourism?" Jan asks sweetly.
Thursday 17
Nic-picking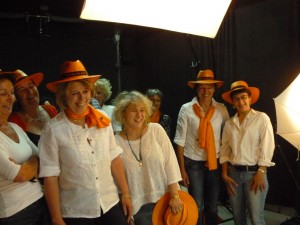 At the table we find ourselves talking about oenotourism again. The Vinifilles, the feisty, indomitable female winegrowers of the Languedoc and Roussillon, have met up in Montpellier for a photo-shoot – what everyone insists on calling Le Shooting. (We all turn up wearing jeans, orange hats, orange scarves, jeans and a white shirt, as instructed. Next instruction is that we all have to throw our feet in the air, because it's actually our feet the photographer wants to shoot.)
The big question of the day: do you charge your visitors, or do you do tastings for free?
You charge! Otherwise you devalue your wine and your time!
No charge! It's part of the love for your work!
But they charge in America! They charge in Australia! They charge in South Africa!
But we don't, because we do it for love … it's the ethos of being an 'independent winegrower'!
"But they're terrible! Tourists are terrible!" says Emmanuelle, " I find them having picnics in my fields! I say to them, excuse me, this is private property. I do not come and picnic in your garden, so please do not picnic in mine. »  
(And please do not sing Irish ballads outside my office, frightening the dogs.)
The problem is, we are not big, institutionalized corporations.  We are small, family concerns completely focused on growing grapes and making wine – and any visitor interested in that is genuinely and joyfully welcomed. But how far should we go sharing our private dreams with people who just want a nice day out?
The issue remains unresolved because at that point  we need to go and throw our feet in the air for Le Shooting. 
Friday 18 April
Sowing Sexual Confusion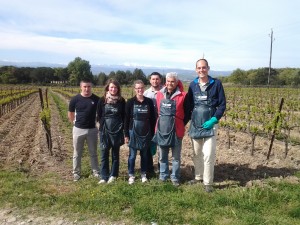 No, this is not a belated April Fool's joke.  Today we put little plastic containers full of pheromones throughout the vineyard.  They emit a smell which confuses the little moths who come to find their mates in our vineyard, there to joyfully multiply and lay eggs from which hatch grape-decimating worms. They are a menace.  Normally you will spray the living daylights out of them.  But we just sow sexual confusion – in fact, we were the first vineyard of the Languedoc to do this.  So far, so good; the system seems to work, and thanks to a European grant, now everyone on our hill is doing it.
And it was a gorgeous day for it too.  So we got together with the neighbours and the Chamber of Agriculture and got to work.
With a big smile, and a glass of Blanquette afterwards.
Tuesday 22
Spring Clean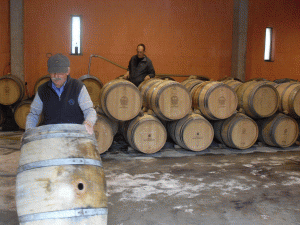 Another landmark day today: we emptied half the barrels in the cellars and put the wines together.  That's the first step towards bottling our blend Le Limoux, and the mauzac Occitania.  An oh yes! Most exciting of all, La Trilogie, our top wine.  We only managed to get 1300 bottles of it … but they will be 1300 very good bottles!
The chardonnay and the chenin blanc stay in their barrels for the time being, quietly contemplating life.