Tuesday 2 May
Going Dutch
A pretty good start to the month when the doyen of Dutch wine-writers chooses our new blend, Le Limoux, as one of his 'discoveries' of the month. Hubrecht Duijker actually is the most published wine-writer in the world – more than Jancis Robinson, Robert Parker Jr. or any of their ilk – which is a rather surprising statistic: the country hardly has an established culture of wine consumption or production. So it must be because of the man himself, a natural Vinpressionist. We're hugely encouraged by his kind words (click on his picture to read them … if you read Dutch, that is).
Wednesday 9 May
Memories are Made of This
Punter came by from the northern climes of France today. We started the tasting with a clean, clear fizzy glass of Blanquette de Limoux.
« Ah » he says, « I had my first – and last – Blanquette de Limoux in Kabul. »
Now that is surprising.
« Not ours? » I ask, hopefully, hoping against hope.
No, not ours; in fact, not anyone's whose name he could remember or ever even knew. This was forty two years ago. He was one of the 1300 people participating in Citroen's first 'Raid' – a massive rally from Paris to Kabul in 1970. Armed with a pristine, two week-old driving licence and carried by an ancient and unreliable 2CV, he set off across the continent with little more than a head full of hope and a bottle full of bubbles in the boot. A dozen countries and 16,500 km later – covered at a sedate 70 km an hour max – he and his four 18-year old mates arrived in Kabul, safe, sound, and only a little worse for wear. They opened the boot of the Deux Cheveaux and triumphantly hoisted, then downed, their bottle of Blanquette de Limoux in celebration – also safe, sound, but probably a lot worse for wear
« It was the first Blanquette I had ever had in my life, » he pronounced, draining his glass. « And I haven't had one since ».
He left us with a carton full of memories under his arm: the easiest sale I've ever made.
Friday 11 May
Another Magic Mauzac Moment
I love anyone who loves mauzac. I love KLM's wine buyer. I love wine writers Antoine Gerbelle, Tom Stevenson, and Frank van der Auwera, who all encouraged us to persevere with our mauzac, by saying so in black and white, when nobody else did. I love La Trompette's Matthieu Longuere, the very first Maitre Sommelier of the very first Michelin starred-restaurant to put it on his wine list. I love Decanter magazine, whose Steven Spurrier wrote about it as the wine he was currently drinking. Twice. And today I love, love, love all the UK's top sommeliers!
Our cuvée Occitania is not such an obvious choice. It's a bit off the beaten track, something different. But today after tasting 1850 wines, the Sommelier Wine Awards came out with the results: a gold medal for the Limoux mauzac, Occitania!
Bravo!
Saturday 12 May
The Wild One
A bit dangerous naming a wine The Wild One. That's our sauvignon blanc, until now whipped into food-friendliness and good table manners by being made in oak barrels. In fact, the most 'heavily' oaked of all our wines. But tonight, as the sun sank into a burning horizon and pin pricks of light began puncturing the darkening sky – i.e. it was getting really late and we were really tired – we wound up our tasting of the 2011 wines, only just taken out of their barrels, with Sauvageon, the wild one… and it showed its wild side.
That got us going again.
« You've got to do this » Pierre says, « it's lovely. Really different. Really original. »
« Hmm » says Jan, half way between a hum and a yum.
« I like it too » says Eric.
« Me too. Let's go for it! » That's Caryl, uncharacteristically reckless.
So we chuck out all the new barrels, and allow Sauvageon to show another side of itself, fresh, flowery and full of gorse (or is it broom?).
Bottling next month. Then we'll know if we've done the right thing.
Tuesday 22 May
Gold and Goodies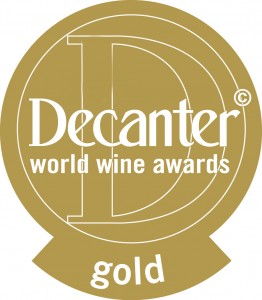 Our landscape of light and luminance is hidden behind a curtain of rain. Drippy, droopy days like today need a shot of sunshine, and so do we.
It comes, unexpectedly: a gold medal for our top Limoux blend, La Trilogie! From the Decanter World Wine Awards in London. Now, this is good news.
But you can never have enough of a good thing. The next message arrives hot on its heels, pouring sunshine in bucket loads all over our morose plateau:
Another gold medal ! … for our chenin blanc, Dédicace!
And then more good news:
A silver medal for our brand-new blend, Le Limoux!
And then again …
A silver medal for our mauzac, Occitania!
Thank you, Decanter, you really made my day. Sunshine all over.
(Actually, more gold medals were awarded to Rives-Blanques than any other vineyard in the Languedoc … and in fact, for the whole of France, only three producers came out richer in gold, and they were all big-name Champagne houses. Talk about a sunny drippy droopy day…!)
Wednesday 23 May
Yet Another Magic Mauzac Moment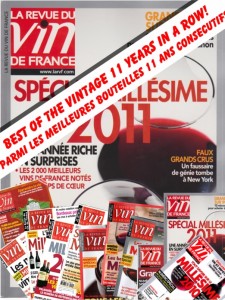 You can be lucky once. Twice. Even three times. But eleven times is something else. So with a degree of trepidation we opened our copy of La Revue du Vin de France with 'Millésime 2011' splashed all over its front cover, which was brought to us by a bad-tempered horn-hooting replacement postman today.
Every year France's premier wine magazine undertakes a marathon vintage tasting of all the appellations throughout the country, and then draws up a 'short list' of 2000 or so top bottles of the year.
Every year, a wine from Rives-Blanques has appeared on that list. Either as An Exceptional Success, or as A Great Success, or just as A Success. ( But a success none the less.)
Every year we wonder if the gods will continue to smile on us; if our wine will still please Bacchus (who is as fickle and might also be as bad-tempered as our replacement postman).
But fortunately it is Jean-Emmanuel Simond who is tasting the wines.
Languedoc's white wines outperform the reds, the Revue du Vin de France's Languedoc expert writes in his summary of the 2011 vintage. "2011 is Limoux's year!"
So far so good.
"Go for a Limoux!" he adds, convinced and convincingly.
So we go to the Limoux section of his selection and there see our mauzac, Occitania. Not an Exceptional Success or even a Great Success as in some previous years, but A Success.
A success is a success none the less, and we are very happy. And very proud of our mauzac for doing so well (for the fourth time). And like the Michelin chef who finds he's still in possession of his star, very grateful as well.
(And Jean-Emmanuel's palate is pretty unerring. Our chenin blanc, which he selected last year, won a gold medal from Decanter this week.)
…/to be continued