Friday September 1, 2017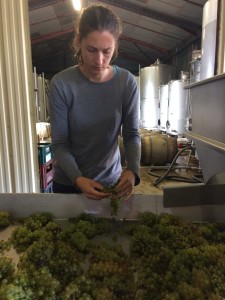 What a beautiful day!  What a beautiful picking day!  What beautiful  vines to be picked!
We're all wearing sweaters, how is it possible?  Just three days ago or so it was relentlessly, pitilessly, horribly hot.  Now it is … beautiful.
So the crew moves fast and purposefully through the chardonnay, which  is obliging: it falls without complaint into their buckets, then into the  porteur's basket, then into the trailer, then on to the sorting table where it passes through our blameless fingers on the way to the press.  (Where it is being pressed at this very moment.)
Dany suddenly emerges from the aforementioned beautiful vines with purpose and speed and full of intent.  Without saying a word he hauls a long knife out of the tractor and appears to be slitting his wrist with it.
"Un viper!" he says, while squeezing out the blood,  ' a field snake …"
And then efficiently and single-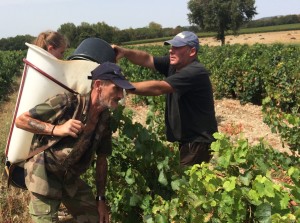 handedly bandaging up the wound, he explains that a green snake jumped out of a vine and bit him.  "They go there in the early morning," he explains  'for the moisture, and for all the little animals, mice and things that come and eat the fallen grapes."
And then, amazingly, he goes back to work.  "It'll take more a snake to put me out" says the ex-Legionnaire.
Yes, we have some toughies on board.
His ex-wife is next in line, with blood gushing from her finger.  She's almost as toughs he is
"A snake?" Jan asks carefully.
"`No" she says shortly, "Jade".
Jade is the nice diffident young woman cutting the grapes on the other side of the vine.  She came pretty close to making the blood, sweat and tears that goes into our wines a very real and literal thing, as she took a slice of Christine's finger with the bunch of grapes.
Otherwise, uneventful today.  The grapes from the first field, Tournié, were amazing.   But there just isn't enough juice ….
Saturday 2 September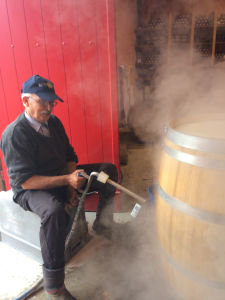 Amazing how such an unusually early harvest so wonderfully concentrates the mind and accelerates action.
It's incredible how quickly we managed to get our dream team harvesters together.  How our wonderful cooper managed to bring forward delivery of the new barrels.  How the barrel cellar is being scrubbed and cleaned as we speak,  in time to accommodate grapes that normally would be hanging happily on the vines for at least another month.
It is amazing how fast, how hard, and how efficiently we can work if we have to…
One of our oenologist-consultants drops by.  He looks pale and pasty-faced, in fact, he looks pretty awful.   "C'est une année bizarre" he says, "une année très complexe".
"You can say that again" we say in unison, looking at each other.  And seeing the same pale,  pasty-faced faces looking back at us.
Monday 4 September
Rain!
But that's not a bad thing, because there's very little of it, and it doesn't last long.  But in the meantime, the harvesters have gone home.
So we're free!

Well, free-ish.  The chardonnay has to be pumped into the barrels in the beautifully tidied-up barrel cellar, there to ferment and perchance to dream.
JanA's got it all under control, and he's in his element
Tuesday 5 September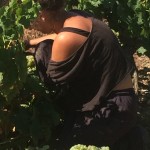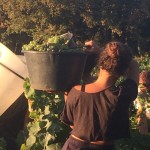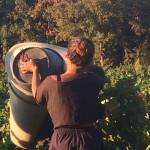 Team's going full speed.  Today we finish off the mauzac for the Blanquette.  We're ticking off the parcels rapidly: only the Chenin blanc,  the mauzac for Occitania, and one last chardonnay field left to do.  We'll be over and done with before we know it.
Day starts warm and heats up rapidly to hot.  Mauzac is a devil to pick, a good excuse for some of us to find something terribly important to do in the office all day.
Dany finds a venemous spider in the vines to play with.  The snake wasn't enough for him.
Ian finds another bird's nest, this one with some eggs still in it.
And everyone finds an awful lot of really beautiful mauzac.  Things are going well.
Wednesday 6 September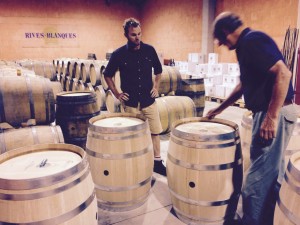 The last of the new barrels arrive; they were originally ordered for mid-September.
The harvesters attack the Chenin blanc in the Eden field, in front of the winery.  It's cool, fresh and blustery.  The grapes are hanging on the vines like freshly washed laundry.  By 10h00, the field is home and hosed.
At the same time, we're picking grapes randomly from the two remaining fields, to test their acidity and sugar levels.   A deer trots in front, as if to show off the biodiversity of this place.     Maybe it's because we only use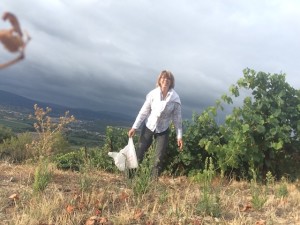 organic products that we've got all this wildlife here: all these bees buzzing around the grapes, these  snails on the sorting table (that praying mantis also on the sorting table),  these deer, these birds nests,  all these lady birds, these wild boar  …
…  these venomous spiders.
… these snakes.
Suddenly the idea of plunging my hand into the dense foliage of the vines to get a sampling of the grapes doesn't seem such a good idea.
And then it starts raining and we call it a day.
Thursday 7 September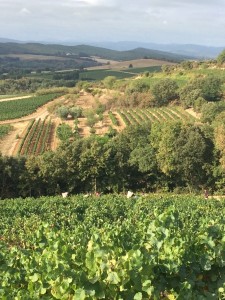 Bonjour Occitania!  What a gorgeous day.  Cold.  We're back where we left off yesterday, in the vertiginous field of very old mauzac vines, which conspire to absorb the harvesters, dampen their sound and mute their movement.   You'd hardly believe anyone was here.
By lunchtime it's all over.  At the sorting table we've counted a round dozen of escargots.  The grapes look good.
But it doesn't look as if there'll be enough Occitania to go round.
And now we press  pause on the harvest again, and wait for the Chenin blanc to ripen.
We've got that long weekend holiday feeling.
Monday 11 September
It's the winemaker's birthday but he's not feeling celebratory.  Rain. Cold. Humid.  We taste and test the Chenin: sugar levels are dropping.  That's not the idea!  Heated discussion follows.
"I'm all for bringing it all in" he says, "before the heavy rain comes on Friday".
"We have to wait", says his father, "to let the sugar levels rise".
His sister pipes up: "Why not harvest the Lesseigne field before the rain in two passages, one for the less ripe grapes, one for the most ripe grapes" she says.  Not a bad idea in itself, but …
"Good idea" I say, "but why not harvest the 2004 Chenin now, and the whole Lesseigne field later, after next week?"
"Because the grapes are never going to ripen" says the birthday boy with finality.
Too much democracy in this family.  Way too much discussion. Should be a dictatorship.
My dictatorship.
Tuesday 12 September
My Yr.no weather forecast says 1.7 mm of rain are forecast for Friday
Jan's Freemeteo says 17 mm are forecast.
The world rotates on the axis of a decimal point.
Wednesday 13 September
After endless discussion, we decided to harvest the 2004 Chenin by machine in the early hours of today, and leave the Lesseigne field for next week.  Clearly the former is ready, the latter is not.
But that decision is over-riden by Christophe, who carries the final vote simply because he owns the harvesting machine.  And because the weather's been so awful, everyone stopped harvesting – and now they all want to start harvesting again.  He and his bright brash new machine are in high demand.
Very sorry, but there are x no of people waiting before you.  So we decide to pick Lesseigne by hand tomorrow, and do this field next week, when Christophe and  machine are available.
Thursday 14 September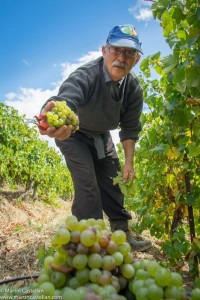 No we don't.  The lab confirms that the 2004 Chenin should be picked first – as we knew all along.  So if the machine fails us, then we'll do it by hand.    Just about everyone shows up: Dany and team one hour early, and Nicholas and team 10 minutes late, as per usual.
It's cool, blustery and very invigorating.  The mood is high.  Things are going well.
And then … "look! That's bad!" Dany exclaims.
Bad?  That's terrible!
The sky behind has turned leaden.  It's black and scowling and paints itself across our horizon in broad, uncompromising brush strokes.  The wind picks up.  A few drops of rain begin falling.
Neither Yr.no nor Freemeteo.fr, nor anyone else for that matter,  had forecast this.
Jan-Ailbe goes to find some ponchos.  The girls go back to the sorting table where the last tractor load has just arrived. And then Virginie phones.
"It's too cold, it's too wet" she says, "we're leaving.  `Me, Claire, Dany, Jean Luc …"  She names 7 harvesters.
Virginie has been the least cooperative from the beginning.  Her friend Claire's ok, slow but conscientious, and draws attention to herself only by changing her hair from the brightest blond to a violent pink and then back again on a daily basis.  But Dany? And the rest?  Jan races back to the vines, and finds everyone working away valiantly – apart from Virginie and Claire who have disappeared.
But we loose the battle against the elements.  Temperature plummets.  There's a real danger of hail.  So we eventually have to pack it up and call it a day.
What a tricky, wily, wilful harvest this is.
Exhausting too.
Saturday 17 September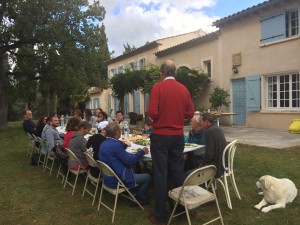 So in this harvest where everything is on its head and nothing is quite what it seems to be, it's not surprising that we have our Harvesters' Lunch before the end of the harvest.
Jan makes a little speech and tells them they've been aces.
They have.
We tuck into stuffed guinea fowl accompanied by the fruit of last year's harvest.  The weather's been threatening cold, but stays warm and sunny enough.
We know that Nicholas is a chef in real life, that Benoit is a social worker, that Dany is a sharp-shooter and a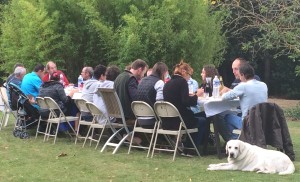 boules champion, that Florian is a musician, David an Occitan teacher, and Francois a stone mason.  But we did not know that Stephane is a mystic and sees things we don't see.  We did not know that we had a sculptress in our midst.  Nor did we know that we had a circus acrobat.  Their stories will all be in the bottom of a bottle of 2017.   It was a déjeuner sur l'herbe quite unlike any other.  We go back to work on Tuesday to finish off the job.
Tuesday 19 September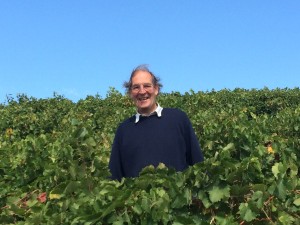 The day is blustery and cool, perfect picking conditions.  Nearly the whole team shows up. Difficult to believe that this is the last day of the harvest.  Normally we would be just about getting into the stride of things by now.
Jan walks around with a big grin on his face, watching and helping the harvesters at work. Our lives have intersected in an intense and intensive way over these past few weeks.  Maybe something of their stories will remain in the bottom of a bottle of our wine: the stone mason, the single mother, the legionnaire, the social worker, the musician, the faith heater, the social worker, the Occitan-language teacher, the cook, the sculptress ….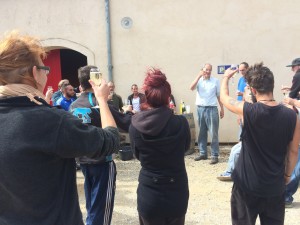 And then it's over.  We raise a glass of Blanquette de Limoux outside the cellar, and all promise to meet up again next year.
Now to get down to the winemaking.
And to cleaning up and packing away all the harvest toys.
Friday 22 September
It's the usual thing: the vines are beginning to singe yellow around the edges of the leaves, as if they know the game is up.
"I feel naked`  says Jan, "with all the grapes gone."
But no nostalgia for Harvest 2017 – none at all.
Wednesday 27 September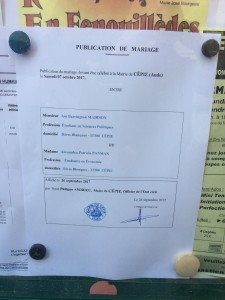 Big, big day today.   The Mayor posts his equivalent of the marriage banns on the notice board, called the Publication de Mariage.  This means the countdown begins!  Only ten more days!
A wake-up call for all of us.  What on earth would we have done if Harvest 2017 hadn't been so cooperative  by getting itself over and done with well before the marriage of our most precious and dearly beloved only daughter?
They had a big scramble yesterday, getting birth certificates translated and certified for the authorities before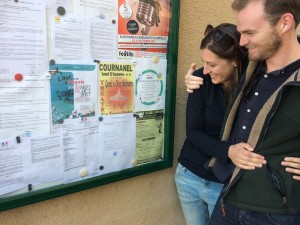 this ten-day deadline.  This meant calling in  a certified Portuguese-French translator for Xaxa and a certified English-French translator for Ian and translate "Name" into Nom and "Address" into Adresse and "Date" into  Date ….  And then verified with an important rubber stamp.
But they made it and we are all still on track!  And Cépie will have its first foreign marriage ever between a Dutch-Brasilian and a full-blooded Canadian of Irish/Estonian extraction.
Saturday 29 September
The month ended with a thud as Caryl was swung off her feet on the dance floor and landed head first on the concrete floor of the magnificent Manufacture Royale in Montolieu.
Originally commissioned by Louis XlV's Minister Colbert as a textile factory, the stately building with its gorgeous sweeping staircase and magnificent cellars has been lovingly restored by a Dutch couple called Bart and Marieke de Jonge, who run it as a highly successful Chambre d'hôte.  The celebration of  their two fiftieth birthdays came to an abrupt halt as a pool of blood spread over the dance floor.
Caryl looked up to see the powdered heads of a few dozen Louis XlV's and their decoratively decollatées spouses looking down at her anxiously.  One of them detached himself and had her bandaged and dispatched to the hospital in no time at all.  Every good party should have a good doctor in its midst.
And this, exactly a week before Xaxa's wedding!
Oh dear.
…/to be continued next month.