As if they know the game is over, the vines start glowing gold, and a fire of burnished bronze sweeps over the vineyard.  It is Autumn and the party is over.  Inside the cellars, all the barrels have finished fermenting, excepting for the Late Harvest, and a happy silence reigns.  It is Autumn indeed.  In the field we're planting and replacing old vines … and further afield, we're travelling, pouring our wines at various importers' pre-Christmas Open Door Days.  November hangs over us in all its colours like an old tweed jacket, and we know that winter is on its way.  The game is up for 2012, but if you click on the video embedded in this photograph, you will see that our game is still game when the lights go out  ….
Thursday Nov 1
Just picture the wine
We're tasting the mauzac, cuvée Occitania, in the Maison de Languedoc, just off Oxford Street in London's Cavendish Square; that is to say, Rosemary George (Master of Wine, and friend) is.  I'm just standing here, pouring it.
"Go on", I coax her, "which picture best describes this wine?"
"Well, I don't really  like any of them" she says,  plaintively.
I can't say I disagree with her.
"Well,  okay.. hmm, let me see, this one I think".
Her forefinger stabs at a rather boring, dusty picture of books.  "The books".  My heart sinks, I had rather hoped for the lily on the lake.    "Why?" I ask, wanting to add "…on earth?".
"Because it's cerebral, it's a thinking, intellectual wine".
My heart lifts.  Perhaps I can see the point of this after all.
Though to be honest, I can't really.  For me wine is either expressed in spontaneous pleasure (such as " Hmm, yum" or even "de-lic-ious"), or is analytically deconstructed in all its parts, thought about, and then put back together again.  It is emphatically not the pierced nipple staring back at me from the selection of pictures on the table…
The next person to come along choses a pinky picture full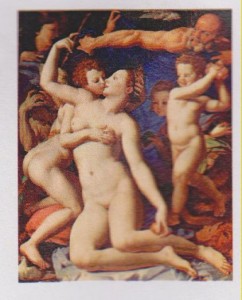 of fat, fleshily intertwined bodies.  He is Paul Strang, author of the "definitive" book on the wines of the South West.
"Why … on earth?"
"Because it's a rich, resonating, romantic wine".
Well, that's okay too, isn't it?   Cerebral, rich, resonating and romantic.  Perhaps I will persevere with this game after all.
The evil genius behind all this is Louise Hurren, founder of the Outsiders, a group of Languedoc Roussillon wine producers, all of whom came in from outside.  Some are from other parts of France, some from other parts of the world.
And now the Outsiders are here in London doing a rather Outsiderish sort of thing: taking the concept of describing wine by pictures instead of words from the world of amateurs (we did this just last week at the Terre de Vins salon in Montpellier) into the realm of wine professionals.   Most of the professionals, however, don't really want to play.  And why would they, they can pull out wine words enough from their vast cupboards of descriptors.  But one, who goes under the name @thewinemaestro, enters into the spirit of things and waxes lyrical
"This one!" he declares without hesitation. "Because there's introspection.  Because this wine has innate quiet beauty."
I have to say, we may be here to taste wines and not to play games, but this certainly is one way of getting a fresh vocabulary into our tasting notes.  Cuvee Occitania: cerebral, rich, resonating, romantic, full of innate quiet beauty – couldn't have come up with anything more positive myself.
And than goodness no one chose the horrible picture of the pierced nipple.
Saturday Nov 3
Going Dutch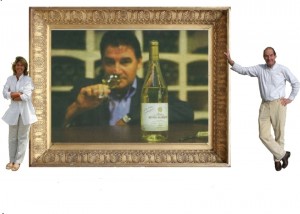 "Zacht" they're saying, time and time again. Zacht, zacht, zacht.  So I start counting the times I hear it.  It's already up to seven,  and it is only early afternoon.    Occitania is "soft", according to the good people in and around a town called Weert in southern Netherlands, where I am pouring Rives-Blanques wines at the Open Door Day of our importer.  Never mind cerebral,  rich, resonant or romantic.   Zacht is the word.
And above all, all the above apply.  Isn't  wine wonderful?
And wonderful too that our importer has just been voted  Importer of the Year in  the Netherlands.    As of yesterday.  We are terribly proud of him.   And terribly pleased with ourselves too for having such a great working partner: Ruud Heuvelmans of Leon Colaris in Weert.
And I wonder, if I were shown a picture of Ruud with our Occitania, what words would come to mind?
Zacht? Rich and resonant? Or intellectual and inward-thinking?
Sunday Nov 3
I love these tastings; what other profession in the world allows a farmer to produce,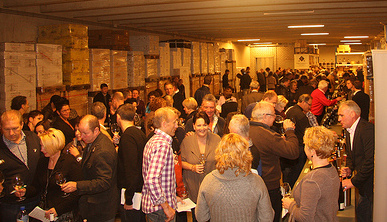 process and package his product, and then go out and talk to the people who buy it?  Who buy it to celebrate and accompany the important moments in their lives?
And I also love the après-tasting, when all the wine growers go out for dinner together.  So when the Open Doors  closed last night, some 20 winegrowers from all over the world end up eating together in downtown Weert.
Josef Ehmoser from Austria pulled out a 6-litre Imperial of Gruener Veltliner 1998 from his pocket.  And then  suddenly Fanny from Bordeaux jumps up and bursts into song, singing something possibly traditional, probably from Bordeaux, and positively beautifully sung.
"I lik-a very much-a the voice", says Daniel from Italy breaking the appreciative silence, "but not-a the musica."
And then the winemaker from Bordeaux sitting next to me tells me that he is able to harness the energy forces of his vineyard, and as a result never needs to spray.  He does contemplation instead.   And if hail is on the way, he contemplates even harder.
I make a mental note to go over  and taste his wines at some point today.  When there's a break in the crowd filing past.
Monday Nov 4
The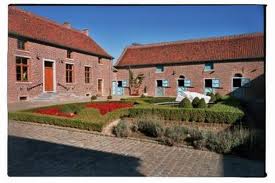 re's another winemaker from Bordeaux sitting opposite me this morning at breakfast in the Onsemhoeve, a B & B in Belgium straight out of Breughel,  and he raises a sardonic eyebrow when I tell him about his fellow Bordelais.  Jan and I have been reunited, behind glasses of freshly squeezed orange juice, at the table of the wonderful Michel Coppens, the retired Michelin star chef owner, where Jan has spent the last two days pouring wine at his hugely successful Pegasus Open Door Days, while I was in Holland.   Michel makes a breakfast to die for.   Jan has worked for it – and may even, according to Michel, deserve it –  but I am just an outright freeloader, here for the homemade jam and the perfectly poached egg before we head home together.
We have a lot to tell each other.
Wednesday November 7
Cracking Good News
The good news waiting for us at home is that a selection of the top elite tasters in the UK – the Jancis Robinsons, Steven Spurriers, Charles Metcalfes, Chris Kissacks and Jamie Goodes of this world – have come up with a definitive list of Absolutely Cracking French Wines.
Delighted that our Blanquette de Limoux is there.
That puts a bit of fizz into the homecoming.
Thursday Nov 8
The coming is easier than the going.   Air travel: a fast way of travelling slowly.  Ten hours after one cancelled flight and another delayed one,  we're still at Toulouse airport trying to get back to Brussels.  It's a long day.
Saturday Nov 10
Time flies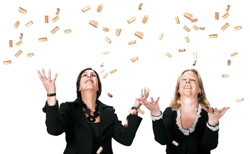 The waitress puts a cup of coffee with a wafer thin piece of spekulaas, a glass of advocaat, topped with wallops of cream,  and a small thimble of coffee liqueur in front of us.   It is 11 am on a Saturday morning in Hasselt, in Belgian Limburg.  A multitude of church bells and carillons are all chiming together outside, and it is time for a tasseke koffie.  Well, if this is what they call a cup of coffee in Belgium … Jan shrugs his shoulders and digs in.  In for a euro, out for kilo, so to speak.
Finally made it here for the Open Door Days -yesterday, today and tomorrow –  with our Limburg  importer, Justin Monard ProVino.
Last year feels like yesterday.   At Monard's we find ourselves back in the same place at our same table.  The same nice couple who make that delicious Mont Damné sauvignon are next to us. The same two-man band is playing the same music in the same sequence.  I swear they are even wearing the same matching shoes they wore last year.  Many of the same people are filing past, thrusting forward enthusiastic hands to be shaken, cheeks to be kissed and glasses to be filled.
The only difference is that we are pouring different vintages.
At the end of the day, Krista and Brigit, daughters of Begium's most famous 'nose', who now run Justin Monard's wine importing company take their visiting wine growers out to dinner, and again I find myself sitting opposite Le Chapeau (he always wears one – the same one as last year) of La Chapelle in Burgundy.  Where does time go?
Krista's  husband opens a jeroboam of Hospices de Beaune 1996. Last year it was a 1995, the year before a 1994.
So that's where time went:   we drank  it all up!
And  it was de-li-cious!
Tuesday 13 November
Very boaring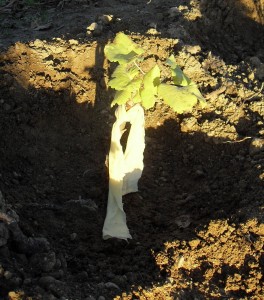 Back home to find our son Jan A hard at work planting new vines. Trouble is, no sooner are the vines in, than the boars come out. Their sport is to frolic amongst the young vines, uproot them, eat their tender leaves, trample them underfoot.
There are several options: You can either get a gun, a comfortable chair, a torch, and wait for them.
Or you can sprinkle urine on the vines. Some friends into biodynamics swear by it. But 1,200 vines?
Or you can douse hundreds of yellow ribbons in cheap perfume, and hang them on the vines.
We go for option No. 3
Thursday November 15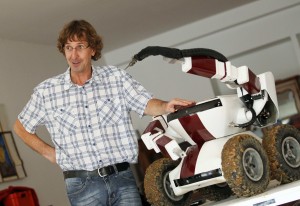 This little baby doesn't take coffee breaks, doesn't talk back, doesn't go off sick, and squeals for help if someone tries to kidnap it.  This little baby can prune as many vines in a day as Ahmed, and that's saying something.  And then prune them through the night as well.
Well that's what its creator says.
A number of curious winegrowers went along to see this little baby at work.  Most of them share an almost religious belief that pruning is "the most sacred" task of all.  Pruning is what determines the quality of the vine's output.  Pruning is the essential, the primary, the basic foundation of all that follows.  How can a machine do that?
On the other hand, most of us harvest at least a portion of our vineyards by machine, and not all that long ago people were saying a machine would never be able to do the job properly.
So what about this little baby?
Well, its problem was that it could neither walk,  work or talk.  Its wheels got clogged up in the soil.  Its arms couldn't function.  Its built-in secateurs couldn't snip. It couldn't find the right eye on the right branch …  in short, the demo was a complete failure.  A machine may not insist on a day off – but it can still have an off-day
There was an almost audible sigh of satisfaction from the audience.  The problem with this little baby is that it wasn't human.
Tuesday November 20
Seeing pink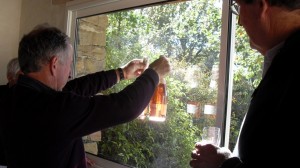 Pierre holds some bottles up to the light of the window to analyse the pinkness of the pink of our pink fizz.  Some of us look at the bottles, others look through the windows to the utterly magnificent day outside.  Our inspiration lies at the other end: the moutains, lying clear cut and  crystalline across the day.
We have been at it for hours this morning, tasting the 2010 Crémant with different degrees of 'dosage'.    We all love it as it is: clean, zippy, elegant, just like the mountains – but will 'the market' like it?  We try it with an added 2 mls of sugar, 3 mls, 4 mls … 1 ml.  zero mls.  We love the 0 mls.  Maybe 0.5 mls?  No, zero mls, we really do like that zero mls.
And then we taste the 2012 Pays d'Oc which has just been blended.  Suddenly you realise what incredibly hungry work this is. The Pays d'Oc needs more time, and we need time out.  So we fall on to a man-sized meal and call it a day.
…/to be continued.