Friday May 3
Air travel: the fastest means of transport for people in a hurry who have the most time to kill.  And here we are killing time at London Heathrow – not one, but two cancelled flights, and today's arrival in the USA postponed until some time late tomorrow afternoon.
Tuesday May 7 My kind of town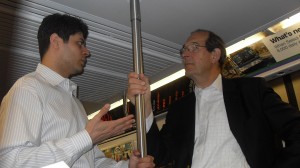 I discover that my feet are possessed of a memory … and they are  remembering fast. Up Broadway, down Lexington, around Columbus Circle, along Fifth Avenue, up subway steps, down subway steps, into Brooklyn, out of Harlem, around the Village … Oh yes, they walked it all last year, and now they are walking  it all again this year.   And remembering it all twice over, particularly since there never is a spare seat on the subway to soften the pain.
Making wine is one thing, but selling wine sure requires a pair of very sturdy shoes.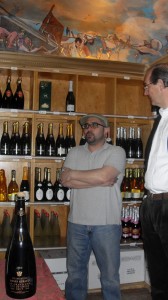 Wednesday May
Loving the unbridled enthusiasm shown by these wine buyers. Loving the vibrant atmosphere in these wine shops.  It's raining cats and dogs, but for us the sun is  shining. Just love, love, loving NYC
Thursday May 9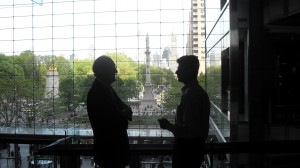 And wow!  Our feet are stopped in their tracks by the amazing view over Columbus Circle from the Time Warner centre.
There's a vacant barstool at a French restaurant called the Bateau Ivre and I head for it full of hope.  Can we sit down, just for a minute?  But am stopped in my tracks again, this time by  a man in a suit sitting at the bar behind a bottle of Dedicace.  "That's our chenin blanc you're drinking ' we tell him, "hope you're enjoying it!".
"Wow!" he says, "Can I go call my Mom?
At the next port of call, Pascaline, a locally famous sommelier from the Loire,  gives us the short shrift.  Clearly, she thinks the Loire is the only place on earth where chenin reaches its true expression.  So we tiredly get to our feet again and head off towards 44th street to a great restaurant with a great sommelier, raised to near godliness by the fact that he's on the verge of becoming a MW.
Jonathan's  already got our mauzac on his very eclectic and impressive wine list, but now he's tasting th
e chenin.  "I wonder what  Pascaline  would think of this?" he muses.  We keep a poker face and say nothing.
Before collapsing into bed at night, we see that Jonathan has teasingly tweeted a picture of Dedicace to Pascaline.  "Sacrilege or spreading the gospel?" he asks.
Friday May 10
Been there, seen it, done it.  Yesterday we finished off in a sushi bar in deepest darkest Harlem, with a Frenchman soon to open his restaurant in Malcolm X's old haunt. Fabrice exudes exclamation marks and electric energy, but what really makes us sit up is when he says " Your Odyssee ees ze best chardonnay I 'ave ever had at zat price point. Ever! Ze best!  And I mean it!" That's a good way to end the day.
And today we end  our visit, at Alison 18, with a wonderful meal and a bottle of  our
Trilogie.  At the table in the corner, there is a couple with a bottle of Dedicace standing between them.  We look at each other, but we are both too tired to get to our feet and go over to say we hope they are enjoying it as much as we enjoy making it.
And selling it, for that matter.
Tuesday 15 May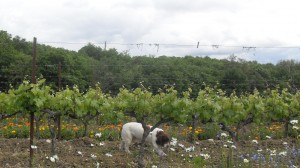 Back home again.  The vines have done incredible things in our absence, and so have the wild flowers.
Monday 20 May
Reluctant to leave again, but then we always are (reluctant to leave).
Tuesday May 21
If I had known we were only going to get white wines from the Languedoc, I wouldn't have come".
The gentleman who pronounced these words lifted a crisp white linen table napkin, gently dabbed  his lips, paused,  put it back on his lap, then continued.
 "But I am so glad I didn't know, because this is marvellous".
 Whew !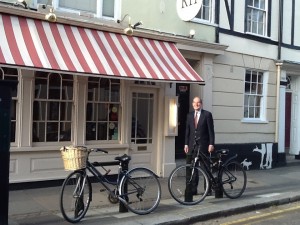 Tonight we are in Norwich.  Never been to Norwich before.  We catch a quick glimpse of an impressive cathedral, some surprising Dutch facades on the Market Square, a hotel room of astonishing Rococo grandeur, and then we are at Roger Hickman's.  It's the sort of restaurant where anyone from anywhere in the world would immediately feel at home: charming, cosy, comfortable.  I like white tablecloths.  I like unpretentious elegance. I cast a glance around and I like this place.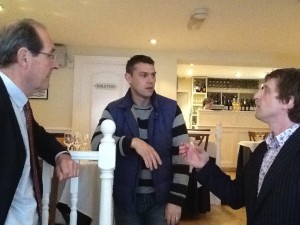 I also like Roger Hickman himself,  a young and talented chef who already earned a Michelin star for the restaurant before it had his name over the front door.
 Roger has challenged his customers to a five course meal accompanied by only white wines.  Rives-Blanques wines, that is.   He's never done this before, an all-white night.  Jan and I have, and we offer to help the staff pour the wines.  We are pretty sure no one will miss their fix of red.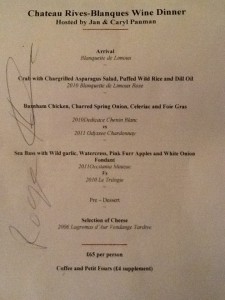 And then I find the smile fading from my face as I pour a glass of Trilogie for a gentleman who pauses, picks up his napkin, and declares he never would have come had he known….
 And then my smile returns  double-fold when he says it was "marvellous".
He's right, it was.
Particularly the food.
(And the wine wasn't bad, either).
 Wednesday 22 May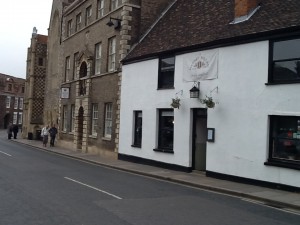 Never been to King's Lynn before either.  Apparently it's very beautiful and very ugly in equal parts.  We are in the very beautiful part, in a little restaurant called The Market Bistro, right next door to a medieval guild hall.
 It's run by Lucy and Richard, a young couple of boundless enthusiasm and optimism.  We've come to visit them, because they take our wines and we wanted to see what they do.
 They do a lot.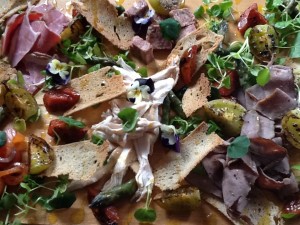 If you look at this plate, everything on it is home cured or smoked or grown or foraged or sourced.  By them.  It quite exhausts me even to think of it.  The pork belly from a locally reared free-range pig  had spent several days in brine, then several days wallowing in spices, then several days doing something else … only to be demolished in few minutes flat.  Delicious. Really.
 Two weeks ago in Manhattan we met a lettuce declaring itself to be "free-range".   Yesterday, we bought sandwich somewhere along the highway that listed "free range onion mayonnaise" amongst its contents.  It would be laughable if only  it weren't so un-funny.
 Great to come across a kitchen of such integrity, pleased indeed  to be on this wine list .  And truly impressed by the commitment, hard work and high standards of people like Roger yesterday, and Richard and Lucy today.
Wednesday 22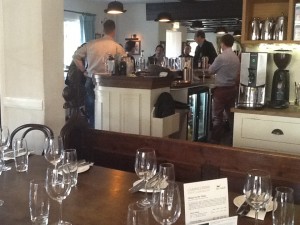 And the team at Cambs Cuisine.   This is one of our favorite customers in the whole wide world, a group of restaurants in and around the University town of Cambridge.  They've piled up award after award for their straight-talking straight-thinking kitchen, "real food" for real people, again, locally sourced.  Low on nonsense, high on genuine quality.
 And last but not least, what a wine list!  All Languedoc-Roussillon!  No wonder we adore these people.
 One of the things I love about my job is the backstage bit, and right now we are backstage in their newest restaurant, The Tickell Arms.  Cambscuisine have invited us to come and train the staff, so that's what we are doing, talking through the wines with them.
 "White wine with pork!"  we urge.  "With sweetbread!   With cheese!  Fizz for all seasons! Fizz for all reasons!"
 And then a young sous-chef quietly asks, "How do you measure the amount of yeast and sugar to put in for the second fermentation without running the risk of getting too much or too little  pressure?"
 Oh my goodness, this is really good.   Lesson of the day: great staff make great restaurants even greater
 Friday 24 may

Back home for a day.  Cold, raining. We're bottling Odyssée and Trilogie on Monday. Labels should have been delivered yesterday and have not been delivered. The bottles that have been delivered are not what we ordered.  Cartons for our top wine, Trilogie, are missing.  Chaos.
Sunday May 26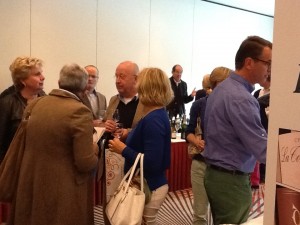 In Amsterdam at an enormous table made up of wine writers, wine makers, wine importers, and some of us are standing on our chairs.  All of us – Limoux included – are robustly singing a song provisionally entitled Coteaux du Languedoc.   Its refrain is: Coteaux du Languedoc, Coteaux du Languedoc, Coteaux du Languedoc.  It is not a very difficult song to sing, and everyone is singing it.  We must be mad, particularly Limoux, which has nothing to do with the appellation Coteaux du Languedoc.
But there is actually quite a lot to sing about.  Today, Perswijn, one of the leading Dutch wine publications, celebrates its 25th anniversary.  When they started up, 25 years ago, they launched themselves with a tasting of the then most up-and-coming exciting wine region, the Rhone Valley.  Today it's the Languedoc, and they've assembled the absolute top producers of the region to help them celebrate.
Today's tasting was a huge success: a really unique assortment of wines from La Liviniere, Gres de Montpellier, Terrasses du Larzac, Montpeyroux, Coullioure … and let us not forget Coteaux du Languedoc.
Or Limoux, of course.  We were proud and pleased to be there.  Singing away with the rest of them.
…/to be continued