VINE LINES – JUNE 2010
A monthly update on the wines, the vines, and the times at Rives-Blanques.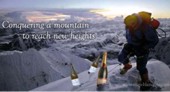 As we write, we are preparing to set off tomorrow into the Pyrenees to climb Mount Rives Blanques in celebration – or in penance, perhaps – of the approaching tenth harvest at Chateau Rives-Blanques, which lies under the eponymous peak's benevolent gaze. Lt Col Dougie Keelan, immortalised in a BBC documentary for his courageous assault of Mount Everest (from the West Ridge) with a party of 54 men, will be leading the way. I dare say that on this particular occasion, some of us will be following quite a long way behind – particularly this one of us. So if you have a kind thought to spare, please spare it for the straggler at the back, struggling up a metaphor nearly two miles high.
And spare a thought too for this 40-year old Chenin blanc vine, which this month has been subjected to an onslaught of torrential rain, one heart-stopping minute of hail, and hearth-and-sweater-weather throughout its flowering period: a critical mess in the critical mass of its cycle. But vines have a way of sorting themselves out, and so too has the weather, which finally settled down at the eleventh hour into a steady stream of sunshine coupled with mind-numbing heat. Just in time for fruit-set, which is more than nice – it is essential: truly a case of all's well that ends well. To follow our 40 year-old Chenin blanc vine's progress, please click here for this month's video update.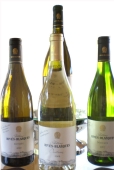 The hot spot of the month was the bottling of our 2009 appellation wines. Was it because we bottled on two successive Fruit Days that the wine came through with such a big smile on its face, up on its feet and ready to go? We do not know, but we are certainly very pleased with the outcome. It has to be said, however, that 2009 was an exceptional year throughout France, and particularly so for the white wines of Limoux (according to the leading French wine critics, and not just Limoux's hopeful producers). This vintage celebrates that fact by coming out in a new livery, with a slightly cleaner, more modern look to it.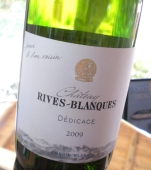 Which brings us to the dedication written on the label of Dédicace 2009, our Limoux Chenin blanc "To the good neighbour". The good neighbour in this case has the same pneumatic winepress we have. Trouble is, the state-of-the-art compressor in ours broke down on a Friday night in mid-harvest, full of our top hand-picked grapes, with no replacement parts, help or hope in sight. There are no words to describe the pain of that moment: without a compressor, you cannot compress, you understand. And that is why we say a heartfelt "Thank you, James" to our neighbour, for allowing us to transplant the essential organ from his press into ours for the day – thus saving our 2009 vintage.
So we raise our glass to good neighbours, good times and good climbs – and we will be back again, unless you click on takemeoff@rives-blanques.com to be released from next month's Vine Lines.