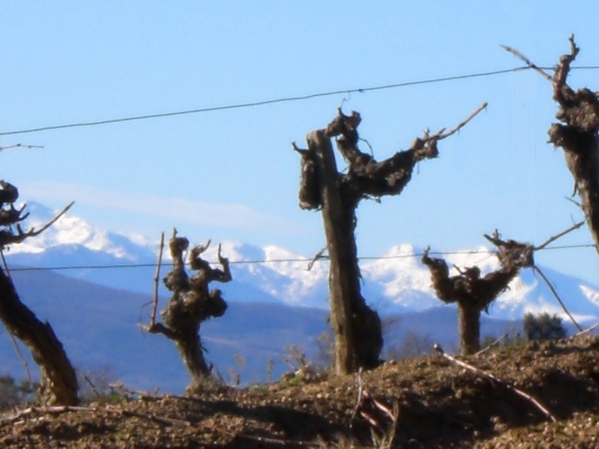 February finds us tuned and pruned and basking in the alpenglow of the Pyrenees. This is a big month in the calendar of a small vineyard, as the wheels grind into motion for the onslaught of various wine trade fairs. Making wine is one thing, but selling it is quite another: a tough job, but someone has to do it – and in our case, it's us. So the end of February puts us on our feet and at our stand for the three long days of Vinisud, the great wine jamboree of the South of France, talking wine from dawn to dusk – and beyond. And the rest of the month bascially dedicated to preparing ourselves for it. (And the remaineder of the month to recovering from it.) But happily, February starts on a greater, gastronomic note, with two 5-course mega meals prepared by the Michelin-star Chef of Belgium's famous Vivendum restaurant to accompany our wines …yes indeed, it's a tough job, but it does have its up-side from time to time, that's for sure. This is certainly one of them. And then of course, this month also marks the inauguration of Vinifilles, a group of dynamic and highly motivated female winegrowers from all over the region, who will be launching themselves, so to speak, just before Vinisud. Add to that the ongoing work at the vineyard, with all the vines for the Appellation wines already pruned but a good few for the Pays d'Oc still left to be done, you can see, we have our hands full …
Monday February 1
In the Lap of Literature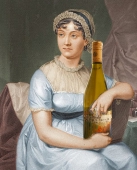 "I shall drink French wine and be above vulgar Economy" said Jane Austen, from her home in that lovely town of Bath in Somerset. This resonates rather well with us – although of course (gentle reader) if you are cunning, you can have them both: French wine and Economy
This is entirely possible, as discovered today by the natives of Jane Austen's native hometown. Rives-Blanques is delighted that its chardonnay-chenin has been appointed the official house-wine of the Bath Music and Literature Festivals, and very proudly wears its label.
Which means that the good people of Bath can have a good French wine at a very reasonable price in nearly every restaurant in town during these Festivals. And we are delighted to find one of our wines again in the lap of literature (and such an august one).
Tuesday February 2
The Beauty, The Beast & the Oddball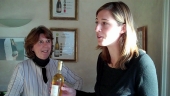 Two new video clips pairing our wines with cheese have gone into cyberspace at www.love-that-languedoc.com where they will remain, according to Ryan who did the whole thing, for ever. Now there's a daunting thought. Halfway through we realised we had unconsciously chosen all the Rives-Blanques wines touched with the magic of mauzac (the Blanquette, Cuvée Occitania and Xaxa) for this event – but then mauzac really is cheese friendly. The other wines are too – the truth is, most white wines go with most cheeses – but mauzac particularly so. Or am I prejudiced?
The first video clip features the mother (the Beast), the second the daughter (the Beauty) and the subject is the oddball … Quite fun, if you can get past all the guff. Any way, we had fun doing it
Friday February 5
Angel's Share
Just one tank full of wine left in the winery: a small shiny 10 hl number, holding about 1300 bottles-worth which we're keeping for the angels to sip at while we're not looking.
(Actually it's the wine used to replace what evaporates from the barrels – quite a lot, if you think we expect to have used it all by May)
Monday 08 February
Viva Vivendum!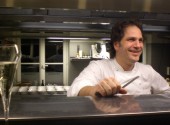 This is one of those highlights that live on in your memory before taking a life of their own and living on in the memories of other people as well. Do you remember that wonderful dinner at Vivendum in Wijhe? With that great Belgian Michelin-star Chef Alex Clevers who made that amazing five-course meal to accompany Rives-Blanques wines? No red wines at all, mind you, just white …. tout en blanques. And his talented sous-chef Beijens, who's the Belgian finalist for the Bocuse prize …? That incredible veal with the Sauvageon? …
That is what it was today, a memory in the making. Wonderful meal, wonderful people, wonderful wine. And incredibly satisfying for us.
"I only drink red wine" three of the gentlemen present said, separately. That was before the meal.
A diamond merchant at the central round table took an appreciative sip of La Trilogie. Served with a lightly salt-cured, grilled halibut. "Wonderful!" he said, "if this were a diamond, I'd call it D Flawless".
So it was a brilliant evening for Rives-Blanques. Until we found, in the far corner of this elegant restaurant, a woman sitting on the furthest chair at the furthest table with …. a glass of red wine before her. A big glass of red wine.
"White wine gives me a headache" she explained, apologetically – but not nearly apologetically enough.
Wednesday 10 February
Bye-Bye Benelux
We knew the menu by heart when it came around the second time last night – and it was even better than the first time: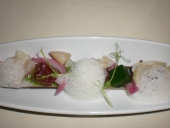 – Paper-thin veal with a mousse of Iberian ham and crisp-fried parmesan ….paired with Sauvageon
– Then Scottish razor clams with tuna and creamed peas (delicious!) … with the chardonnay-chenin Pays d'Oc
– Then langoustine prepared in three different ways … with Odyssée, of course
– Then a lightly grilled marinated halibut with crunchy bread and potato croutons … with La Trilogie
– Then a selection of three cheeses made from raw milk … with Dédicace
– Then … white chocolate ice-cream with lemon mousse and some indefinable but delicious crunchy bits, perfect with our late harvest Xaxa
Yet another diamond merchant offered his tasting notes on La Trilogie: "Definitely D Class, I'd say", he said. That's nice. Very nice. Now that we know what D Class means.
Tonight Chef Clevers is doing the same menu all over again, for the third time, but we won't be there. Full, fattened, and fortified, we're on the non-stop 12-hour road home through Belgium's snow-covered landscape, miraculously avoiding the snarl of its 900 km (that's nine hundred kilometres) of snowlocked traffic jams ….
Thursday 11 February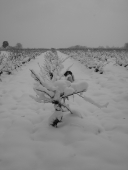 … get home at midnight, and wake up to find Rives-Blanques covered in snow from top to toe …
Friday 12 February
If this were Ladakh, or Gantok, or Alberta, or Rejkavik, or almost anywhere else, okay. But this is the South of France, and the white stuff keeps falling.
Sunday 14 February
The Tiger in the Tank
So the Year of the Tiger is going to be one of riot, revolution, upheaval, disturbances … time to keep a close eye on our tanks. And reach for a bottle of the pink bubbly stuff to cheer on Saint Valentine… and drive out the grey from yet another monochrome day.
Wednesday 17 February
On your Bike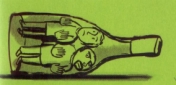 So the sorry story is over, or we hope it is, and finally the Court has reached its conclusion on the case of the 'fake pinot'.
135,000 hl of Pays d'Oc so-called-Pinot was sold by Limoux's CoOperative over a period of two years, whereas just about half that amount of pinot noir is actually grown in the Languedoc. Described by some serious publications as the 'biggest scam to rattle the world of wine' perpetrated by 'wine fraudsters', this was also part of one of the biggest Franco-American wine deals in history – between E&J Gallo and the respected wine co-operative, Sieur d'Arques, under the label of Red Bicyclette. Gallo didn't complain, nor did their customers; it was the French fraud squad who realised that the old truth 1+1=2 no longer applied and decided to do something about it. Actually, if you come to think of it, quite remarkable in itself: most countries would have simply swept the whole thing under the carpet.
So Sieur d'Arques' argument that 'pinot' in this case didn't necessarily mean a grape variety, didn't hold much water – though it's an interesting point for debate; and nor did their protestations – in the face of evidence to the contrary – that they knew nothing about the substitute grapes. No one mentioned the Gallo experts, absent from the trial and described by some newspapers as 'duped', who were said to have been present at the blending sessions. Everyone concentrated on the happy end customer… and happy he was with the wine "crafted with handpicked grapes" and its "dark fruit aromas and flavours of black cherry and ripe plum". By all accounts, not a bad wine at all, in fact, really rather drinkable (and still apparently on the shelves across the USA).
Alot of money was made along the way, from grapes that were bought as one thing at a lower price and then sold on as another at a higher price, and therein lies the fraud: € 3.7 million profit for the Sieur d'Arques supplier, and € 1.37 million for Sieur d'Arques itself, apparently. Well, let's say those are the figures quoted by the daily local papers…
And today it's all over, unless another big player lurking in the sidelines enters the stage, the multinational drinks empire Constellation. Some of the offenders get suspended prison sentences, and all get fines. The President of the Languedoc, Georges Freche, has already publically said he'll pay Sieur d'Arques' fine if they can't (€ 180.000) – they're my friends … so there you are, the tragicomic cherry on this unhappy cake. The Pays d'Oc Syndicat has been given €5000 for defamation of character, so to speak, and the other offended organisation, the Conféderation Paysanne, gets one symbolic euro. End of story.
Except that the small independent growers of Limoux get nothing, and nor does the region as a whole – just the Sideways fallout from an unhappy, some times ludicrous episode in its history, which hovers between being overblown, not blown up enough….or not enough blown over. Let's try to forget it as soon as we can, because the region, the country, and all its traditional, individual wine producers can do without this kind of bad news.
Saturday 20 February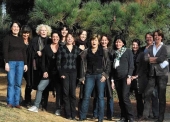 We're live and alive-oh! The website of the association of Languedoc's female wine growers is open to all visitors at www.vinifilles.fr. It's an interesting and diverse group with some interesting and diverse wines – but with a shared common goal : to promote the culture of wine, and to help other women enter, survive and thrive in the world of wine. Tomorrow night is the official launch party in Montpellier, just before the big wine fest of the Mediterranean, Vinisud. Hard working, committed, passionate, caring, creative, outspoken, dynamic … this is a completely exhausting and unruly bunch – and it thrives on exactly that. Allez les Vinifilles!
Sunday 21 February
The Party's On!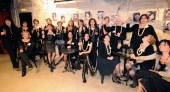 It was a mad crush at the Jam in Montpellier, but what better way to kick off Vinifilles, or for that matter, Vinisud itself: amazing music, a great crowd, and above all, super wines. Pascale, the President, made a good speech outlining Vinifilles aims, the only serious moment of the night, and then the party began. Though we were confronted with another very serious moment when we left: the caterers announced we had to take the empty bottles with us. 500 or 600 bottles, let's say. That's serious. So we found ourselves at 01.00 am in Aigues Mortes – a marvellous medieval coastal town, very dead indeed at that hour of the morning – chucking bottles into the bottle bank, while a gentle rain fell on our heads …
Monday 22 – Wednesday 24
Vinisud 2010, a Good Vintage
In fact, I'd rate it 9/10, probably the 'best' Vinisud we've ever done (we've done five). Day 1 was way, way too busy, Day 2 threatened to be not busy enough and ended up calm but productive; and Day 3 was way, way better than expected. There were over 33,000 buyers, and a real, refreshing sense of wanting to get business done pervaded the place.
Now on to the next! (ProWein in Germany).
…/to be continued

PS The opinions expressed in this Diary are not necessarily those of Rives-Blanques….