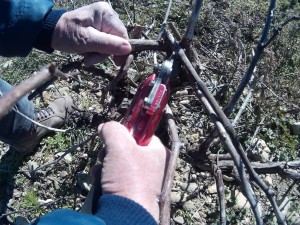 Another one of those months that threatens to be over and done before it has begun. On the one hand, pruning continues its slow and steady pace – yet it races ahead and will all be finished by the end of the month. And all the canes fixed to the trellis. And the pruned wood all chopped up and ploughed back into the soil. It is all very slow motion, but at the same time, this is when things really start to get going. There's no stopping vintage 2014 now. We raise our heads, and suddenly realise that the days are longer. It is no longer night when we shut the door to the tasting room, but broad, inviting sunlight – and our sundowners are exactly timed to the downing of the sun.
Monday 2 March
Good start to the month with a nice write-up in the Scotsman: a great first result from our tasting in Edinburgh last month, by the Scots wine writer, Rose Murray Brown MW.
Thursday 5 March
There are two words that apply to the Guide Hachette, the Bible of French wines. They are 'famous' and 'flawed'. You can play around with them as you will: flawlessly famous, or famously flawed. The Guide is universally respected, but it doesn't always get it right. When a wine with superlative reviews from the world's top wine critics, and gold medals from wine competitions such as Decanter, is simply passed over and ignored by Hachette, then you begin to wonder.
Well, today the Guide Hachette makes its selection of Limoux wines for the 2016 edition.
And Jan-Ailbe is on the tasting panel.  So we wait with interest to see what he has to say …
And he says that the proceedings are as close to perfect as possible.
In fact, "flawless".
Yes, yes, the proceedings … but what about the people?
He shrugs his shoulders, as if to say that's not a question anyone can reasonably answer.
Saturday March 8

The most amazing day on earth today. The mountains are within arms-reach, just at the end of the vines. The sky is cyanic. Jan and I go to the top field, where the grapes for Odyssée are grown, and start cleaning out the field next to it. We shouldn't do this, it's not ours. Or rather, not yet. But it is such a beautiful day, and it is such a beautiful place to be. And those blue plastic protective bags around the vines are such an eyesore.  To be honest, any excuse to be out and up there is good enough …
Wednesday 11 March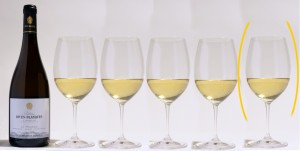 Well, so these are encouraging comments about our Trilogie from one of France's most respected wine tasters, Pierre Casamayor, in the Guide Hubert. "Notes of quince and pear … mineral … a touch of honey …  lovely citrussy tension … and it ends on a surge of minerality."  Plus, he gives it just about the highest marks you can get.
Sunday 15 March
ProWein!!
Day One: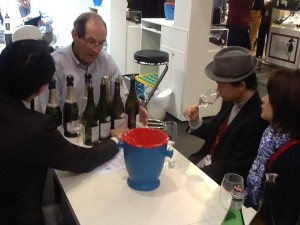 No loos, no food, no running water for cleaning the spittoons, long queues, standing room only.  Can't find my way home to my own stand.  Our buyers come by thick and fast, ignoring the fact that it's a Sunday.  Dreadfully busy … and dreadfully hungry.  World's biggest trade wine fair has opened.
Day Two:
run off our feet, and still no loos, no running water for cleaning spittoons, long queues, and standing room only.  Day starts at 09h00 with a buyer from USA, middles with Singapore and ends with Denmark (Denmark possibly a bit drunk) – and an awful lot in between.  Run off our feet.    Tip the horrible contents of our spittoons into sundry plant pots.   Still hungry.  Feet hurt.  Take the packed U-Bahn to downtown Düsseldorf for dinner, and it (Düsseldorf) is closed.  Monday night is the ultra-right's protest night.
Day Three:
Impossible traffic: U-Bahn not on track and roads snarled.  Arrive very late at stand 11 C90, which makes no difference at all since nobody can find it any way.  Even so, glad for myself to have worked out where we are (opposite Bordeaux/next to Loire) because today's the day to venture out and taste other people's wines in other halls.  (Have to know how to get back, after all).  World's  biggest wine fair is overwhelmingly big: hall upon hall of wine upon wine. Glad I can find my way "home", simply by keeping a sharp eye on banners saying Bordeaux and Loire.  And glad that I have finally found the running water to wash the spittoons (but still no loos), though it's a bit late in the day for all that.  Still hungry.
Tuesday 17 March
Very tired, feet hurt, but quite elated.  It was a good fair, in fact, maybe even a great fair.   We are well pleased with the result.   Lufthansa gives us a glass of sekt, the last thing we need, but the first thing we want.
 And now we see that wonderful road sign: Vous etes en pays cathare!
Friday 20 March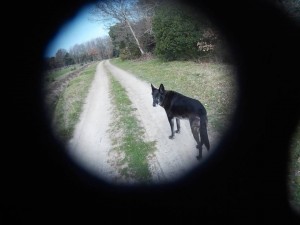 The moon was late for the meeting, or it simply forgot.  But there we were in the garden, following strict instructions to only  look at the solar eclipse through a colander.  Backwards, with the sun behind you.    And all we saw was the dog Mauzac looking at the vines called Mauzac.  Not a bird stopped twittering, not a shade or a shadow passed through my colander.
Sunday 22 March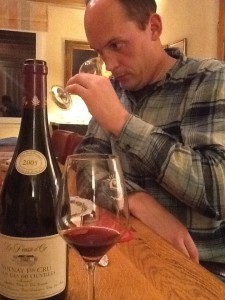 Celebration!  Jan-Ailbe hands in his last paper for the Winemaking Diploma at the University of California Davis.  Two years of hard, disciplined, concentrated slog.  Must say, I admire him for it: first he had to pass a chemistry exam, and then cope for two years with the pressure of working full time and studying full time.  And this, for someone who has two language Masters and a graduate teaching qualification behind him with the idea of becoming a teacher.  Chapeau!  So Jan-Ailbe chose a good bottle to celebrate this big achievement: a 2005 Volnay Premier Cru .  Very well done (both the wine and our burgeoning winemaker).
… and then the month was over before it had begun.  On to the next ….!