Saturday March 1
Flying high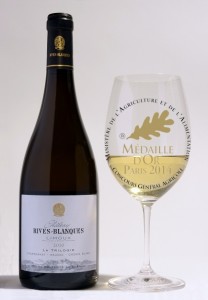 Nice way to begin the month, with the news that our AOP Limoux blend la TriLogie 2012 has won a gold medal at the granddaddy of all wine competitions, the Concours Général de Paris.
This is part of the  competition started by the French government in 1800-something,  to identify  the best possible French agricultural products  "in order to encourage a quest for quality". The medalists are "true Ambassadors of the richness and excellence of the French patrimony", they say.
The news of this  medal got us into the Limoux section of the Languedoc daily newspaper,  and filled our inbox with congratulatory emails from our suppliers – fame finally comes to Rives-Blanques.
Well, what ever you think about wine competitions and their relevance,  all fades into insignificance when you come home with the coveted gold medal.     Then suddenly the jury is unbelievably perceptive, qualified, incorruptible  and discerning, and the competition is the most important, respected, venerable and venerated wine competition in the world.
And of course, particularly so in this case.
But the truth is, we are rather pleased …
Sunday 2 March
Flying higher
British Airways appears to have made a mistake, because we find ourselves in first class, tucked up in full length beds, sleeping our way across the Atlantic to New York.  Could it be that news of la Trilogie's distinction has reached their ears and they have bumped us up in consequence?  Not asking any questions, though; just lying back and enjoying.
It is unbelievably c-c-c-cold in New York.   Our agent Bertrand has a full programme for us again: we brave sub zero temperatures and hit the pavement… err, sidewalk, visiting wineshops and restaurants.  Difficult to get the wine up to temperature.
Tuesday 4 March
Cold Comfort 
Pouring out bottled sunshine at a wine tasting in  the Maison du Languedoc just off 5th Ave.  All going swimmingly until we get the news that the wines that preceded us to Milwaukee, have all frozen.  Simply frozen solid.  Shattered bottles, exploded corks.
"You are crazy to go to Wisconsin anyway" says the man from Mississippi, "it's minus thirty there".
Minus 30. A new meaning to the word Cold.  It doesn't even matter if you are talking F or C
 Wednesday 5 March
Frozen assets 
Arrived in Wisconsin to find our wines frozen indeed, bottles shattered. Not the right time/place to show white wine.  Not a good start.
Saturday 8 March
We've learned a lot about Wisconsin.  Above all, that is a very cold place with very warm people.  Also, that it's the beer capital of America, has the country's most famous football team, is the country's leading cheese and dairy producer, has the only baseball stadium with a sliding roof, and hosts the biggest music festival in the world.  And that it is very flat and has twice as many lakes as Minnisota, the state that boasts ten thousand of them.  And that it is very cold.
And that they drink beer.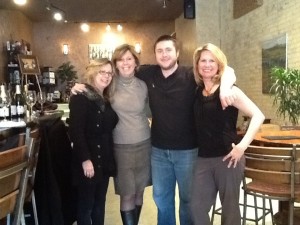 And that wine is for sissies.
Particularly white wine.
So things didn't look at all that promising.  Especially considering that our white wines are  frozen beyond recognition and  looking rather doubtful.  But yet, after three days we get on the train to Chicago feeling very happy about our trip, with a whole new bunch of friends in a whole new bunch of unpronounceable and very cold places.
Before we leave we spend half a day in the Milwaukee Art Museum,  and if ever this state deserves a first for anything, it is surely that.  Absolutely astonishing.
Monday 10 March
Try flying home with BA.  Yes, we are bumped up to Business and sail over the Atlantic in a bed, because they were overbooked, late, change of aircraft.  And so on.   All the usual BA stuff.
Tuesday 11 March
Glad to be home.  Spring has come to the Languedoc.
Tuesday 18 March
Turning the page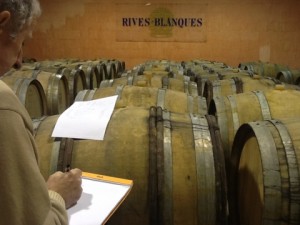 Tasted the 2013 wines slumbering away in their barrels this morning.  Forty barrels-worth of them.  On Thursday we'll do another forty.  Then on Monday another forty.  And so on.
What we're doing is trying to find the corner pieces of the jigsaw puzzle of Vintage 2013.  Once we have them, we can begin filling in the rest.  And in that maze of slightly differently shaped pieces, there is perhaps the design of our top blend, la Trilogie.  Just a question of finding it.  Maybe we will, maybe we won't.
It's totally absorbing work, fascinating.  Makes you hungry too.
So at noon we call it a day and go and wolf down a large, heavy, protein-rich lunch in Cépie and talk about some of the mysteries of wine.
Why, we wonder, did the chenin that fermented with natural yeasts finish fermenting first of all the barrels, and yet now is showing signs of recalcitrance?
This is a jigsaw full of mysteries.  And some magic as well.
Monday 24 March.
ProWein!
And the wines are tasting uncommonly good in Dusseldorf.
(Make a note to check the lunar calendar when we get home.)
Tuesday 25 March
Detlef's Dinner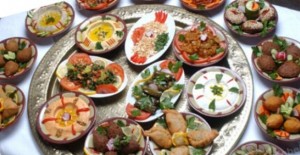 Detlef Rick, whom we understood to be and consequently called Rick Detlef for so many years that it became a habit impossible to break,  was an unusual character even for the wine world (which has a few).   Detlef had a brilliant and quick smile ("you vil pay me 5€ every time you call me Rick", with a flash of that unreadable smile), and a head of thick silver hair.  He may even have had a bit of beard, or may not: if he didn't, he should have, if he did, he could not have; that is not something you would have noticed about him.
He was a judo black belt, an un-graduated law student, owner of a number of rental properties in the Dusseldorf area, and he knew an awful lot about the Middle East – so much, in fact, that I wondered sometimes if he didn't dabble in intelligence. More than that we do not know, apart from the fact that he was the exclusive agent of Lebanon's iconic Chateau Musar in Germany.  And also that he harboured some hopes of sponsoring a graduate programme for impoverished children in Bogota, and some housing programme somewhere in Africa.  In short, an unusual man, unusually open and gregarious, and also unusually lonely perhaps, and difficult to read.
But we liked him, for reasons I do not quite understand, perhaps because he radiated such energy and optimism and life. He would stop and spend the night with us on his way down to or from Spain, bringing an elaborate box of wonderful Arabian sweetmeats for his hosts.   We would eat and talk – or rather, we would eat and he would talk,  always about wine and mostly about Jordanian wines, Israeli winemakers. Lebanese grape varieties – before the conversation whittled down to the historical reasons for the present state of the region ; and then he'd be off with a quick flash of his smile, at first light on the next 10-hour tranche of his 20 hour drive to whatever Spanish wine destination his magnetic compass was fixed.
So it was a huge shock for us to learn just before ProWein that Ri…err, Detlef had done the unimaginable : he had died.
Every ProWein Detlef used to invite his suppliers to a generous Lebanese dinner at the Byblos restaurant in Duesseldorf. This year, one of his Spanish suppliers spontaneously organized Detlef's dinner – without him.   A random selection of about 50 winegrowers who hardly knew each other, if at all, but who all knew Detlef, met at the Byblos on Monday night: Spaniards, French, German, Iranian, English, Italian, Lebanese.  We drank Pinot noir from Jordan and a Chateau Musar 2004.   Nobody came because there was business to be done, (there was none), and nobody came because there might be business to lose by not coming (there was none to lose).  Some may have sold him thousands of bottles, others, like us, may have sold him almost nothing at all.  But everyone was there because they had been touched by, and wanted to mark,  a life shaped by wine.
I cannot imagine this happening at a chemical products trade fair, or a chicken farmers' trade fair, for instance.
And it was one of the best parties Ri…err Detlef ever organised.   And probably the most significantly meaningful "off" of all the after-hour "offs" taking place all around ProWein.
Wednesday 26 March
Party is over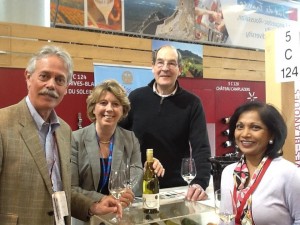 Yesterday was the last day of ProWein   It was dead, or perhaps it was just us who were dead. AFter two days of frenzied activity, suddenly, nothing. No one.  Empty aisles, and all the producers ambling around tasting each other's wines.
Then suddenly, a tall, lanky Dutchman from Curaçao folds himself gratefully into our chair. No sooner has he gone than our importer from Trinidad and Tobago shows up, bringing sunshine to the stand and a calypso to our step.  There's a direct flight from Willemstad to Port of Spain,  and we gleefully start planning a trip.  But it's only when our new importer in Iceland comes by that we begin to see a pattern for this last day: islands.  Lots of them.  So we wait expectantly for Singapore and Ireland to show up …
Thursday 27 March
So Monday was a flower day.
Friday 28 March
In the bottle.
Bottling the wine is always nightmare. Something always goes wrong.  So what's wrong with today?  Nothing goes wrong.  Like the wheels on the bus, the bottles go round and round, clinking merrily as they are filled with the wine from the last remaining tank of Pays d'Oc 2013, then capsuled, labeled,  taped into cartons and shaped into pallet-loads.  A great day.
…/to be continued.