Monday June 1 – 3
Thanks for the memories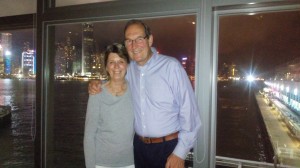 We land at Hong Kong's "new" international airport on Lantau Island, not at the nail-biting Kai-tak airport where I learned to fly about 550 moons ago: the first of many illustrations of how time flies, so to speak.   It seems like yesterday, that terrifying, exhilarating first solo flight.  Hong Kong is amazing.  Your body bends unthinkingly and intuitively with the macadam, its memory absolutely attuned to the curves, shapes and inclines of roads we haven't travelled in almost half a century.   They haven't changed  – but Hong Kong has.  It is jaw-dropping.  If there is one way to cure the nostalgia for a youth well spent in this place, this is it.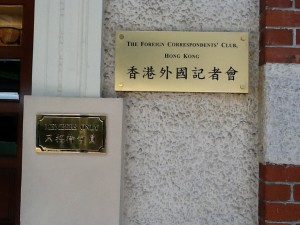 So we walk in the footsteps of our past selves, down from the Peak in the tram, across the harbour on the Star ferry, into the lobby of The Peninsula, there to chase shadows.  The city takes over and then we loose all trace of ourselves in it.
If Tokyo loved Odyssée, then Hong Kong is Dedicace's kinda town.
We visit five star hotels, little hole-in-the-wall wine bars, and super chic restaurants teetering on the top of skyscrapers, pouring Dedicace as if there's no tomorrow.  But it is when we get to one of my favourite old haunts, Hollywood Road, still the same, happily unchanged conglomeration of antique shops, that I realize how much things have changed.  Two doors face us: one opens to a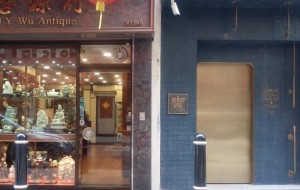 treasure trove of Chinese antiquities, the other to the domaine of HK's top sommelier, Wallace Lo.  Without any hesitation or trace of regret we push open the second door, there  joyfully to pour more Dedicace.  Not only has HK changed, but we have too.
And then we fly out from HK International Airport at Lantau.  Not so much as the faintest trace of a Piper Cub called Victor Foxtrot Uniform  in the air
But thanks for the memories.
Thursday June 4
Singapoured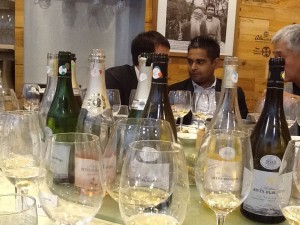 "I just want to hug it!"
This is not just anyone talking.  This is a quarter-finalist of the World's Best Sommelier Competition, semi-finalist of Best Asian  Sommelier, and winner of Singapore's Best Sommelier competition, speaking.  And he's talking about our Mauzac, Occitania.
If Tokyo was Odyssee's, and Hong Kong was Dedicace's, then Singapore is for Occitania.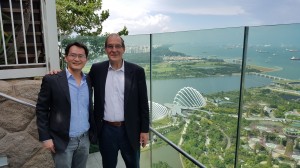 "It makes you want to hug it and seek salvation!" Indra Kurma exclaims.
Well, we are off to a good start.
Which goes from good to better.  Our importer is a bright, quick footed clear thinker with a bright, quick footed and clearly thought-out plan to march us through as many meals, master classes, and meet-the-winemaker sessions as is humanly possible.   We see Singapore in passing and from all angles: gleaming marble shopping malls housing celebrity restaurants, small winebars in the renovated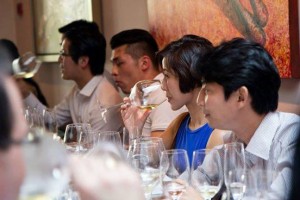 historic China Town, new kingdoms constructed on reclaimed land, and best of all, Singapore seen from the 55th floor of the Ion Orchard's Salt Grill towering 200 m over the city's myriad lights: some genuine Singapore bling.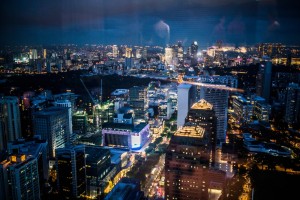 But we are talking to the diners there about home, where the only nightlights are the stars.  "Imagine!" we say to the assembled group teetering on the top of Singapore, at this amazing and luxurious Salt Grill and Sky Bar, "Rives-Blanques is  
twice
 as high!
This is all hugely exciting, but there is no place like home.  It's time to be going back.


Sunday 7 June
Fresh flown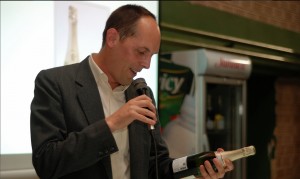 Jan-Ailbe flies in from Croatia, we fly in from Asia.  There is a lot to talk about.  He has been near Zagreb, in a place called Sveti Ivan Zelina, invited by the Mayor to do a presentation on Limoux at their wine fair.
So he talks about how we make our wines, and then spends time finding out how they make theirs. And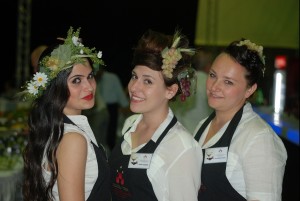 discovers that there are a lot of similarities between the wine region of Sveti Ivan Zelina and Limoux …
We have tons to tell, but he has more.
Monday 8
Welcome Home!

This is way too good!  Waiting in the office for us is the latest edition of France's famous wine magazine, La Revue du Vin de France.  They have published the results of their nation-wide tasting of the 2014 vintage, as they do every year.   We have been included amongst the best wines of the vintage every year since we began at Rives-Blanques; it is surely too much to hope that we will be there for the 14th time in a row?  So we open the magazine with equal degrees of trepidation and anticipation, and yes!  There we are: our mauzac, Occitania, the top wine of the Languedoc for its amplitude in an otherwise acidity-driven vintage.  Just delighted.
But it's not over.  Daughter Xaxa sends an email: have you seen Decanter's Jefford-on-Monday?  No we haven't, how could we?  We are still flying, not yet properly landed.  But there it is.  One of Britain's top wine writers, the man with the golden pen, has writ in letters large and  that Mauzac is a brave wine to make, and Occitania is much more complex than you would normally expect.  And that Trilogie has sveltness and elegance rarely found in a white wine from the Languedoc.
This week is off to a good start.
Tuesday 9
Yikes!  20 people for our Tuesday Talk, Tour & Tutored Tasting!
Friday 19
The vintages move on.  Today 2014 goes into the bottle – our chardonnay, chenin and mauzac have finished their voyage from vine to wine.  It all goes faultlessly.
Wednesday 24
Swiss Bliss 
On the road again.  A wonderful couple of days in Zurich, starting with a wine tasting for our importer's private customers in a cool canal-side art gallery.  Then we criss-cross all over town, visiting restaurants, talking to chefs and sommeliers.  The lake glistens and gleams, the sun shines, and it feels like a holiday.   What  a great combination, Lake Zurich, white wines, and days like these: it's  a tough job we're doing, but someone's got to do it.
We take the train to Basle to fly home,  enjoying  idyllic pastoral countryside over a hideously expensive lunch in the buffet car. But it's been some good days' work – Rives-Blanques is now on the winelists of a number of good Zurich restaurants, including the Michelin star Maison Manesse.
…./to be continued next month