Monday October 2

Well, we have certainly struck gold.  Our late harvest Chenin blanc, Lagremas d'Aur – which means tears of gold – has gone and won itself not one, not two, but three stars from the brand-new Guide Hachette 2018.
It is the only wine labelled IGP Pays d'Oc that was so highly rated.  It is, in fact, the highest rating that the Guide Hachette gives.   And the Guide Hachette itself is the highest rated French wine guide.  So you can't get much higher than that (as far as ratings go).
But our feelings are mixed.  Pleased, yes, but mixed.  Because I know, and you know, and everyone knows,  that nobody knows everything about wine:  one person's judgement is not universally valid.  Nor is one guide's – no matter how highly rated.
Which does not stop us from enjoying this golden moment.  Or from unleashing  some shameless showing off.
Three stars for Lagremas d'Aur!  Hip! Hip! Hooray!
Two stars for Blanquette de Limoux! Hip! Hip! Hooray!
Tuesday October 3
Thank goodness the harvest is over.  The grapes know it: they're turning gold around the edges.  Normally we'd be in the thick of things right now, but instead we're in the thick of wedding preparations.  And the dress still hasn't arrived.  And Caryl retires to bed with a spinning head thanks to having cracked it open on the dance floor.
Wednesday October 4
The relatives begin  arriving from various points of the globe.  Things go up a gear.  The dress still hasn't arrived.
Saturday October 7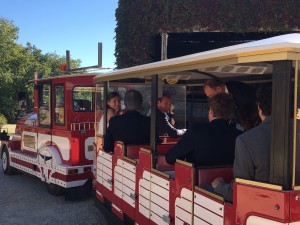 Never has our  view coruscated, shimmered, shone, glimmered and glowed with such cutting edge precision and enthusiasm.  Mountains of all shades and hues of blues and purples recede and fold into the distance,  under a cyanic blue sky.  It is amazing.  It is all positively bursting with portent and promise.
A red choo-choo train chugs and toot-toots up the hill and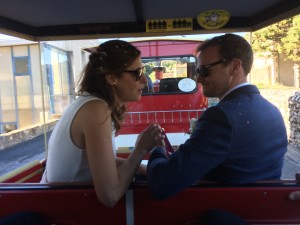 into our courtyard.  Stunned and surprised, the bride looks as if she might bolt: a little bright red choo-choo train going "toot-toot" all the way to the Mairie !  Oh no!  Oh yes!  Manfully the groom escorts her to the front seat and off we all go, toot-tooting through fields of gold.
The Mayor awaits on the steps of his office, wearing a red, white and blue sash, as befits the Mayor of Cepie.  On his right, the flag of the French Republic.  On his left,  an impressive bust of Marianne.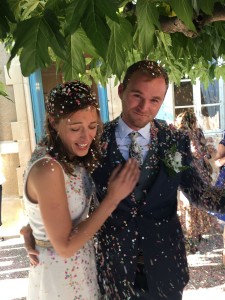 And right behind him, a portrait of the President, Monsieur Macron,  casting a benevolent if slightly dictatorial eye over the proceedings.  The ceremony is dignified and rather moving – and largely in English for the benefit of Xaxa and Ian's friends.  Monsieur le Maire is a man full of surprises – a hidden store of English being one of the bigger ones.
And then we go "toot-toot!" all the way back, to the top of the vineyard where the most amazing view in the world awaits us.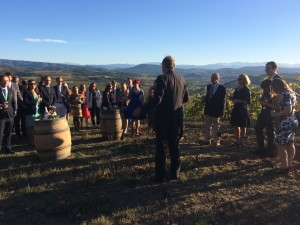 What a wonderfully joyful, joyous, happy day today is at Rives-Blanques.
It ends late, on the terrace of the house, as the fiery setting sun concedes to an impossibly bright, full moon.  And stars, some of them shooting.  And fun and laughter.  And candles flickering in tune to the rise and fall of conversation.
A truly glorious, golden day.
Even though the wedding dress still hasn't arrived.
Thursday 12 October
The postmistress's yellow van comes screaming up the driveway, honking and tooting with all its might before screeching  to a halt in a cloud of dust.  This is highly unusual  in the middle of the sacrosanct French lunch hour.
the postmistress  jumps out of her van and slams the door.  Her postmistress hat is askew.
"La robe!" she shouts, "La robe! la robe! La robe de mariage est arrivée!"
Xaxa's wedding dress has arrived.
Monday 16 October
Meeting in Limoux at the wine cooperative's big granite headquarters, where stone eagles sit atop pillars at the end of the circular entrance staircase.  Power point presentations in a darkened room.  Attentively listening audience, some men with ponytails, some women without, some people corporate, others artisanal.  A lot of talk.
And the talk's mostly about the celebration of Limoux's 80th anniversary as a proper appellation, one of the first of the Languedoc, and a great golden moment for some untrammelled showing off on 17 February 2018.  But will we carry it off?
Not too sure.  But we certainly know how to talk about it.
Tuesday 17 October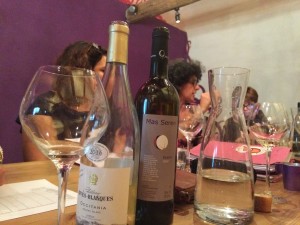 The Vinifilles, organisation of female winegrowers of Languedoc and Roussillon, have a get-together today in Assignan, just on the border of Saint Chinian and home of our Swiss Miss member, Hildegard Horat.   She appears to live in paradise, or somewhere rather close to it: a paradise trellised with golden leaves trailing over ochre dry stone walls, and church-bells sounding sonorously somewhere in the distance.  It seems that much of Assignan has been taken over by a wealthy Belgian with a penchant for purple and pink, who has renovated the town's old chateau and populated many of its houses with tourists taking their own small bite of plum-coloured paradise for a few days.
We're in a meeting room belonging to the restaurant belonging to the chateau belonging to the Belgian,  having a working lunch. There is much to discuss: the Vinifilles will be hosting the AGM of the pan-French organisation Femmes de Vins – and that's a Big Deal (not to mention a lot of wine women).  We have off-piste tastings to organise for the big wine trade events coming up at the beginning of next year. There are training sessions on improved ways of pruning to discuss.   There's a training day with the sommelier school, also to be discussed. And then there's the famous Vinifilles cookbook, which has been translated into English from its original French and checked by an English teacher.
"Roast Wolf' is the mistranslated title of the sea-bass dish invented by one of our  collaborative two-star Michelin Chefs.
Now there's food for thought …
And indeed there's a lot to talk about.
Wednesday October 18
In fact there's all too much talk going on altogether at the moment.  And right now, it's at the Vins & Decouvert tourism initiative meeting in Limoux, uniting bed and breakfasters, restaurateurs, tour operators, wine growers and what have you.  Trouble is the consultant who's leading the meeting has lost his voice and cannot be heard.  And the other problem is that it's in a school, and the teacher who is shouting to get the pupils into line, can be.  And those pupils are not to be got in line.  In fact, they are tearing up and down the stairwell outside the meeting room, shouting and laughing happily as not-t0-be-got children do.
Jan-Ailbe, the former teacher,  feels his palms itching.
He sighs, and tries to concentrate on the voiceless consultant.  This is a long day today, and it is going to be long indeed.
Friday October 20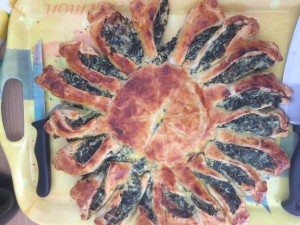 Now it's Caryl's turn to be in the talking shop again, this time with the Outsiders, a group of winegrowers who came to the Languedoc from elsewhere.  That's about all we have in common with each other, apart from the fact that we're all hard-working, we all want to succeed, we all make pretty good wines – and, of course,  we are all rather nice people …
So the meeting is fun, centred mostly on whether or not we should do a wine tasting in Belgium, and what we should do before the big mega events in Montpellier early next year.   It's at Chateau la Louvière, the wolf's nest, which is owned by another extremely wealthy industrialist, this one a German, and run by his Australian winemaker.   It is known for its stunning and rather edgy wolfy labels.     We lunch in the cobblestone courtyard, to the sound of a fountain spouting water from four  uniform wolves' mouths.
The recipe for Roast Wolf by a Michelin star chef would not be out of place here.
Instead, Jem, who runs the show, impresses us all with the dish he made for lunch: a sunflower pasty stuffed with spinach.   The lunch is delicious, and everything is done and dusted and we're all on our ways back to work before 2 pm.  Which goes to show that the Outsiders are not just good winemakers, they're also good cooks –  and terribly efficient to boot.
Saturday October 21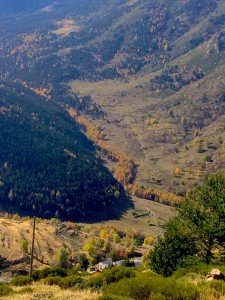 Life is always so full of options and possibilities, of choices made or ignored.  But I have to say, if life had given me the choice to live in Mantet, I think that is one of its great possibilities I might have allowed to pass me by …
It is a hamlet of 30 souls and a number of restored, stone buildings –  and very hard to find in a valley shaded by towering  Pyrenean peaks.
And it is closed today.  There is absolutely no sign of any of its 30 inhabitants (including two children).  But then  the sound of rhythmic sweeping alerts us to the fact that someone is about.  She is sweeping the path under a sign marked Bouf-tic, a place for hikers to eat and overnight, though there are no hikers around either.
Bonjour Madame! we say.
Bonjour! she replies, with a little question mark hanging over the exclamation.
We explain why we are in Mantet.  "Well," she says, with a slight sigh but very courteously, "let me finish this and then you may as well come in".  And flashes us an unexpectedly bright smile.
And so we find ourselves at a table with a chequered plastic tablecloth,  and a magnificent if somewhat dizzying drop into the view beyond the window.  Madame sits bolt upright opposite, and smiles again in a charming and disarming way.
She came here 40 years ago, she tells us.  There was nothing then.  The houses were in ruins, Mantet was a ghost town, inhabited only perhaps by the spirits of the 12 families originally planted there in the 16th century, and the memory of hundreds others who left afterwards.  There was no road, there was … nothing.  There was snow and there was hardship.
Long before that in 1944, she tells us, the Germans came, held a gun to the chin of the Mayor, and told him all inhabitants had to clear out.  They wanted  to build a barracks to survey and control all the mountain passes in that area, which were being used by refugees and escapees.  "A very old man came to visit me the other year", she said, 'he was sitting there on the terrace outside, where I was sweeping just now, and he was crying.  I went up to him and asked if he was alright.  "Monsieur"I said, "why are you crying, can I help you?"
"Excuse me, Madame" he replied.  "Forgive me, but I am crying tears of joy.  For these mountains protected me and helped me escape the Germans".
"They all said we were mad when we decided to settle here", she said, with her bright smile.
(You were, I thought).
"I was the Mayor of Mantet for 13 years" she added, with a note of pride.
"I oversaw the renovation of Mantet".
And so we learned that the guide who once took us up one of those towering peaks, the one called Rives Blanques after which our vineyard is named, is still in Mantet, but he is in the last stages of Alzheimer's disease.  Guy originally came here  from Belgium at about the same time as she did, fell in love with this inhospitable place, and like her, never left. And now never will.
We take our leave, and walk back to the car.  On the way, we meet Guy's neighbour, a friendly goat cheese maker, presumably the father of Mantet's two children.  By my count, that means we now know one fifth of Mantet's population.
We're quiet in the car as Mantet drops out of sight behind us, driving the tortuously twisting road that saved Mantet from extinction .  "Imagine!"  Jan says, "these people.  Guy.  Guy's wife.  All those years, no road.  No communication. No electricity.   No internet."
They must indeed have been mad.
Saturday October 28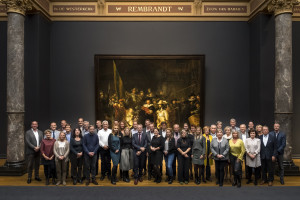 This golden month comes to its golden close, and Jan finds himself in Holland's Golden Age – at Amsterdam's Rijksmuseum, being escorted behind the scenes at the museum by an art historian,  and looking the Nightwatchmen in the eye.  Lucky man.  All part of being one of a number of Dutch winemakers who make the wines for the museum Michelin-star Rijks Restaurant.  Where they then go and wine, dine and make merry.
While back at home, we prepare, with a degree of trepidation,  for the visit of the buyers of one of the world's most important wine importers  – we are mightily honoured that they take the time to come to a small vineyard like ours.  Honoured and a bit worried …
…./to be continued next month.