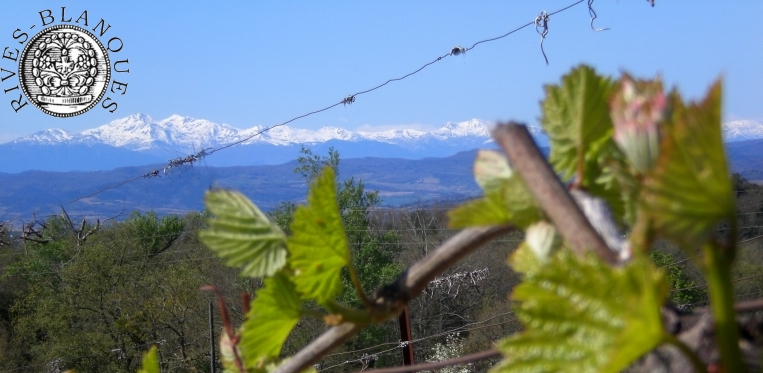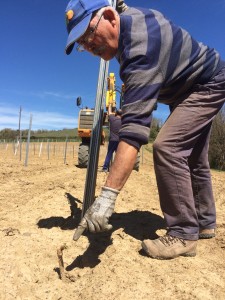 Meet Ahmed, our former foreman who comes out of retirement now and then to help with the important things in life, like planting the poles that support the wires that support the young vines that were planted this Spring…
People ask, "When's your quiet time?" – and we still haven't found the answer. But it's not now, that's for sure: Spring pushes us to step up the planting, ploughing, trellising, weeding, cosseting and caring for the vines as they break into bud and begin their inevitable march towards the harvest – they're already threatening to start flowering in a week or two's time.  It's a vulnerable time for the vines – and for us.
When we find that quiet time, however, we'll bring out a brass band to celebrate the fact.
_________________________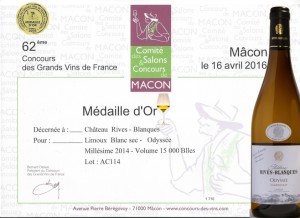 In the mean time, ​we are blowing our own trumpet about the gold medal so wonderfully won by our Chardonnay, Odyssée, from the Competition of the Great Wines of France in Mâcon last month.
The silver medal given to our chenin blanc, Dédicace, by the International Wine Challenge is not amiss either.​
And it's a positive fanfare for the 272 "Parker points" nicely distributed over three of our "beautiful white wines" in this month's Robert Parker Wine Advocate: 90 for Odyssee​ 2014​, 91 for Dedicace (Chenin blanc) 2014​, and 91 for our top blend, La Trilogie 2013​. We were invited to submit 3 wines only, so we are really rather happy with this result, which is such a respectable sequel to last year's great tasting notes.
And we're particularly pleased that the Wine Advocate ​makes no secret of "France's best kept secret" : what they call "the undiscovered gems" from the quality vineyards of the Languedoc.
Wine Advocate Tasting Notes Here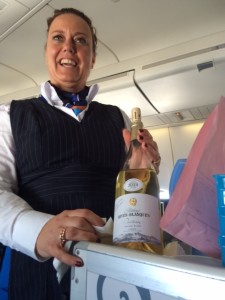 But it's strings and things, if not the whole Philharmonic to celebrate Mauzac, Occitania, taking off on the wings of a song last month. Tasting Mauzac at 36,000 ft. was an utterly unique experience for us, and one we simply have to share – akin to walking on air, so to speak. I do assure you, the beautiful smile on the face of this lovely KLM flight attendant wasn't half as big as ours … (click on the photo for the video)
And that's our news for now. And the best of it is that we have safely navigated this month's perilous 'Ice Saint Days', which can fell a vine in the prime of its life with a single stroke of frost. In fact, frost hit the Aude valley a couple of weeks ago, but did not cross the road to Rives-Blanques.  Nor did the hail that fell on our village  last Friday.
Spring is a busy time, and we may be back with more news before it is over. In the meantime, our very best wishes from the whole Equipe Rives-Blanques
May 14, 2016