Thursday 2 March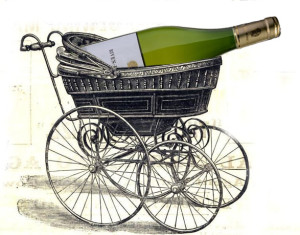 We get home from Zurich just in time for the bottling today.  The weather is balmy and springlike.   Birds are tweeting and blossoms are blossoming. Couldn't be better.
The bottling goes without a hitch, it's almost too good to be true.
So that means the last of the Pays d'Oc 2016 has been bottled.  And the first of the new Late Harvest 2016.  But best of all, it's the first outing for  our brand new 100% un-oaked chenin blanc which we call  Aude à la Joie:   a tribute to the European Union, whose anthem Beethoven's Ode to Joy is. Hopefully  the friendly nod to our upper Aude Valley, which conducts the music in our wines,  will not pass unnoticed – but the important bit for us is that it's a celebration of the 60 years of peace, prosperity and sanctuary offered by the EU.   Every bottle carries this message, and goes towards helping fund a scholarship at the School of Oriental & Asian Studies (University of London) for a Master's in Conflict Resolution.
So all in all, a good day's work.
Friday 3 March

Spring is all around, it's marvellous and it looks set to stay.  We celebrate all this balm and benevolence with a glass of our latest vintage pink fizz – cheers! Vintage Rose has been out of stock for six months, and this is a wonderful moment of la vie en rose.  It's delicious too, even though it was only disgorged last week – lovely little notes of raspberry and wild strawberries.
Life does indeed look good.  Very good.
Feeling quite in the pink.
Saturday March 4
And we wake up this morning to find everything covered in snow. Our rives are well and truly blanques.  Winds of up to 55 km/hour forecast.
Wednesday 8 March
Full steam ahead for ProWein, the biggest most important European wine trade fair.  We've got an Aude to Joy to show, we have a new Vintage Rose to show, we have a new Late Harvest to show, and we have all the rest of the range to show as well.  In short, we have quite a lot to show this year.
A friend visited a fellow wine-consultant this week in his laboratory, who was blending various wines and pulling his hair out all at the same time.
"I'm so busy!" he complained, " all these samples that have to be made! Samples for ProWein, samples for the competitions!  Run off my feet, I am."
Making samples, are we?  Not just taking bottled wines from our stock?
Hmm.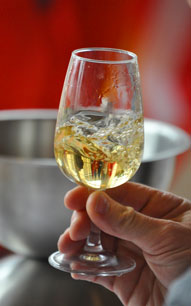 Thursday 9 March
In the mean time, Jan-Ailbe is in Burgundy today, as part of the jury of the Chardonnay du Monde competition.
Can't help wondering how many doctored samples they may be tasting.  But that's uncharitable.  May the best chardonnay have its chardonday.
Saturday 11 March
Jan-Ailbe comes home hugely impressed by the organisation of Chardonnay du Monde: wines served at temperature, tastings done in a very professional manner, training instructive, organization impeccable, and no apparent room for collusion or corruption.
Sunday 19 March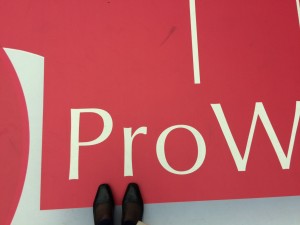 Half of the Languedoc wine industry was on Lufthansa yesterday, flying into Dusseldorf for ProWein, the world's biggest wine-fest – and here we all are today, opening up our stalls as if we were in a massive, modern caravanserei, stands to which we will all be firmly anchored until Tuesday night.  And here we are, in Hall 11, on Stand G94: Graham and his son Andrew Nutter, of Chateau Saint Jacques d'Albas in the Minervois, and Jan and me.  It is a very small stand.  We are very large people.   And it is quite a squeeze.
We are a tiny needle in a  huge haystack.  And there are over 6500 other hopeful exhibitors like us, coming from over 60 countries.  
Yes, sixty wine producing countries …
And there over are 58,500 visitors from 130 countries, who will all, hopefully, try to find this little needle in this very large haystack …
Monday 20 March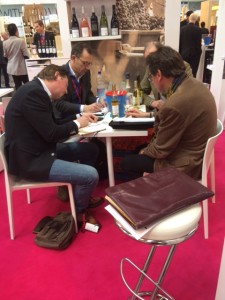 We sleep badly in our bad, horribly overpriced hotel some 20 minutes out of Dusseldorf.  They have closed the hotel off, locked up the public rooms, depleted the place of staff, switched off the wifi and hidden the hairdryer. We get to our rooms by a lift with peeling paint that rises straight from the back entrance to the third floor.   But we're happy to have a bed, because nearly all those other 6500+58,500 people and more, all also need beds.  And there are none left in Dusseldorf.
Day Two at ProWein is a worthy successor to Day 1: hectic, frenetic, full.  We are worked off our feet.  There are times when all four of us are dealing with different customers in our 12 square meters of space: three or four people on our three allocated chairs, two or three on the two allocated stools, and any number spilling over into the corridor – or into our tolerant neighbour's space.
It's actually great.  We're really flying.
And at the close of day, the indomitable Vinifilles, to whom we are attached on the opposite side of the Tolerant Neighbour, throw an Old Vintages and Truffles tasting.   I've brought our Chenin Dédicace 2005 and our Chardonnay Odyssée 2005 for the event, and open them with a degree of trepidation: 12 years old!  Now that is quite an age for a chenin and a chardonnay from Limoux.
A sniff, a swirl, a sip.  Remarquable!! 
I may be the oldest and ugliest of the Vinifilles.  But I've got the oldest and most beautiful wines of all …
Tuesday 21 March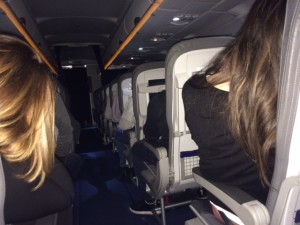 No Nessun Dorma here.  The flight back to Toulouse tonight is shrouded in dark and silence.  Exhausted winegrowers  collapse into their seats and fall into deep, deep sleep.   The thought crosses my mind that if this flight goes down, so does the world's biggest wine region with all its exhausted know-how.
Jan and I are elated, and raise a glass of Sekt to the biggest, the best, the boldest ProWein we have ever had.
And then we fall asleep.
Wednesday 22 March.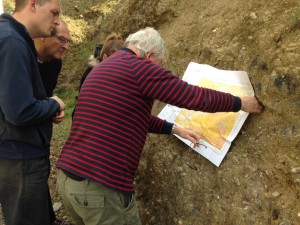 Oh this is fun.
A geologist comes round complete with his little bottle of acid, his pick, his hammer, his magnifying glass and his map, all neatly packed into his rucksack, as is the way with geologists.
We troop into the vineyard up to the Odyssée field.
"Oooh, yes!" he exclaims: "this is so interesting!"
We look unseeingly at the pebbles around our vines.
"Such a variety in density and mix!" he cries happily.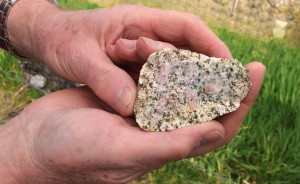 And then proceeds to chip and hammer away at them.  They fall apart, displaying a myriad of lines and little crystals.  They're really quite beautiful, these "old stones, difficult to decipher" (for some).
Quartz.  Feldspar.  Limestone.  Schist.  Marble.  Sandstone. Granite  • Magnesium-loaded Dolomite  • Calcite • Magnesium carbonite • Calcium rocks  • Calcium/carbonite pebble • Speckled granite • Biotite …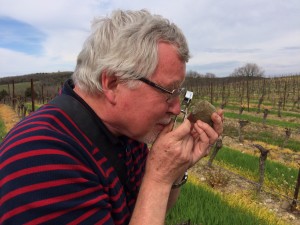 And of course,  "standard old metamorphic".
The names roll effortlessly off his tongue.  This is absolutely fascinating.  Some of the stones are a mere 30 to 40 million years old, others are 300 to 400 million years old.  Just lying around, willy-nilly.
Loads of minerals.
The 'M' word has become a dirty word in wine descriptions, but here Minerality  is, as large and as old as life.
Friday 24 March
The hugely respected Jancis Robinson has an elite team of tasters, and one of them, the talented Tamlyn Currin writes today about Languedoc wines.  We're delighted that our Trilogie has completely wowed her (17.5 points, which is very  good going) but hope that people will read her article (here) for other reasons:
Please, the power-that-be in the Languedoc, note that Cheap & Cheerful is not the route to take.
Please, colleagues and  producers in Limoux, note that the reputation of an appellatin takes time and trouble to establish, and should not easily be cast aside.
There are big players in this small appellation who wish to make the production process cheaper, so that they can sell the wines cheaper, and therefore  sell more wine.  But it doesn't work that way.
We didn't say it.  JancisRobinson.com said it.
Saturday 25 March
A brand-new wine guide book, which is the famous Guide Hachette's guide to wines under €15 arrives today, smelling of fresh print and paper.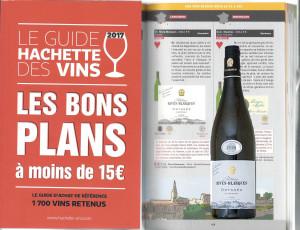 The pages fall open automatically, as if they knew,  on the cream of the crop in the €11-€15 category.  There is only one white wine from the Languedoc, and it is from Limoux.
And  it happens to be our Odyssée …
With two stars and a coup de coeur.