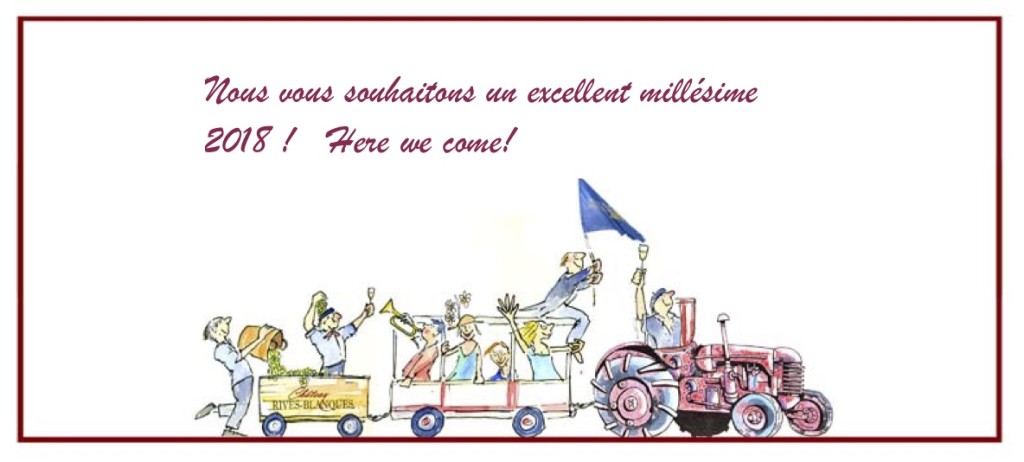 Monday January ! 2018
Another year, another vintage!
And it begins warm and wet.  But full of hope and promise …
Tuesday January 2, 2018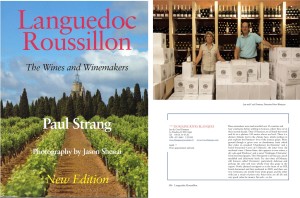 This is a very good way  to start the year.   Paul Strang, winner of the Prix Gourmand for his book on the wines of the south west of France, published a large and lavish volume on the wines of Languedoc and Roussillon "France's new fine wine region" (says Hugh Johnson OBE).  We're very pleased to be featured large as life in it.
He covers the whole region east to west, north to south, mentioning hundreds of winemakers, truly a labour of love.  At least 20 of them are in Limoux, including our neighbours (Begude) and Caryl's fellow Vinifilles Francoise Antech.    And a wonderful photograph, lit by conviviality and sunshine, of our friend down the road, Marie Claire (Domaine Mouscaillou).  And a great photo and entry about Rives-Blanques, which  gladdens our hearts.  And …. much,  more more, including the full house of Vinfilles, Languedoc and Roussillon's  female winegrowers,  all over the region … as well as all our "Outsider" friends.    A book really worth getting for anyone looking for a guide to a next holiday in the region.
Tuesday 9 January 
We're getting the full deal.  It's blowing hot and cold.  It's raining on and off.  But the pruning continues unperturbed, and we're closing in on the home stretch already.
Thursday 11 January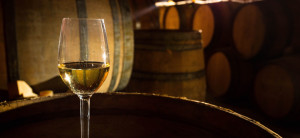 Today we begin a retrospective of 2017.  Our Master Blender brings his razor-sharp palate into the cellars, and the barrels of wine are addressed one by one.  Fermentation has fully finished and we've got the real deal here: proper wine.  2017 could almost be called  our Harvest Horribilis, starting way too early, ending way too early, and way too temperamental and impatient all together, but there's not much sign of any of that here.  If only we'd known at the time that everything would work itself out  (as it usually does) with a bit of help from our amenable and flexible harvesters,  we wouldn't have been half as stressed at the time.
Friday 12 January
An influential buyer comes by to taste the barrels samples of the 2017 wines.  We end the tasting on a high note, with a glass of our top 2015 wine.
"Can't get my head around this one" he says.  "Not my kind of line."
One man's line
Not another man's wine.
Happens all the time.
Sunday 14 January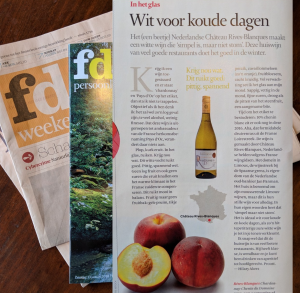 Now this is excellent! The Dutch version of the pink-paged Financial Times, and every column-inch as influential in that country, comes out with a full page review of our chardonnay-chenin Pays d'Oc in its weekend magazine.
"A cold weather white wine" they call it, from an estate "famous for its fizz".
They say some embarrassingly flattering things too.  Well, almost embarrassing.
But not to the point that we can't, and don't,  enjoy basking in the light of our entry-level wine for as long as we can.  Jan's in-box fills up in a most satisfactory way with emails of congratulation.
Tuesday 16 January
This was a classic cinematic moment.  I went down to the printer to make sure the colours on the label would be exactly as we wanted them, and that the gold embossing was the right kind of  gold.  Last year's label was not quite 100% as it should be, and we wanted the 2017 edition to be better.  The printer had his press all ready to roll, and, very decently, was waiting for the go ahead.
They looked good.  "Great, thank you!" I said, "off you go!"
And the press lumbered into action.  Round and round went the labels, getting a new layer of colour with each turn.  I leaned over to admire the much improved colour (something no one else will even notice) when my eye fell on year.  2016 it said.  2016!  It took a full few seconds for the fact to register.
"Stop the press!" I shouted in full throttle.
And the press stopped,  grinding to a slow halt, churning out labels at diminishing speed.  Fortunately, their mistake, not mine.
First time I've ever actually heard anyone roar "Stop press!" in real life.
Thursday 17 January
N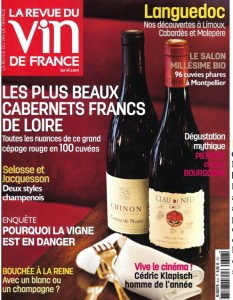 o false modesty here.  France's famous La Revue du Vin de France takes a look at Limoux and its un-sung neighbours, Malepere and Cabardès.  The writer is known for being in favour of natural wines, that is, really really natural wines.
Nothing against natural wine (if it's good).  Trouble is  vinegar is the downside of what happens absolutely naturally to wine if things don't go right, and  we wonder if our smooth and fairly polished wines, which have been lightly sulphited to avoid harmful bacteria from forming  (though sulphites are natural too, by the way) and which have also on occasion been gently stirred to help the lees encourage complexity,   may suffer.  We've even been known to add commercial yeast when natural fermentation gets stuck.  Oh dear.
But he likes the three he was given to taste!
Our Trilogie is 'undeniably one of the model wines of the appellation".   Occitania is a 'inspiration to other growers', and our Blanquette is 'enticing and balanced'.
Well, thank you, that's a very nice pat on the back! And in this business, nice little pat on the back now and then goes a long way.