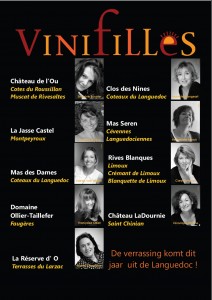 The Vinifilles, an association of female winegrowers from the Languedoc-Roussillon, are coming to Holland with a range of wines that covers the length and breadth of the world's biggest wine-growing region.
They will be at Wine Professional in the Rai at Amsterdam from January 7 – 9, 2013 (Stand 218). This is the first time that such a group has taken part at the Wine Professional event.
The vineyards range from large enterprises, to small pocket-handkerchief parcels. Some export all over the world, some sell most of their wines in France. The common shared factor is that at every vineyard there is a woman who is passionate, dedicated and driven to share the culture of wine.
Surprisingly, they include two Dutchwomen: Lidewij van Wilgen of Mas des Dames, whose trials and tribulations are enshrined in her book Het Domein, and Caryl Panman of Chateau Rives-Blanques, the Limoux vineyard known for its white and sparkling wines. On this occasion, however, both will be flying the Dutch flag the other way round.
The President of the Vinifilles, Pascale Riviere, recently made a Chevalier of the French Legion of Honour for her contribution to equality and education in the wine world, will be bringing her organic Montpeyroux wines of La Jasse Castel.
Roussillon will be represented by the award-winning wines of Séverine Bourrier of Chateau de l'Ou, with a complete range of white, red, rosé and muscat.
Biodynamics are the driving force behind the wines of Marie Chauffrey, a French-Brazilian winegrower settled on a 10 ha estate in the Terrasses du Larzac. Another 'prestige' appellation of the Languedoc, Saint Chinian, will be represented by Veronique Etienne, who has taken over running the 50 ha La Dournie estate from her mother: the fifth-generation fille of a Vinifille at the stately property.
Wines from the heart of the Languedoc, the Faugeres region, come from Francoise Ollier of Domaine Ollier Taillefer, another fifth-generation 'vigneronne' of the region, who was formerly head of the Faugeres wine syndicate.
80-year old vines grow cheek to jowl with olive trees on soils of oyster fossils at Isabelle Mangeart's 10 ha estate, Le Clos des Nines just outside Montpellier, who will also be bringing her olives in her suitcase. Not far from her lies the Cévennes region, where Emmanuel Schoch, formerly a consulting oenologist, has achieved her dream of making her own wines from her own grapes: the red, white and rosé of Mas Seren.
Seldom has the Languedoc seen such a diverse yet cohesive group of winegrowers (19 in total), whose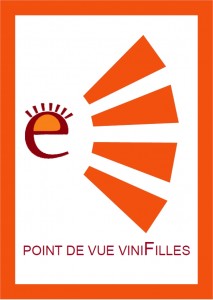 common passion for the work they do, binds them together in friendship. The nine Vinifilles coming to the Rai are a real example of the diversity of wines and personalities that characterises this group: a one-stop shop for the taste of the Languedoc.
More about the Vinifilles www.vinifilles.fr
The alphabet of our grape varieties coming to the RAI: Alicante, Carignan, Chardonnay, Chenin blanc, Cinsault, Grenache, Mauzac, Muscat, Mourvedre, Rolle, Roussanne, Syrah, Vermentino, Viognier
Mas Seren: http://mas.seren.over-blog.com/
Clos des Nines: www.closdesnines.com/index2.html
Chateau Rives-Blanques: www.Rives-blanques@wanadoo.fr
Chateau de l'Ou: www.chateau-de-lou.fr/
Jasse Castel: www.jasse-castel.com
Mas des Dames: www.masdesdames.fr/
Domaine Ollier Taillefer: www.olliertaillefer.com/
La Reserve d'O: www.lareservedo.fr/ 
Chateau La Dournie www.chateauladournie.com