August sweeps in, in a blast of hot air. The vines react and push the grapes into "veraison", first the chardonnay, and then the chenin blanc and the mauzac. If they have read the same text book, then this onset of ripening means we can expect the harvest to start in about 40 days or so. We watch the grapes ripen and the sugar levels rise by about 2% vol in a single week. The harvest is in sight … but not yet, not this month. What is in sight however, is hail; the last thing we want, just as the grapes are softening and becoming more vulnerable. It hits about 500 ha. of the Limoux vineyard, destroying between 10% and 35% of the grapes grown there. It reaches Cépie, our village. It stretches its long icy fingers longingly up our hill. And then it stops. It does not touch our plateau. You have to be lucky, sometimes.
Friday August 3
In the pink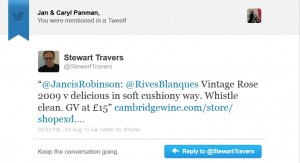 When the world's most praised and prized female wine critic – actually, female or not is irrelevant – tweets about your wines, suddenly Twitter seems to make a whole lot of sense. It takes on a big, bold and beautiful dimension. Suddenly I love Twitter. It paints my day pink and full of bubbles.
Sunday August 5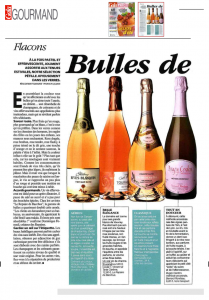 More on our pink fizz, Vintage Rose. This time in the French food and lifestyle magazine, Gourmand. They select a range of pink bubbles from Champagne and Crémant-producing regions such as Burgundy, Alsace and the Loire. "Everyone loves pink!" they enthuse. "Pink in men's shirts, women's nails, children's cheeks!" And pink in fizz. Curiously they use exactly the same word to describe Vintage Rose as Rosemary George MW did when she came to visit us: "Ethereal". Excepting they said it in French ("Aérien").

Monday August 13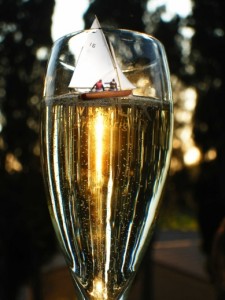 Jan denies Blanquette has lost its fizz. In this case, Blanquette is his clinker-built little sailing dinghy, languishing in light winds on the Irish coast. She is one of a special class of boats called Ettes, and every Ette's name ends in an Ette. The difference between BlanquEtte and the other Ettes is that she has a little cabinet on board, just big enough to hold a bottle of Blanquette and two glasses, a fairly transparent tactic probably designed to lure crew on board. But Blanquette is not distinguishing herself this year, coming in a consistent third every time. "But at least consistent" Jan says.
We are on holiday in deepest West Cork, and are almost relieved to see that Ireland has its weather still: sunny showers and mixed spells. Particularly the mixed spells. Pure magic.
Sunday August 20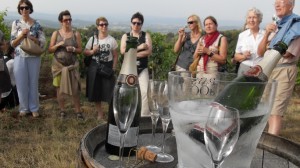 Returned to Rives-Blanques last night. Summer is in full force, and a quick vineyard inspection shows that 'veraison' is in full swing. Everything looks good. We wake up early this morning to welcome 25 Latvian wine enthusiasts. Confusingly, Latvia is called Lettonie in French, which sounds more like Lithuania to me, so we stick to referring to 'your country' to be on the safe side. Tomorrow is Monday, and then we will get back to serious work …
Tuesday August 21
Nice one indeed
Before our holidays we were visited by a tall, rugged young man from Manchester. He bought La Trilogie untasted, because we do not have enough bottles to open for tastings. It's an expensive wine, not a bottle to buy lightly. This email landed in our in-box, sender: WineGod.
I shared the La Trilogie, after decanting for two hours and then cooling, with a small group of nice people who came to eat. All were taken by the quality of the wine: one person, a very chilled fine art lecturer, said it was probably the best white he had tasted; another, a local wine lover, said it was a very fine wine although Californian in style.
I suppose some people do make comparisons. I thought it seamless, knitted, generous, but poised and perfumed. Nice one!
If he had been in the office when this email arrived, I would have thrown my arms around him and kissed him. This is why we love doing what we do. This is what makes it so worthwhile.
And gives us courage.
Friday August 24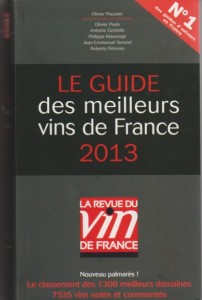 The Guide to the Best Wines of France 2013 is out! The much-loved Guide Vert, produced and published by the august La Revue du Vin de France has published the results of a tasting of 7535 wines in France, and selected 1300 of the best vineyards. We may be rather pleased that they selected 9 of our wines – but it is a mere 0.1% of the total …
Less pleased however that they continue to define us as ex-bankers. We are now into our second decade at Rives-Blanques. We have lived here longer than we have lived anywhere on earth. Just how long will it take before they describe us as vignerons?

Tuesday August 28
The heat is on
Canicule! is a dread word. It is beginning to be whispered around LImoux. We look at the vines. They seem fine. No sign of great dehydration, fatigue, exhaustion. We look at ourselves: every sign of deyhdration, fatigue, exhaustion. "I feel like a grenache" Jan jr. says, though why particularly grenache, I am not sure. Maybe it is because we can imagine vines of grenache sweltering in the Minervois, where it is much hotter than here. Here has been around the 40 degree mark for a week. There is unimaginable.
And the grapes are still not ready. We talk to them, we taste them, and the reply is unequivicable. Not ready. All around us people are starting to harvest. We have to hole in and hold out. What we need now is just a little bit of rain, please.
No hail. No unrelenting heat. Just some nice luminous, sunny days and rainy cool nights, please.
…> to be continued.