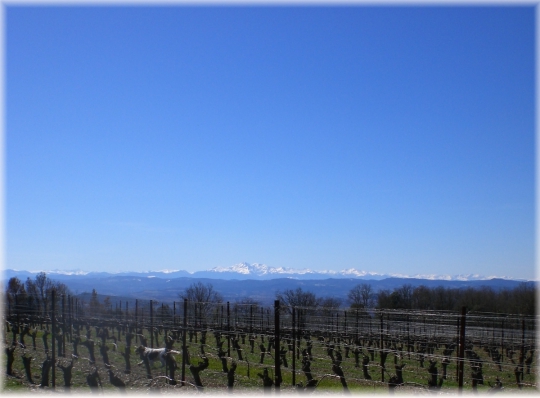 April fooled us into thinking that the long – too long – winter was over, and as the month opened there was a real spring in its step: moments of truly jaw-dropping, utterly astonishing, astounding beauty that left us gawking and gaping at the horizon, now so suddenly painted with the pristine, unfaltering outlines of mountains we swear we'd never even seen before. Wild flowers sprang into action between the rows of vines, and the sap started rising, tear drops gleaming like jewels at the ends of the branches of the vines. But it was all an illusion, and by the second week of the month we were back in business as usual: cold, overcast, rainy. Not ideal for the bottling of our Pays d'Oc. Not ideal for ploughing the pruned cuttings back into the soil. Not ideal for us, so fed up with this grey monochrome. Perfect though for the young vines, now being planted to replace dead ones. So we wait with interest to see what will follow in the wake of the Easter Bunny this month…
Thursday 01 April
Full of Spring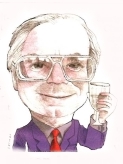 That's what The Spectator says about chardonnay-chenin Pays d'Oc 2009, one of its recommended wines for Easter. A real wine for Spring, they said, "deliciously light yet perfectly capable of standing up to a hearty meal." Well, we've got the Wine and we've got the Meal, but where's the Spring? We look to its wine critic, Simon Hoggart, who doubles up as a Parliamentary sketch writer and probably has a lot of inside answers to a lot of outside questions, but instead find something else to celebrate :
Bravo! to Simon Hoggart for being shown with what is unmistakably a glass of white wine in your hand. That at least puts a bit of spring in our step.
Tuesday 05 April
Time to Move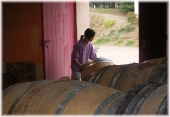 Spring came to us this week, on Good Friday and Easter Monday to be precise, days of such hand-clapping beauty that we couldn't stop saying every two minutes, in absolute wonder, 'just look at those mountains!' But today the author of a new wine book comes to take photographs of those self-same mountains, and where are they? Somewhere behind a veil of steady rain, and certainly no where in sight of his lens. He gives up. So do we. So we all go down to the cellars and start pumping the sauvignon out of its wooden barrels and into a tank. It told us last week that it had had enough, and it was time to move. When the sauvignon says it wants to move, we move too …
Thursday 8 April
In the Bottle

Sauvignon now resting in two stainless steel tanks, and all its barrels have been meticulously cleaned, washed out, and prepared for storage until they're needed for the 2010 harvest. Today it's the last of our chardonnay-chenin Pays d'Oc 2009 that's being moved around – from the tank and into its bottles. Weather is cold, calm and not yet raining. If it stays cold, calm and not yet raining, that will be just fine.
Thursday 15 April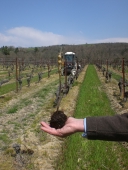 Yes! Spring back again! Birdies singing, wild flowers growing, and frogs croaking in utter cacophonous joy at sundown. A great day for planting young vines to replace dead or damaged ones, as you can see by clicking here. Each one of them is grafted on American roots, which are phyloxera-free – the disease that wiped out the European vineyards in the 19th century. (The ironic thing is that Phyloxera, a disease-carrying vector, first disembarked in Bordeaux from the USA — but was unintentionally repatriated a century later through ungrafted French chardonnay vines exported to California). With the forecast showing a set of seven suns over the next week, things will start moving fast in the vineyard, including these young newcomers.
Friday 16 April
Curacao Here We Come!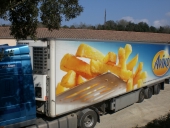 Not every day that our courtyard is filled with a big, bold, bright blue truck painted with french fries all over. But here it is, larger than life, picking up our wine to go to Curacao. It looks quite Caribbean itself, in such shades of sun, sea and sand. We watch it disappear over the horizon with a mixture of astonishment and envy, rather wishing we were in it ourselves. Good luck with our wines to the great team at Servir Frais in Willemstad …
Sunday 18 April
Molte Grazie!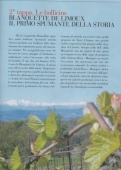 Should be in Veurnen, Belgium today, at Mario Lemoot's tasting party at Quality Wines, but a big earthquake in a small country got in the way. There's haze on our horizon … ash?, no don't be silly … with the sun struggling bravely to get through.
But yesterday, when we should have been flying, the view at home was crystal clear, just like the picture in this April edition of Gambero Rosso, Italy's leading wine magazine.. and yes, just like the picture on our own Index page – because it is Rives-Blanques, one of the vineyards featured in this special edition on the Languedoc. Their winewriter, Guiseppi Carrus really understood the nature of the place, citing a combination of mediterranean and atlantic influences, aided and abetted by the Pyrenees factor, as the explanation for the fresh and elegant fruitiness of our wines. Two from the Rives-Blanques range were singled out … doubled out? … by him, and both made from the mauzac grape: our Blanquette de Limoux, and our Cuvée Occitania. All this makes very nice Sunday reading for us …
April 30
Lang Zal Zij Leven!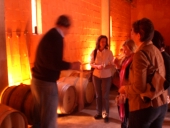 So where did the month go? Over before it even started, and we find ourselves exactly where we were: damp,overcast and uncertain – though our Pays d'Oc, the one with the knock-out nose, finds itself at the Dutch Embassy in Paris, officially celebrating the Queen's birthday. Which is nice for it. And for them too, perhaps – we hope – as they lift it to their lips in a toast to Her Majesty.
Back home, the same Pays d'Oc is being tasted by the Taste Team of JN Wine over from Ireland. They're a lovely, sunny bunch and it's great fun … but why did they leave us with this damp, dripping "soft" Irish weather? And plummeting temperatures? Where has spring gone? Where has April gone?
…/ to be continued.