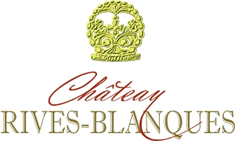 The Rives-Blanques Country Wines are top quality wines, made with the same care and attention as our appellation wines. The 'Vin de Pays' label allows us the freedom to think outside the constraints of the appellation. This means we can make wines from grape varieties not normally allowed, and that we have the freedom to decide whether to make them in stainless steel tanks or in oak barrels. For that reason, we call them "Domaine" wines rather than "Chateau" wines.



"Known since medieval times as Sauvageon (the wild one), this name not only reflects its strong aromatic character, but also a very individual personality". Jean Bisson, National Institute of Agronomic Research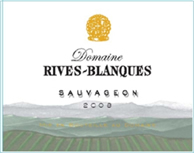 The sauvignon blanc from Rives Blanques is quite unlike any other sauvignon blanc: no wonder we call it our wild one. Made with all the care and attention of our AOC Limoux wines, Sauvageon is aromatically very complex and shares their same food-friendly characteristics.
Very careful and subtle fermentation and ageing in French oak barrels adds to the unusually interesting complexity of this wine.


Gold medal Concours des Grands Vins du Languedoc-Roussillon
Silver medal Competition of the Independent Winegrowers of France

Sauvignon blanc 100%
Harvested at night, sorted by hand, fermented and aged 7 months in French oak barrels (30% new) with 12 hours prefermentary maceration; stirring of the lees twice weekly; yield 37 hl/ha
more information about Sauvignon blanc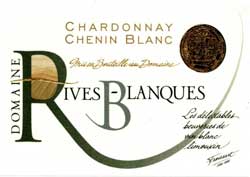 Rightly dubbed as the 'Basic Beauty' of our stable, this is a clean, fresh and stylish chardonnay, vinified in stainless steel vats.
We take as much pride in the quality of our country wine Vin de Pays as we do in our flagship chardonnay, the Cuvée de l'Odyssée.
No wonder it was selected by the Best Sommelier in the World, Andreas Larsson, as one of the top white Vins de Pays d'Oc...

Silver Medal Concours Mondial de Bruxelles
Silver Medal MUNDUSvini, Germany
Silver Medal Concours des Grands Vins du Languedoc-Roussillon
Bronze Medal Chardonnay du Monde;
Bronze Medal International Wine Challenge
Bronze Medal Concours des Vins Vinifiés par le Vigneron Indépendant;
Bronze Medal Competition of Sustainable Viticulture Wines.
Bronze Medal Concours Logis d'Or
Bronze Medal Les Altides de Languedoc Roussillon
'Best Buy' Brussels Wine Expo
Chardonnay (90%) and Chenin Blanc (10%)
Machine harvested at night, sorted by hand and pressed within two hours of harvesting. Fermented at 17°C in stainless steel vats. - more information about Chardonnay / Chenin Blanc
All Our Wines
Return to Top