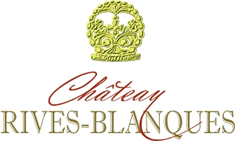 AOP Limoux
is the only white wine appellation in France . . .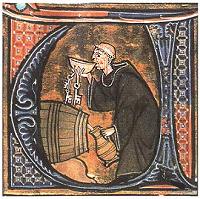 AOC Limoux is the only white wine appellation in France requiring fermentation and maturation in oak barrels. It also decrees that the grapes must be picked by hand. The famous Roman historian Titus Livius was already extolling Limoux's "wines of light" two thousand years ago. We are proud today to present the appellation's first-ever trilogy of three wines made from the three permitted grape varieties: a chardonnay, a chenin blanc, and a mauzac - wines that reflect the full potential of the appellation, and glow with light as if the sunshine were still in them. A fourth wine, La Trilogie is an exclusive blend of the best barrels of the three grape varieties, and is the flagship of Chateau Rives-Blanques.


The harvest of 2005 marked the first time we managed to make a successful blend of the three grape varieties allowed by the Limoux appellation.
Careful blending of our best barrels by the celebrated Georges Pauli gave us the first hint of the magic we had spent years trying to conjure: a wine that is elegant, complex, intellectually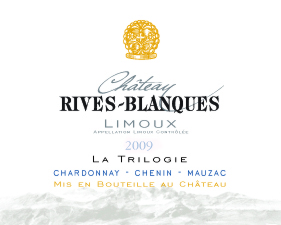 challenging and sophisticated... yet startlingly simple in its clean clarity.
Every year presents us with a new challenge, and it is not at all certain that every vintage will allow us to make the exceptional wine we strive for. Nor do we strive to make the same wine every year: the aim is to get the best out of each 'millésime'.
This is the top wine from Rives-Blanques, and no more than 2000 bottles are made.


Gold Medal Decanter World Wine Awards
Gold Medal Competition of the Great Wines of France
Best in Class International Wine & Spirits Competition
Silver Medal International Wine Challenge
50% MAUZAC, 25% CHARDONNAY, 25% CHENIN BLANC (2009)
Yield between 35-45 hl/ha. Each grape variety vinified separately. Grapes picked and twice-sorted by hand, pressed within two hours of harvesting. Fermented and aged in French oak barrels for six months, with batonnage twice weekly.
All Our Wines