30 ha of vines and natural countryside on a high terrace of the Upper Aude Valley, surrounded by woodland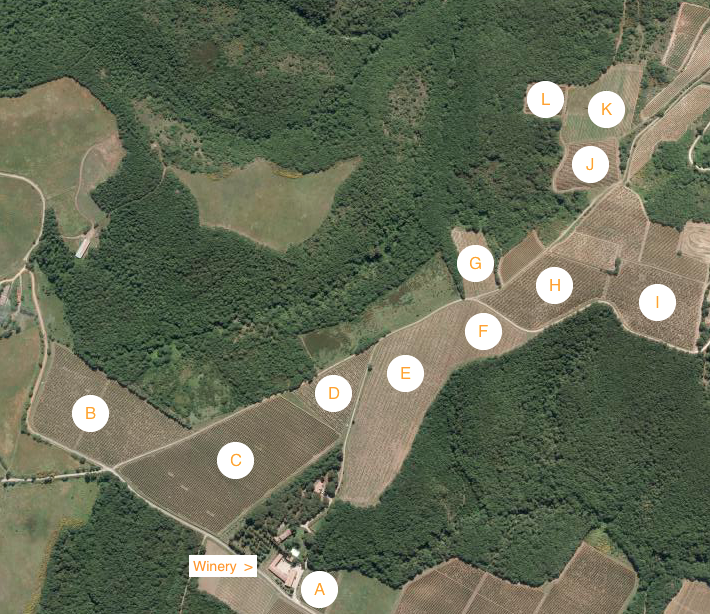 A  EDEN  44 ares of chenin blanc, planted in 2003 for Dédicace and Lagremas d'Aur
B  TRES PECHS 2.7 ha chardonnay, south-facing,  replanted in 2015 and 2016
C PLAINE DE ROQUEFORT 3.5 ha. of chardonnay and 1 ha. chenin blanc planted between 2000 and 2005 for our IGP Pays d'Oc.
D  LA POINTE ECURIE 70 ares of chardonnay planted in 1973 and 12 rows of chenin blanc, 1973, the first chardonnay and chenin blanc vines planted in the Languedoc.
E  LE JARDIN 3 ha mauzac, planted 1972, reserved for Blanquette de Limoux.
F  LA POINTE JARDIN: 1 ha  lies fallow, Chardonnay will be planted in 2017
G  BLAISE  0.6 ha. Mauzac, first planted in 1910 and replanted in 2015 for Blanquette de Limoux   
H  VINCENT  1.6 ha.Chardonnay planted in 1989, exclusively for Odyssée
I  TOURNIÉ 1.9 ha chardonnay planted exclusively for Odyssée in 1984
J  LE PECH 0.7 ha. Chardonnay planted in 1993 at 370 m altitude,  exclusively for Odyssée
K  LASSEIGNE CHENIN 1 ha Chenin Blanc planted in 1984, for Dédicace
L  LASSEIGNE CHARDONNAY 0.40 ha. Chardonnay planted in 1984 
M  LES MOULIGNEROS HAUTES 2.30 ha mauzac, exclusively for Occitania (just off the map)