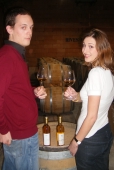 One vintage begins, another ends, and just as surely as our late harvest Jan came to an end, so too did Xaxa, that "rather delicious oddball" (Jancis Robinson, of course): the last bottle left our cellars two weeks ago. Alas, we have no more children, and no more 21st birthdays to celebrate. So that's that.
Or is it? Bring out the violins for a tear-jerker: Lagrimas d'Aur, a chenin blanc/mauzac blend harvested in November 2006, will be ready for release in a month's time. Clean, fresh and elegant, it is more than just a backward glance at Xaxa, and will continue into perpetuity until another 21st birthday comes around at Rives-Blanques.
Why else would we call it Lagrimas d'Aur ("Tears of Gold" in Occitan)?