The year is nearly done – but 2013 is by no means in the bag. Or at least, not at Rives-Blanques, where a couple of recalcitrant barrels of wine from the 2013 vintage are still fermenting. Unheard of. But then, so much about this harvest was unheard of: privately, we call it the Year of the Grumpy Grape. Publicly, we say it was a Very Good one. The truth is, both are true.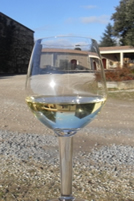 The first of its wines, our chardonnay-chenin Pays d'Oc 2013, came out smiling, with a knock-out nose that knocked us sideways, when we opened the first newly bottled bottle just two weeks ago: full to the brim with fruit and sunshine, and pure South-of-France pleasure – just the ticket for a white Christmas.
Its sold-out predecessor, the 2012 chardonnay-chenin, won us a page in the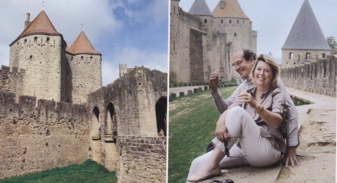 glossy Terre de Vins magazine this month, which ran a magnificent feature on Pays d'Oc wines. Did you know that one third of the wines grown in that 'huge space of liberty' known as the Languedoc, are labelled Pays d'Oc – and they include 56 different grape varieties and every possible combination thereof? Of course we are terribly proud that our Pays d'Oc was chosen as one of the six best white wines under this label – but to avoid any illusions of grandeur, you should know that is Carcassonne in the background, and not Chateau Rives-Blanques …
And then in the frenetic and frantic lead-up to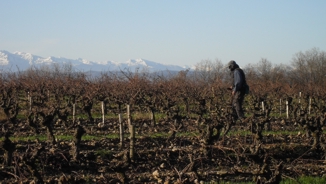 Christmas, the Dutch wine magazine, Perswijn placed our Blanc de Blancs at the head of its choice of Cremants de Limoux, while the daily de Telegraaf newspaper settled on the Rives-Blanques Blanquette de Limoux last weekend. All of which makes our Christmas not only white, but also full of fizz.
Here at Rives-Blanques, the sun is shining overhead and the mountains are smiling at us from under a layer of gleaming snow. It is perfect weather for pruning, and this month we start the long and laborious task of setting the foundations for Vintage 2014.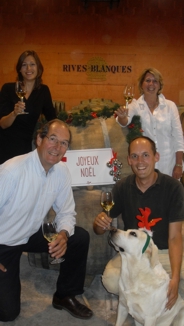 And we hope it will be a Very Good Year for everyone!
We send you our very best wishes for a joyful and happy festive season, and everything good in 2014
Caryl and Jan, Jan-Ailbe, Xaxa
(and Bacchus the Reindog)
December 24, 2013