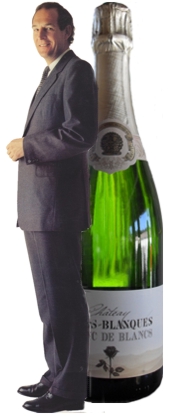 All dressed up, ready to go, and made to measure: meet our new Crémant de Limoux Magnum. We like things big at Rives-Blanques, so it was time for our Blanc de Blancs to be brought up to size – not quite two metres tall, but a good bottleful of bubbles none the less. (One star Guide Hachette, Silver medal, Crémants de France.) And just in time for Christmas!
We write to you from a cocoon of calm suspended in a bubble of silence – and holding our breath. No, we are not yet harvesting at Rives-Blanques. The tractors, hitched to their trailers stand at the winery door with their noses pointing vine-wards, ready to run. The wine-press is clean, quiet and slumbering. The barrels are lined up in reproachful silence. On the frontier of frenzied action, we find this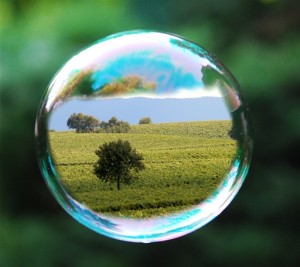 paralysis is quite unnerving. But so far so good – the grapes are brilliant: they look good, they weigh good, they taste good. On such a magnificent day as today, it is almost impossible to imagine that anything could possibly go wrong.
Incidentally, because it was unusually hot when it should have been cold, and unusually cold when it should have been hot, the year propelled the grapes over the start-line like Michael Schumacher … and then breaked them back into a comfortable Sunday saunter up to the harvest. All of which is really good for white wine grapes, which like a slow maturation process. As the Limoux wine syndicat ponderously says: We presume an excellent millésime.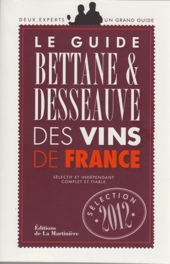 The problem with the Languedoc, still the world's biggest wine region, is that there are two separate types of viticulture: one is the mass production of indifferent wines with an uncertain future, and the other is a small elite of increasingly elegant wines that truly express their terroir – according to France's celebrity wine critic duo, Bettane and Desseauve. Their bumper 2012 guide to the best of French wines came out this week with a full column devoted to Rives-Blanques, which can be read by clicking on the book. Another well-known winewriter, Patrick Dussert-Gerber upgraded Rives-Blanques to Dieuxième Grand Vins Classés in his 2012 Guide, also out this month.
All of which is most encouraging. This afternoon we shall test the acidity/sugar balance of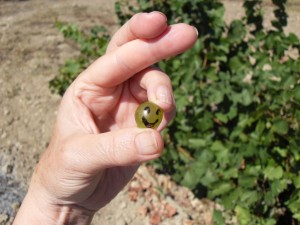 our grapes again, and see if we start picking for our fizz this week or next week. We'll be back with more, much more interesting news next month, and in the meantime … fingers crossed!
The harvest report will follow next month, but of course you can always click on takemeoff@rives-blanques.com to be permanently released
August 29 , 2011