Thursday September 1
September blazes through the bedroom window, violently blue and full of sunshine.
"Another beautiful day", Jan remarks gloomily.
Damn!
Friday September 2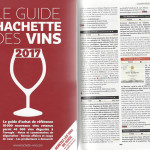 There's no rain in sight, that's the bad news.
But the good news is very good indeed.  The authoritative wine guide, granddaddy of them all, The Guide Hachette,  has published its 2017 edition.  And they give us a coup de coeur for our chardonnay, Odyssée, and a star for the mauzac, Occitania.
And the other mega wine guide to French wines, written by the famous duo Bettane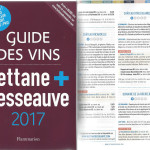 & Desseauve, also came out with its 2017 edition today.  And it also  gives a coup de coeur, this one to la Trilogie.
But what is a coup de coeur  in English – or in any other language for that matter?  Top hit? Favourite choice? Rave fave?  Heartthrob?  Someone suggests 'love at first sight', and I like that best.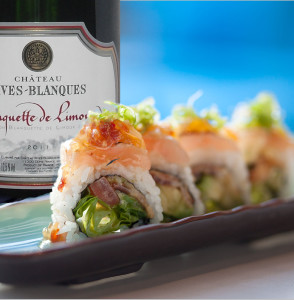 Then to top it all off, Holland's most famous wine-writer, indeed the most prolific wine-writer in the world, Hubrecht Duijker, choses our Blanquette as one of his "finds" of the month.  (He paired it with sushi, which is pretty much the "find" of the month for us too).
We're enjoying all this kudos raining down on our heads …but if only it would rain rain.
Saturday September 3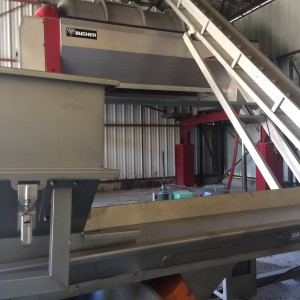 We're pretty much ready to roll.  Been spending the last week checking, revising, cleaning, and testing  our harvest toys.   Just as well.   The cooling system had a short circuit.  A fieldmouse had eaten through the wiring of the press.  One of the trailers would neither go up nor down.
Jan-Ailbe is ruling the roost and directing operations this year.  Quite a year to be doing that.  There's a lot going on.
And now all the barrels are clean, the equipment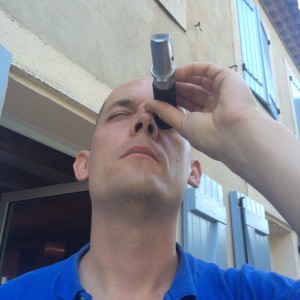 works, everything has been scrubbed, we're ready and raring to go – all we need is for the harvest to get into the right frame of mind.
The refractometer tells us that the sugar levels are rising.  The lab comes back with readings that are even higher than ours.  We go out and pick more random grapes and do more testing.
Next week.  It looks like the first foray into Vintage 2016 will be next week.
Monday September 5
Blinded by another brilliant blue day blazing down on us.
"You'll see!" our neighbour Michele tells us, "you'll see!  It'll start raining just when we start harvesting, just you wait and see".
Tuesday September 6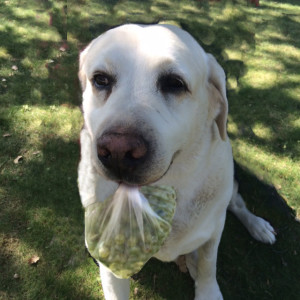 Bacchus joins us picking random grapes for another lab test this morning.  Have to say, the vineyard's in great shape, despite the lack of rain.  Old roots grow deep.  No sign of any disease either.  So far, that is.
Family is beginning to get jittery.  We argue and quarrel, mostly about when and where we should start harvesting.  We all have very definite ideas, and we all want our own to prevail.
Jan-Ailbe reports that  we have the full complement of harvesters, all their paperwork completed, which has to be done digitally now.  Just a small problem with Ahmed, whose birth is registered as 32/13/1950, and the website just won't allow Jan-Ailbe to go any further.
Wednesday September 7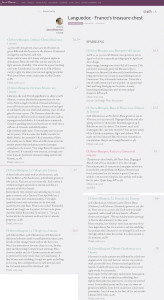 Wow!  Just brilliant tasting notes from the venerable Jancis Robinson MW on our 2015 vintage, full of encouragement and kudos.  Just what we need right now as we look at vintage 2016 in the eye.
They come in an article entitled "Languedoc: France's Treasure Chest".
She knows the region well, having had a holiday home here for 30 years, and probably knows better than anyone how it has changed in that time.
 "There is some really great quality here … selling at prices much lower than would be charged in regions with more of a reputation".
To read the whole thing,  just click on the page shown here.
Thursday September 8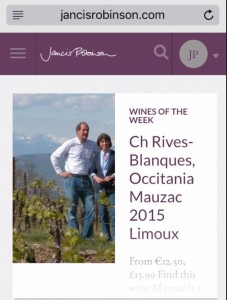 Hallelujah's can be heard reaching to the skies from our rooftop.  This is amazing. Jancis Robinson has lavished praise on our mauzac, Occitania, making it her wine of the week.
She says, "it builds up to an assertive conclusion in the way that a great Burgundy does … It has massive grip and then explodes with flavours".  And she gives it 17 whopping points.
Who was it who told us you couldn't make a good still wine from the mauzac grape??
If you had asked us what our expectations were when we started on this adventure sixteen years ago, we would never have presumed to see our wines or our vineyard so highly praised by such a internationally respected authority.  This is a magic moment for a mauzac, and a big, big event in the life of a small vineyard.
It never rains, but it pours.
Excepting of course that it doesn't.  Pour, that is.
In fact, we're beyond the point of no return now.  A downpour has become the last thing we want.
Friday September 9
In between all that excitement, we do a quick little night-time foray into the chardonnay to machine pick a bit of chardonnay for our Pays d'Oc, and then continue on with our harvesters to handpick some grapes for the fizz.
All the juice comes out with lower potential alcohol readings than we had anticipated.  On the other hand, the sun continues blazing down overhead, which will push the sugar content in the grapes ever upwards.
It doesn't feel like the beginning of the harvest, because it isn't really.  We won't start in earnest until next Wednesday.  Or will we?  We continue tasting, watching, waiting.  We don't really say either hello or goodbye to our harvesters, it all seems a little unreal.
Sunday September 11
It's Jan-Ailbe's birthday, and we go to the beach for a seafood lunch.  He's pre-occupied, there seems to be something wrong with the compressor of the cooling system, which keeps the tanks of fermenting wines cold.  It is very hot outside.  We cannot possibly allow the compressor to go into meltdown.
We come home and taste and test grapes.  Phone Christophe, who owns the harvesting machine. We decide to start on Tuesday, and continue with the hand-harvesting on Wednesday.
Monday September 12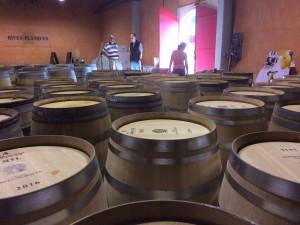 So we put the final touches to the preparations today.  A last thorough cleaning with vapour of the barrels, drying them out and then putting them in place.
Roll on 2016!  We are ready for you!
Tuesday September 13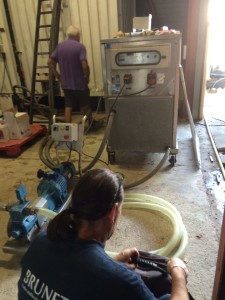 Excepting that the cooling system that controls the temperature of the tanks has packed up.  So we cancel the harvest, and get the technicians back.  There's no way out.  We'll have to rent one, and then replace it with a new one. But in the meantime?  Outside temperature is punching above 30.  We switch all the air conditioning on to high, and the local LeClerc supermarket helps us out with 50 kg of ice – but that is like a drop in the ocean.  It evaporates in accordance with all the magically evaporating properties of ice,  converting solid into liquid with effortless ease.  Jan gets into the car and drives an hour to collect  loaves of industrial ice, to get us through the night.
In the meantime, the weather forecast shows rain for tomorrow, just as Michele prophesied.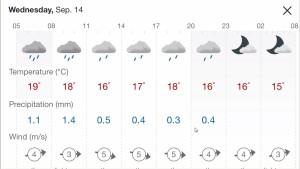 The temperature will fall 10 degrees.
There never has been a vintage like this.
The Tuesday Talk Tour & Tutored Tasting today is a mixed bag of Colombians, Americans and Dutchmen. There's no harvest, so there is time to lavish.  They are oblivious to the gloom hanging over us,  all they see is are magnificently neat, tidy and organized cellars.
"Your enthusiasm for this wonderful profession shines through" they enthuse.  "How lucky you are to be doing this, in a place like this!"
Timely reminder.
But enthusiastic? Lucky?
Thursday September 15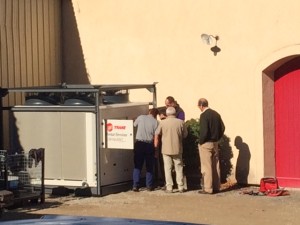 A replacement cooling system arrives from Paris.  It costs an arm and a leg.  Everyone hovers around it, hopefully and happily.  It is big enough to cool the whole commune of Cépie.
Yesterday's 12 ml of rain has freshened up the world, suddenly everything looks bright and beautiful again.
Today is the most beautiful day on earth.
Nothing can stop us now!
Saturday September 17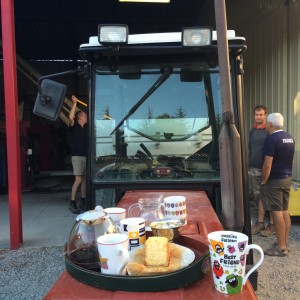 We're off!  Crack of dawn,  Christophe rolls up in his huge harvesting machine.  It's cool and overcast, not a bad thing at all for a day of machine harvesting.   Xaxa and I are at the sorting table, Jan and Eric are ferrying the tractors back and forth, and Jan-Ailbe is walking around running the show.  It's impossible to keep up with Christophe, the grapes just keep coming in in tractor-loads.  They look wonderful.  If it continues like this, we'll be on to a good thing. Round, sweet, unblemished … perfect.   We pause for a cup of coffee.  I'd like to take a picture of the whole family like this, the complete illustration of Jancis Robinson's comment about "this intensely family enterprise", but I'm too tired to move.
It takes a lot of good coffee to make a good wine.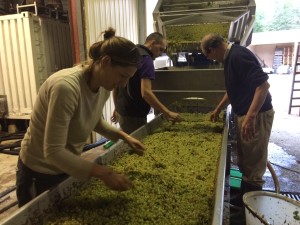 It also takes a lot of patience.   At 8 pm, a good 13 hours later, we're still being an intensely family enterprise, still all together at the sorting table because our beloved first-born has apparently hijacked the press, and put it on the longest, softest, most never-ending pressing programme ever.  It is pressing our chardonnay with tender loving care and infinite kindness until Kingdom Come.
And then when we're finished, the whole place still has to be cleaned and cleared out.  And someone has to put the press to bed.
Our beloved first-born, I guess.
And we still have to eat and put ourselves to bed as well.
Monday 19 September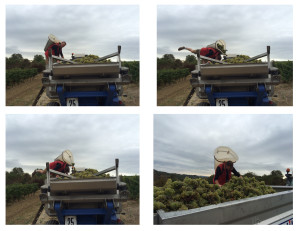 Very cool and overcast today, in fact, it a downright cold nigh last night, but a good thing both for the harvesters and for the grapes.  It's a chardonnay day today, and the chardonnay looks pretty good.  So does this porteur who is new to the game, but learning the tricks of the trade pretty quickly. Though we imagine he's quite bright as he's doing a PhD at Oxford.
Most of the team are old faithfuls.  Christine and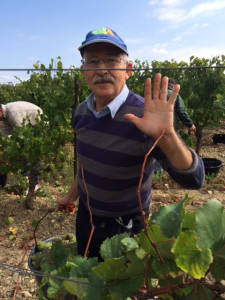 Danny have divorced since last year's harvest, but they're both still here, albeit separately.  Jean-Paul is ill and can't come, but his son Pierre is back again.  Dylan is back too, who has been here on-and-off for the past decade, morphing from a thin, angular blond to a bulky dark lad.  And of course, Ahmed is the timeless unchanging face of our harvest, year in, year out.  There are a couple of wild cards, but most are old hands; we'll see how it all pans out.
Tuesday 20 September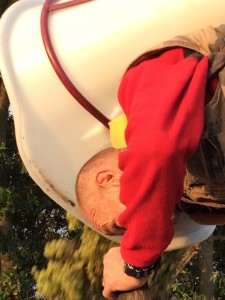 A chardonnay day today. Weather is cool but nice, the mood is good.  We harvest at the top of the vineyard, a field called Tournié which is named after the man who planted it.
 There's a bit of oidium, a fungus that can settle into the vines, and that puts some stress on the sorting table.  But it's going well.  No mishaps, that is, if you don't call an overflowing press a mishap:  we were so concentrated on the sorting table that we forgot to think about the grapes going on their merry way.  Then we forgot to think about the juice flowing down from the press and overflowing the tank it was passing through.  But that's all in a day's work – no major problems, everything pretty tickety-boo.
Wednesday 21 September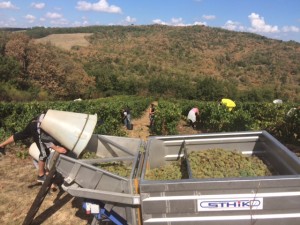 More chardonnay.  It's a beautiful day and it dawns with a nice streaky red sky.  Now we're doing le Pech, our top chardonnay field, and its adjacent neighbour, Lesseigne.  These are the best fields to pick because they are so beautiful.  The view is stunning, and the vines are cooperative and easy to harvest.
But someone got to Lesseigne before we did:  two rows had already been harvested.  We caught the culprits red-handed on an infrared camera: a wild cat, an indistinguishable dark little something with stompy legs and a long tail, some big, pretty impressive wild boar, and a family of deer.  Adorable… the deer, that is.  One of them comes right up to the lens munching. Munch munch. Then the camera shows the leader of the local hunt snooping around in the early morning.  I fear for the deer.  Nice fat chardonnay-fed deer.  The last shot is the trailer arriving, putting an end to the deers' dinner.
We end earlier than expected, the team is going at full speed. First Jan asks them to stop for lunch half an hour before they should, then he asks them to stop working altogether, an hour before they should.  They are being unbelievably cooperative and all say, we'll do what ever is best.
Thursday September 22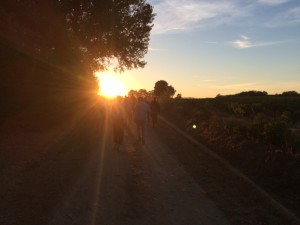 Another absolutely gorgeous day.  We set off to work, and we have a real challenge ahead.  The mauzac in the field called Jardin needs to be picked for the Blanquette.  For a start, picking mauzac when it isn't trained,   is the pits.  It grows like a little wild bush and you have to dive into the very heart of the vine to find the grapes.  Now we're complicating things by relying on our team to actually select the grapes they pick, bunch by bunch, taking only the bunches that will be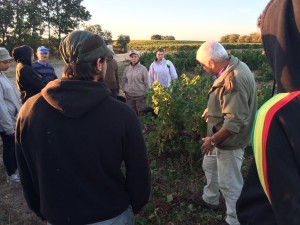 good for the Blanquette and leaving the rest to ripen further. So we set off into the sunrise, and Erick illustrates which grapes are pickable and which ones are not.
We're all there helping and advising – and let's be honest, supervising. Danny, Evelien, Ahmed, Christine and a few others are aces, but some of the new boys aren't exactly shining.  It takes a bit of time, but after a while, seems to be working okay.  Back at the  sorting table,  the first load arrives and looks pretty perfect. But Jan's impatient, he wants to get back to the field and pushes the big bunches along the way far too fast.  "The conveyor belt will break down if you do that" I say, and no sooner said, than it did.
Friday September 23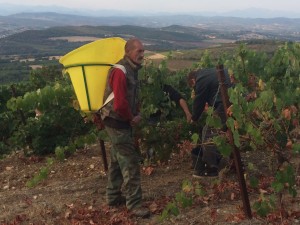 Another utterly gorgeous day, and we troop off to our most gorgeous field where our chenin blanc is lapping up the sunshine and reveling in the view.  It is stunning, nearly all the harvesters take out their phones and start filming it.
Same story today: we select the grapes, take about half and leave about half.  It is quickly done.
And then we put them to work, stripping leaves away from around the grapes.  Up until now, we've been saying: pick the grapes and leave the leaves behind! We don't want to see any leaves going down the sorting table!  Now we're saying, "Leave the grapes and pick the leaves!"  This will allow the grapes to hang as happily as  laundry on the washing line, so the wind and sun can circulate freely.  Rain is forecast for Sunday, and the last thing we want is for rot to set in.
Saturday / Sunday
 Jan-Ailbe locks himself up the cellar all weekend, doing mysterious things with the juice.  We tasted it all last night, and it's made us all feel  quite a bit more relaxed now.
Friends come to stay for the weekend.  A dangerous thing to do at this time of year.  We put them to work, exfoliating the chenin in front of the cellars, trying to beat the weather forecast.  For once the forecast is completely accurate, and the rain falls at 14h30 promptly.  We get drenched, but work on. And then the rain goes … and stays away.  Hurrah!
Monday September 26
A free day.  We have pressed pause put the harvest on hold.  Big discussion and debate again.  How long before we start again?  The one says "not before Thursday", the other says "Wednesday, an easterly wind is forecast for  Thursday.  And rain over the weekend. Then more of the
marin
wind."
Rain followed by an easterly wind is a fatal combination.
But on the other hand, when has the forecast ever been right? Trouble is, it might be this time.
We decide to do one more field by machine for the IGP Pays d'Oc, to speed things up and free our hands a bit.   The question is when?  And there are the pragmatic considerations: when will the machine be free to come?  So we peg the conversation for later discussion and continue de-leafing the mauzac instead, giving it its day in the sun.
Problems deciding which of the harvesters to call in for the job. Danny is terrific, but some of his team are not. However, he can't come without them, because he doesn't have a car.  His ex-wife certainly won't bring him, she'll come with another old-hand, who's OK but not fantastic. Pierre has been slacking this year, on the other hand, the rest of his team is excellent …
Finally, we decide to plunge in again on Wednesday.
Tuesday September 27
Danny phones, why hasn't he been invited to come and harvest this week, and who has been invited?  Sticky question to field.  He's cross with us.
 Talk with a friend who has just finished her harvest.  Her experience is completely different: while we are giving our grapes more room to ripen, she was desperate to get them in, some of them hitting an overwhelming 18% potential alcohol.  She had never before seen them rise at a rate of one degree potential alcohol per day over a three-day period, while we … well, we would be singing hallelujahs if we had just one such day.
There's nothing sensible you can say about Vintage 2016 for the Languedoc as a whole.
Wednesday September 28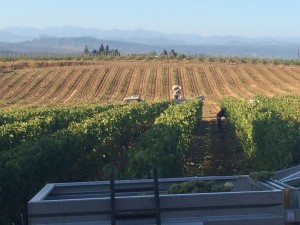 Morning broke like the proverbial first morning: just achingly beautiful.  If we can put all  this magnificence into our chenin blanc,  Dédicace, then we've really got it made.    Mountains receding in opiate shades, the vines beautiful and bountiful, like a perfect illustration in a textbook,   the chenin blanc grapes glowing in the soft sunshine of early morning. It is incredible.   And the story repeats itself on the sorting table, there is simply nothing to sort here.
By midday, we've finished the Garden of Eden (never more aptly named).  These vines have had their day in the sun.  The party's over now for them.
The sun rises high and beats hard on our backs as we attack the field called Ecurie after lunch.

The vines were planted when chenin was first introduced into the Languedoc, and unlike us, they are not showing their age.  I'd been walking around with a refractometer, to show the harvesters what a difference there is  between a ripe and an under-ripe grape: they were fascinated, but there was no need for it.  Everything is perfect.  Everything can be picked.  So we set to.
Ahmed starts braying like a donkey.  Benoit replies in a goat's voice.  There's a menagerie at work here in the Ecurie (never more aptly named).  And the sun keeps beating down.
Early start tomorrow.  So early to bed, to dream chenin blanc dreams, beautifully de-leafed, being picked like laundry from a washing line.
Thursday September 29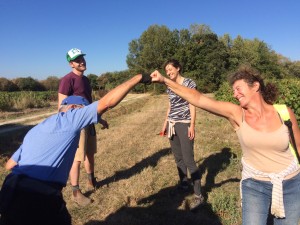 You can see the faintest glow of morning along the fringes of this pitch black sky fretted with ice white stars.  Somewhere an owl hoots and there is the raucous shriek of some unknown other winged thing. Huge headlights of the harvesting machine throw the shadows of vines into the night, like pedestrians on the side of the road. Lurking at the end of the field are the waiting tractors, their revolving lights flashing with importance and urgency.
It is extremely cold.
We're out there harvesting, by machine, the last of the grapes for the Pays d'Oc.  They tumble along the sorting table like jade and emerald marbles.  They are ice, but ice cold.   After nine tons of them,  your hands are utterly and absolutely frozen solid.  I struggle to open the plug of  the trailer with stiff, frozen fingers, and a shower of  spitefully cold grape juice shoots down my sleeves and under my T-shirt … jeans become heavy and soggy with grape juice.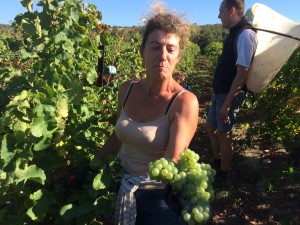 Definitely time for a coffee-break and a bath.
(Tales a lot of good coffee to make a good wine)
And in the meantime, the day has become magnificent. Somehow,  the weather forecast has re-written itself into exactly what we want.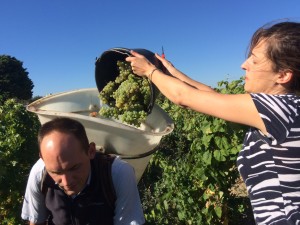 Then this "intensely family enterprise" heads off to finish hand-picking the last rows of chenin blanc left over from yesterday.  Jan-Ailbe comes out of the cellars where he has spent most of the harvest, and Xaxa gets down on her knees, reverentially picking: an intensely familial  brother-sister act.
And then there is the small question of the grapes.  They look wonderful.
Friday September 30
We press 'pause' again and put the harvest back on hold.  The day is magnificent, for once the weather seems to be playing into our hand.  Or at least, the forecast is.
"I told you so!" one of us said.  "We should have held back the whole harvest by a week…"