You can follow a short harvest report daily on www.twitter.com/RivesBlanques or click on Diary of a Vineyard at www.rives-blanques.com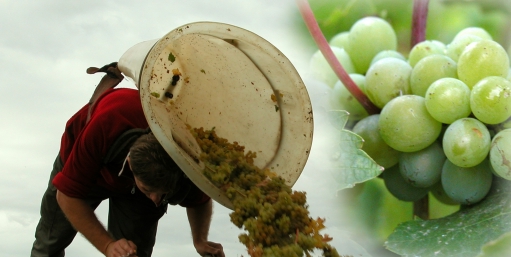 After a slow start in the early hours of September 3 & 7, the 2009 harvest at Rives-Blanques got properly underway on September 11 – exactly in line with 2008 to a day.
In spite of a cool start, the lead-up to the 2009 harvest prepared the stage for a perfect set. About 300 mm of rain fell between January and April, enabling the vines to motor through right up to the harvest with an average boost of about 30 mm each of the following months. By May, it was already evident that there would be a significant reduction in the amount of chardonnay – fewer bunches on the vines, particularly those pruned in cordon de royat – probably due more to a result of the 2008 flowering of the vines than to any lack of water. The weather right up to August was unusually cool and overcast, but before the month had ended, clear skies and hot sunshine were the rule. As the harvest started, the grapes were impeccably healthy, and a beneficial north-westerly wind was blowing steadily over the vineyard.
———————————————————————
The 2009 harvest at Rives-Blanques officially ended on 12 October, though the most of the action was over by 30 September. The weather throughout remained perfect: cool nights, sunny days, clear skies and a steady dry wind. As a result, the grapes were in pristine condition, and work at the sorting table was redundant. As expected, there was a decrease in the amount of chardonnay – redressing last year's situation. The surprise was a sudden halt in the development of one field of sauvignon, and one field of chenin blanc, which delayed the end of the harvest until 12 October. This was probably due to a lack of water, not so much this year as in the winters of 2008 and 2007. The vines themselves showed no visible signs of stress. Overall, although the second half of the harvest was more complicated than the first, a good acidity/sugar balance coupled by a low, concentrated yield promises a very good year indeed.