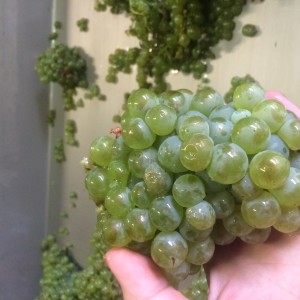 After a quick foray into the vines to hand-pick  grapes for our sparkling wines last week, the harvest went into full swing today, as we machine harvested our Pays d'Oc.  On Monday we will continue hand-picking the grapes for our white Limoux wines – and continue doing so, hopefully, until the end.  This is two to three weeks later than last year, when we had already finished harvesting by this date.
It has been an extremely interesting run-up to the vintage this year: we had an unseasonably warm winter, a cool spring, and a summer so hot it was reminiscent of 2003.  We also experienced the latest veraison (when the grapes begin their ripening process) in our history.  Drought has been a major issue  throughout the region generally, this year, while some parts of the Languedoc were even devastated by hail on the eve of their harvest.
At Rives-Blanques we have been saved by our high altitude micro-climate, and by our  old vines whose deep roots search out ground water.  As the harvest opened, the vines were showing almost no sign of a lack of water, and the grapes were generally plentiful and all in perfect condition.  12 mm of rain on the eve of our harvest made a positive contribution, and again we were lucky: more at this point would have been bad news.  It was the Goldilocks factor: just right.
You can follow our harvest on our Diary of a Vineyard.
Saturday September 17