There are a couple of things we can say about this harvest with absolute certainty. One is, it was unlike any other. Of course every harvest is (unlike any other), but this one even more so. Another is, it was experienced in a completely different way by different parts of the region, even by different parts of the same appellation. And never, or at least not in the last generation, and quite possibly even longer than that, has a harvest ever been so late and so long awaited.
There is an old truism that les vendanges se font en aout. The conditions immediately before harvest have an enormous impact on its quality. A bad August can wipe out a year's work, a good August can make it all come good. That was not quite the case this year.
At Rives-Blanques, the vines flowered about three weeks later than usual. This didn't worry us unduly: everyone knows that vines have a way of catching up and dealing with what ever nature throws at them in their own way. As a consequence of this late flowering, the next step was late too: veraison is when the grapes become soft, and begin the ripening process on the steep, slippery slope towards the harvest – and veraison was only just starting when we left the vineyard for our annual two week holiday in early August. This began to raise some doubts: would the grapes have enough time to ripen properly before the cool weather of Autumn sets in?
These doubts were well founded. Halfway through the harvest a decree was issued stating that permission had been given to Limoux to 'enrich' the country wines (vins de pays) and the fizz (Blanquette and Crémant de Limoux) with concentrated must. (This is not chaptalization, whereby sugar is added to grape must before fermentation, which is banned throughout the Languedoc.) This new decree, however, did not apply to Limoux's non-sparkling appellation wines.
More worrying than the lateness of the show, was the 'wrong' weather accompanying it. Even before the summer was over, we had already had our entire annual quota of rainfall. The critical moments in the vine's life – flowering and veraison – were played out against a backdrop of cool temperatures, which resulted in uneven ripening of the grapes. And then we had the bad luck of a hail storm in late July, which slashed to smithereens about 40% of our top chardonnay before the grapes even had a chance to really get going. In one way or another, Vintage 2013 seemed determined to set itself up as a "winemakers' year".
The text book says 100 days from flowering to harvest, and the text book was right. Flowering started at Rives-Blanques on 22 June, and the harvest started on 1 October, exactly two days after it ended last year.
In many ways, it was a 'good' harvest: a clean, brisk breeze boosted morale and kept the harvesters happy. We were not forced into a series non-stop, round-the-clock harvesting days as in 2011, and we were even given the weekends off. But it was stressful. Measuring the slowly rising sugar levels in the grapes was akin to an anxious parent counting the pounds gained by a premature baby. And a terribly decision gnawed constantly: pick and be hanged, or let hang and be damned?
If you are picking by hand, as you have to in Limoux for its appellation wines, then there is only a certain speed at which you can work. If the weather turns, if rot sets in just as the grapes' sugar levels are high enough to encourage it, then, in a word, you've had it. And the later in the season it gets, the worse and more critical the situation becomes.
On the other hand, the longer white wine grapes have to mature and ripen, the better they are. People talk about the famous "slow maturation process" with good reason.
At Rives-Blanques, we have a micro-climate which makes us later than any other vineyard in the appellation (for white wines) at the best of times – but these were not even the best of times. We knew we would have a long and dangerous wait before we got the right balance of sugar and acidity in our grapes, so we set our harvesters to work – not to pick the grapes, but to pick the leaves surrounding them. We had already done this effeuillage a few months earlier, but now was the time for drastic action on our appellation fields, and every single bunch of grapes was uncovered and exposed to the cleansing wind.
The year showed its true colours at the sorting table: uneven ripening, a bit of millerandange, hail damage. But there was very little evidence of the botrytis that plagued so many other vineyards. In fact, it finally reached us, hand-in-hand with the humid marin wind from the Mediterranean, just at the very end of the harvest – but by then we had finished our hand-harvesting, and were able to swoop in on the last grapes by machine before any damage could be done.
We ended the harvest on October 17, the last white wine vineyard in Limoux, and possibly in the whole Languedoc. We were very happy that we managed to achieve a good balance of sugar and acidity in the grapes, with potential alcohol levels of between 12.5% and 13% . The bad news is our yields were dramatically decreased: chardonnay for Odyssée, and mauzac for Occitania coming in at around 27 hl/ha. The day went to our chenin blanc, which being a late developer, was far less affected by the weather conditions at the time of flowering. As Johan Cruyff, the Dutch footballer famously said, "It's all about timing".
In Limoux generally, thanks to the prevailing high acidity/low sugar equation, the general belief is that 2013 will go down as a 'grande année' for the effervescents . At Rives-Blanques we are also quietly optimistic about our still Limoux wines.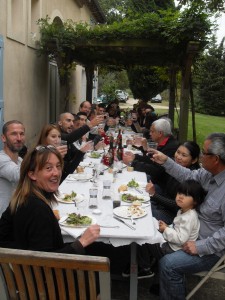 October 19: Our harvesters celebrate the end of another vintage at Rives-Blanques. On the menu: the wild boar that got to some of the grapes before they did.