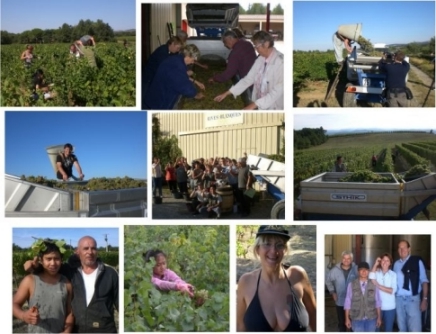 Such frenzied activity at Rives-Blanques that nobody actually noticed September passing into October. The weather was doing something – yo-yoing around more or less as it is has been all year – but we were taking it one day at a time: the awful fallibility of its forecast matched only by the unerring infallibility of our own hindsight. So when we raised our heads from the sorting table, where vehement argumen … oops, sorry, discussions raged about whether to let the grapes hang, or be hung with them, we noticed that it was suddenly October. And we were still at it, cemented to September's sorting table. The sorting table itself is a good place to analyse the millésime – every grape from every vine, whether picked by machine or by hand, passes through your own fingers, and there you have a microcosm of the year in hand: the two or three unbearably hot days in August that burnt the backs of some south-facing bunches; the rain, hoped for in August but happened in September, that ushered in a bit of oidium here and there; the chilly days during the flowering of the vines that caused some grapes not to become grapes at all; and the sunny burst of luminous light in September that turned incipient botrytis on a few of the chenin blanc grapes into noble rot. (Then another argum… oops, discussion followed about whether to leave them there, hope for the best and go for a late harvest or add them to Dédicace for added complexity and interest). There is something unfair, you muse as uncountable tons of grapes pass past your hands on their way to the winepress, that all the work of a year can be marked by the events of days – unfair, that is when to your disadvantage (very fair when not.) These are stressful times indeed. And yet. And yet … when it's all over, and you see the last grape jump off the sorting table into the press, you feel happy, relieved, oh so thankful that it's all gone well … but almost a little sorry too that the party's over. (Rather like that grape itself, deciding whether to jump from the sorting table into the press or not, as you will see if you click here.) The year may be only three-quarters done, but for us, we can already say it was a Very Good Year.
Sunday 03 October
There is a lot that is not in the manual. We're constantly making snap decisions, deciding which fields to harvest when. The manuals don't guarantee the availability of harvesting machines just when you need them – that is, before the unforecasted rain at tomorrow's pre-dawn hour of 04:00 – or the hand-harvesters, who may well find something else to do if they're forced to cool their heels for a day or two at Rives-Blanques. Nor do the manuals tell you what to do if the door to the winepress suddenly refuses to close. Or the rolling carpet stops rolling and the grapes all pile up in profusion with nowhere to go. There is a lot that can go wrong. But thankfully so far, nothing has. In fact, it all looks as if it's going very right. The vines have made up for lost time, and we're beginning to think the harvest may end this week. That would make it the fastest harvest of the decade at at Rives-Blanques
Wednesday 06 October
It's All Over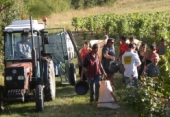 Yes, it's all over. Van has strung vine leaves around his head and is a dead ringer for Bacchus. Jean Paul is clutching a rose. Patricia has tucked a rose behind her ears. The Terrible Tattoo Trio has bonded and are bantering with their new mates. It's suddenly awfully relaxed. The weather is conspiring and has put on a view in HD: spellbinding. We all almost want it to go on. But there you are. The last bunch from the last vine in the Garden of Eden is picked and put on the trailer. The trailer heads off to the winery. The grapes are sorted and go into the press. They are pressed … and tomorrow? Tomorrow, no harvest. We can hardly believe it. Tomorrow we shall fall apart like a soufflé that came out of the oven too early. But today – today we open a bottle of Blanquette and celebrate the end of a great harvest. Everything good: no hail, no rain to speak of, no accidents, no incidents, no unhealthy grapes, good sugar levels, good acidity … we can make something really good out of this.
Saturday 10 October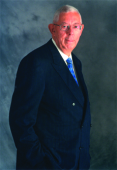 Xaxa (the daughter of the house, not the eponymous late harvest wine) sleeps five nights in five different countries and wakes up in Hasselt, Belgium to join her mother, recently risen from collapsed soufflé status but still identifiable by filthy fingernails, and off we go to the Open Door Tasting of one of our oldest and most favourite importers, Justin Monard Pro Vino in Belgian Flanders. Sadly, Justin Monard himself is no longer with us and his tall, lank, somewhat lugubrious figure is much missed…though heaven is blessed, and can boast a brilliant new sommelier at God's table.
We first met him at our first Vinisud wine fair, when we had but one wine to show and were still glueing on photocopies of the not-yet-printed labels on the bottles. He had tasted this wine in the anonymity of a communal collection in another hall, and hunted us up. We raised our heads from the spit and glue job and found our tiny space almost entirely taken up by a tall frame in a dark suit, with a distractingly bright, coruscating tie. That was Justin Monard, a man of few words and a legendary palate. We have been friends with the family ever since.
Sunday 11 October
We're still at it. Xaxa's selling Xaxa (vendange tardive) like hotcakes. A two-man band, actually school-teachers in real life, continues pouring the balm of music over meandering crowds. They never stop: Belgian after Belgian coming to taste the whole map of French wines. Not even the sunshine outside sidelines them. It's great, and it's a lot of fun. But most fun of all is after the curtain falls, when the winemakers get together for dinner and the table groans, yes groans in delight under the weight of their labour: Kirwan, Grand Pontet, Palmer, Phelan Segur, Baronne Guichard, the 1 Crus of Montagny, Rully, Chablis, Ladoix, Savigny-les Beanne, Nuits St Georges, Monbelie, Pomard, Vougeot … oh, pass me that Gevrey Chambertin … would you like to try this Quincy? … interesting, this Domaine de la Chapelle …. I like the 07 better, actually, try this one … How about a nice little Rhone?
It seems that every appellation in France is on this table, and from the Languedoc, it's the usual suspects – Angles, Guilhem, Daumas Gassac, (Rives-Blanques) but for all of us a unique opportunity to taste a complete cross section … in tiny sips that don't add up to much more than a glass or two in the end, but equal a hugely entertaining evening.
Tuesday 12 October
Get back from Belgium to find that 200mm of rain has fallen on our plateau. Oh the joy of having lost that argument about whether to leave the chenin blanc hanging or not!
Saturday 17 October
Going Dutch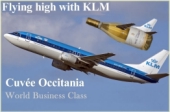 Absolutely delighted to get an email from Brasil today, from someone who flew KLM to Sao Paulo and had our mauzac, Cuvée Occitania on board. It's great that KLM, winner of the World's Best Airline Wine Menu, has again chosen our mauzac for its most pampered passengers. But it's almost even better when those passengers take the trouble to write and tell us they enjoyed the wine. Really puts us on a high, you could say.
Monday 18 October
Singing Barrels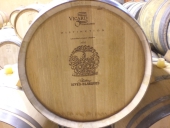 No wonder we all keep bumping into each other in the wine cellars. The smell is …well, ineffible. Ephemeral. Just incredible. And so is the sound. We have our different theories: Jan says the barrels are singing. I say they're chatting, gossiping, plotting, thinking. In any event, they are certainly fermenting. Limoux is the only appellation in France that insists the wine must be fermented (and aged) in oak barrels. If you feel like popping down the rabbit hole like Alice in Wonderland, to hear the inside story of the fermenting/singing/chattering barrels, please click here.
Wednesday 20 October
Go!Go!Gault Millau!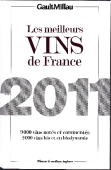 Big news comes in big books: the new Gault Millau Guide to the 9000 Best Wines of France 2011 has just come out, and we count ourselves happy that eight of them come from Rives-Blanques. In fact, every appellation we make features in this edition: our AOC Limoux, Blanquette de Limoux, Cremant de Limoux, and Vin de Pays d'Oc. Another encouraging 10th Birthday present for Rives-Blanques.
Thursday 21 October
Eee by Gum
Absolutely amazed to hear from a friend recently returned from Moscow that he came face-to-face with a 2006 Chateau Rives-Blanques Dédicace (chenin blanc) on the wine shelves of the Gum Department Store. A snip, at € 45.00 per bottle …
……/to be continued.