Pretty as a picture: there is a lot going on in the vineyard right now. A pure work of art, you could say. Our vines, and the barley and vetch growing between them have been joyfully gulping down all the rain free-falling from the skies this month … rain that should have fallen in January. But then, January was more like March, while April behaved like January … and March jaunted off on a June holiday as if summer were in the air. What, we wonder, are we to expect of May?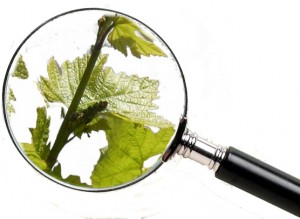 It is a wondrous thing to behold, a chardonnay vine racing through bud-break in April, and delivering the tiniest, embryonic little beginnings of grape bunches on May's doorstep. Please click here for April at Rives-Blanques, or on the picture, to accompany the minor miracle of millésime 2012 in the making, which continues undaunted, rain or shine.
You may well ask what that ampule is hanging from the branch of the vine. That, gentle reader, is a pheromone designed to sexually confuse Eudemis, "a nasty little butterfly" (l'Indépendant's words) so that it doesn't lay its nasty little eggs in our vines. Which result in nasty little worms that open the grapes up to all manner of nasty things.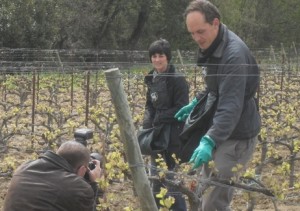 Rives-Blanques was the first vineyard in the region to fight back with this friendly, albeit somewhat underhand method (in 2009), but this is a costly war to wage; spraying Eudemis to smithereens is a much cheaper option. Now, with the help of a subsidy enthusiastically endorsed by our Chamber of Agriculture, we are able to band together with our neighbours and make our whole hill, and all the vineyards on it, a sexually confused zone. National and local TV, radio and newspapers came to cover the tale of the lives, loves and losses of Eudemis, at a press conference at Rives-Blanques two weeks ago, and you can read all about it here.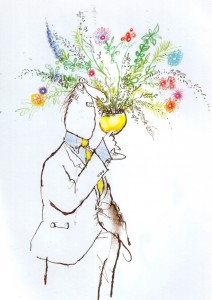 Our "Chardonnay of the World" gold-medal winner, Odyssée, came home last week with a silver medal from the Competition of the Great Wines of France in Macon, heartland of chardonnay. And our new blend, called Le Limoux, faced the fire for the first time, and also won a silver medal – from the competition of the Great Wines of Languedoc-Roussillon. The world's most prolific and published wine writer, Dutchman Hubrecht Duijker, today gave his blessings to Le Limoux as well, choosing it as one of his 'discoveries' of the month, which of course is hugely encouraging…
So as far as the 2010 vintage goes, things are positively blooming.
And the 2011 vintage has now all come out of its barrels, biding its time for bottling next month.
And inevitably, our thoughts turn more and more to the 2012 vintage.
And the sun rolling high
Through the sapphire sky
Keeps the great and the small on the endless round
Sung by the Lion King (Elton John/Tim Rice)
May 4 , 2012