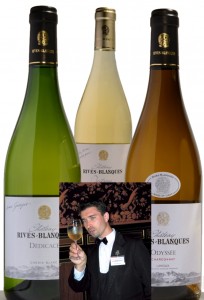 Dominique Laporte may not be a household name all over the world, but he's well-known in France.  At one time or another, he has held the title of Best Young Sommelier, Best Sommelier 'ouvrier', No 3 Best Sommelier in the World,  Best Sommelier of France, and International Port Master.  (That is, port as in Port, not as in harbour).
He's the fellow who has been charged with the job of heading the selection committee to choose the 'Iconic' Languedoc wines that will showcase the region at Vinisud  this month.
Many were called (1525 wines) and few were chosen (530 wines).  We were glad to find three familiar faces amongst the great and the good: a chardonnay, a chenin blanc, and a mauzac … all from Rives-Blanques
These wines can  be tasted alongside the other Iconic Wines at Vinisud – and also at the Rives-Blanques stand : Hall A5, Stand A38.