The beginning begins.  All the vines are pruned, there's plenty of ground water deep down, the days are growing longer and warmer – and we all start looking towards the harvest, vines included.  Vintage 2011 is already in the making, and there is no going back.  So March puts us outdoors and indoors …. and also at home as well as abroad.  The big deal will be ProWein,  but there's lots more besides.
Tuesday 1 March
The good news and the bad news
Yee-haw!  It's a rowdy howdie to Texas as we wave off the first pallet of our wine bound for the Lone Star State.  That's fun.  There's a feeling of real adventure as we watch the truck bounce off down our rutted road.  Bye-bye Cépie, Houston here we come!
And then we get an email from our man in the USA.  The backlabels for another state in the USA have been rejected because we forgot …. a comma.  Rejected by a comma.  It's absolutely true: a comma.  Just to make  sure we really understand, he adds in French une virgule.  Could we please send a revised label so that we can wait another four months for approval …?
Thursday 3 March
Wine-kind Wednesday

Getting ready for next week's roadshow: Monday with Enotria in London, Wednesday with Jim Niicholson Wines in Dublin, Friday with Tanners in Shrewsbury, and Sunday in Holland.  Nicholson's got it right.  If you believe in the lunar calendar, there are wine-kind days when it is at its best, and next Wednesday's a beauty.  For anyone who's interested, here is a rough guide.  I'm not saying we believe it, but we have sometimes noticed a remarkable coincidence between a perfect harmony in our wines and  'good' days …
Friday 4 March
Boundlessly Adventurous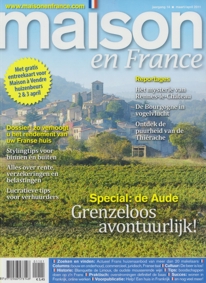 That's what the cover of Maison en France says about the Aude … excepting it says it in Dutch.  This glossy magazine concentrates on our part of the world in its March/April edition – and quite alot of that concentration is centred on Rives-Blanques (with its "world famous wines") and our bubbles ("of outstanding quality").  Its so nice to be able to quote such shamelessly self-promoting and over-the-top things other people say, without being obliged or even tempted to say them yourself…
So thank you Maison en France!
To read the full article, just click on the cover and all will be revealed.  In Dutch, that is.
Sunday 06 March
Why does the vineyard conspire against us, conjuring .such a magnificent clear-cut day just as we are leaving?  As if to hammer home the message that anyone  who could even contemplate leaving this for that must be absolutely mad?   It actually hurts to go
Monday 07 March
To the Church on Time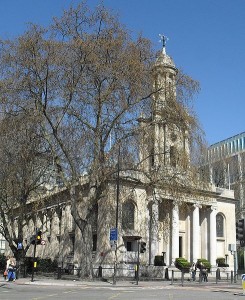 Number One Marylebone is an imposing church in London built by the famous architect Sir John  Soane, also known for the Bank of England, and any number of important bunker like buildings of neo-classical mein all over the British Isles,  bought and sold like property on a Monopoly board, pummelled and bullied into lives  that were never their own or ever meant to be.   But there is something truly monumental  about this monumental architecture that enables these buildings to weather incarnation upon incarnation and whatever else time may throw at them, with equanimity.  The exception I suppose, is the Bank of England building which remains as safe as…
and presumably will do so for ever more.
So here we are in what is reported in today's papers to be an environmentally sub-standard area of London, in the former Holy Trinity Church with a large working organ and any number of glowing stained glass windows to prove the point. A beautiful large airy space unfolds behind its Acropolisian entrance … or it would be, were it not for over 800 professionals of the wine trade filling the place,  swirling, gurgling, spitting, and talking wine.  I tell you, there are Portfolio Tastings and there are Portfolio Tastings, but this sure is  one helluva Portfolio Tasting  .  There are wine producers from all over the world – on our feet the whole day long … and worked off them as well.  This huge space is a actually too small
"  My partner refuses to do this sort of thing" a producer from Chablis says " He's too much of a caveman" .   The mind boggles until the penny drops (a cellar-man), though you could see his point: a lot of us are cavemen at heart.  We may even be becoming more caveman by the minute.
So this is Enotria, the company that bought out our UK importers, the Great Western Wine Company, and this is their wine Portfolio Tasting, the first we've attended.   They do things big time.  It's pretty amazing, and it's very impressive.   (And we are exhausted.)
But would it have made any difference had we known that this Church had been built with the £100,000.00 put aside by the British government in 1818 to celebrate the defeat of Napeleon?  We, who are producing and purveying French wines?
The party ends with a gala dinner in the Church's vaults, and then we leave.  And Holy Trinity sinks back into its inherent and possibly indifferent silence,  all the better to contemplate the next impending  happening scheduled to happen in "London's premier event place "
Wedneday 09 march
The Face of Fine Gael
It's sunny in Dublin.   Really sunny.  It's the first day in office for the new Fine Gael Taoiseach, Enda Kenny, who has gone to Brussels, hat in hand.   (Please  note, NY Times, Enda is a he Taoiseach, not a she Taoiseach).   In the pub opposite the Dail, the ousted Fianna Fail party members are crying into their Guinness.  There must be quite a lot of them, because the place is packed, and lots of Guinness is crossing the counter.   We are there too, a handful of producers who have been showing our wines in the Hibernian Academy to trade buyers from all over Ireland.  It's been a great gig, actually, and it's clear that nothing, not recession, not depression, nothing can wipe the smile out of Irish eyes.  'Craic' is a word that really means something, and it's operating full-time here at James Nicholson's wine tasting. So we're very happy, and besides, it's sunny in Dublin.  And it's time for a Guinness
Sunday 12 march
Train spotting
About 50 years after Soane was tinkering with his All Saints church in London, here in the charming Dutch University town, Utrecht, they were building a new railway station.  Prosaic, but pretty none the less.  And like Soane's Church, its life as such was short-lived.   Today's tasting was originally intended for the Third Class Waiting Room, an appealing idea  (operas are performed in it from time to time – that's how up-market the Third Class Waiting Room has become)  but because so many specialist wine shops accepted the invitation, we have been moved into the main train museum.  Just a whistle-blow  from the Nostalgia Express – a fine figure of a train for those who are into that sort of thing.   The buyers pour in, while through the window we see the junior generation of future wine buyers whizzing around in Tommy the Tank Engine.   We've had it all this week – big tastings, small tastings, and now we've hit one that's 'just right' …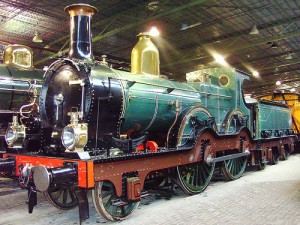 Excepting there's a "just wrong" moment.  All week our ears have been filled with compliments, and we're getting used to it.   It really couldn't be or have been better – this road tour is beginning to feel  like a victory lap.  Until one large man strides over and says agressively, "This chardonnay is far too oaky.  What kind of a wine is this?  You can't even taste it through the oak!"  This is a new one for us, but chacun à son gout, as they say.  Try the Sauvignon then.  "Bah!  How can you call this a wine?" So our gold-medal winning chardonnay and sauvignon are dismissed out of hand.  There is one last chance: an un-oaked chardonnay, one of the few Pays d'Oc wines to make it into the Guide Hachette.  "Pure new world!" he bellows,  "What a boring wine".
Enough to make you throw yourself under the wheels of the Nostalgia Express …
Monday 13 march
Oh my poor feet!  My aching back!  Finally back home…!
Thursday 17 March
Tending to blending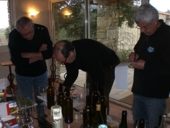 Three heads are better than one, particularly when it comes to counting up hectolitres, dividing them by barrels, adding numbers of bottles subtracting numbers of cuvées …
A great day today.   We taste the Blanquette 08 still lying on the lees, against one we bottled in January.  Then we taste the 2009 sparklers that have finished fermenting a second time in the bottle and are now just abiding their time.  Then the 2010 fizz – mind blowing.  So exciting.  Can't wait for 2013 to come around to drink it up!
Then … and then we taste the 2010 Limoux wines, still ageing quietly in their barrels.  It's going to be a Very Good Year.  Particularly for the mauzac, Occitania.  Very exciting, just a pity there's so little of it.  And then we play around with different blends – it's absorbing, challenging, and great fun.  And what's more, today may possibly even mark the birth of a new Rives-Blanques wine.  Watch this spot.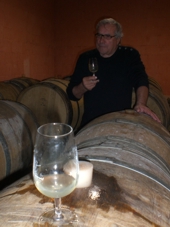 But it doesn't end there.  We go into the cellars where it is a mere 10 degrees and continue tasting the barrels individually, sorting the men from the boys.  Incredible how the same wine in the same barrel from the same barrel-maker can taste so different from each other.  Each barrel is its own person with its own personality – and we like them very much, thank you.
So it's been a great day today, and the day is only half done. And we are starving : there's been enough thought for food.
Sunday 20 March
Tomas Clancy of the Irish Sunday Business News really went to town in today's edition in his article about the wines of  the Languedoc, "France's most mysterious wine region".  Could I ever say that one of our wines is "one of the most startling wines in the world"?  No I could not.  No, I would not – not even me.  But he said it.  And we are very happy to quote him.  Please click here for the full article about the wines of the Languedoc, the wines of Rives-Blanques, and above all, about Dédicace:Sunday Business News
Tuesday 22 March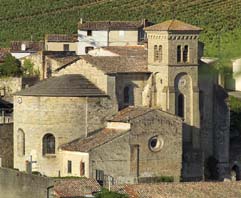 We come out of the church, blinking in the bright sunshine.  The fountain in the middle of the Abbey's courtyard garden sparkles and spills shards of light like a throw of diamonds. Old medieval arches frame  hundreds of people, cast into dark, heavy shadows by the invasive back light.  It seems that all of Limoux and beyond is in mourning .  The Church is full, the Abbey is full, the old stone stairs down to the road are full ; so many people yet you can hear a pin drop.  Grief is silent, heavy and hangs over this lovely day and this lovely place like a pall. Through it, you hear the unhappy tapping of the father's walking stick.   Poor parent, suffering the worst that can happen to any parent.  Poor siblings, poor wife, poor children.  The silence distills itself into a collective shuffle of feet following the coffin  down the old steps.   It doesn't escape you that Jean Marc was a great Blanquetier, and here we are in the very place where Blanquette was born more than 500 years ago.  You know that this Church has seen it all before,  that its bell has earned the right to chime sonorously, so importantly, incessantly.  But what a terrible day.  What a terrible loss for Limoux.
March 26 – 30
ProWeining and ProDining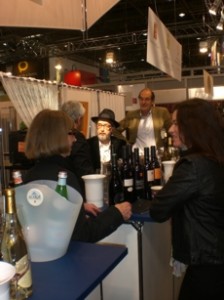 'Out of small things come big things' says the leading German-language wine publication, Vinum.  The 'small things' are  Domaine de Calet, Chateau Rives-Blanques and Mas du Soleilla.  The 'big things' are probably the wines we make, though they could equally be the height of Jan, for instance, or the new beard decorating Peter's face, or the breadth and depth of Yvon's wit.  But the amount of space or comfort we have, they are not.
So here we are at Germany's leading winefest in Dusseldorf, along with thousands of other wine producers from 50 different nations.  Three long hard days for three vineyards tied to a stand of no more than 3 x 3.   And after the show closes at night, the party goes on, in restaurants all over town as producers and buyers mix, match, and meet.  Or try to hide from each other.
ProWein runs like clockwork.  And it runs you into the ground.  These wine fairs are a complete nightmare.
These winefairs are great! You wouldn't miss it for the world.