On y va?
On n'y va pas.
Pourquoi pas?
Parce qu'on attend
It seems appropriate to quote words written in French by an Irish playwright as we are setting the scene  for our Harvest 2013. To answer the inevitable question: no, we have not started yet, and no we do not know when we will. Perhaps the end of this week, probably next week, possibly the week after. It all depends on the weather.

And on Godot, of course.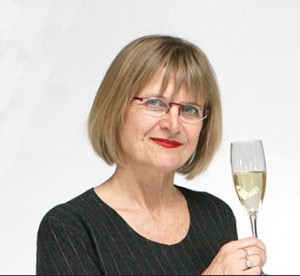 So instead we take a retrospective of our dream harvest, the well-behaved, beautifully cooperative 2012, and point you to the early tasting notes of the first wine critic who has tasted them. The inimitable and wholly admirable Jancis Robinson MW also says the  Languedoc offers "some of the best wine value around" ; and please also  note this: "the whites have joined the reds as worthy of serious interest".
In the meantime, a number of French wine guides have also taken a backward look at our previous harvests in their brand-new 2014 wine guides, including our own favourites, the Guide Vert of the Revue du Vin de France, and the voluminous doorstopper  put out by the famous French duo, Bettane & Desseauve.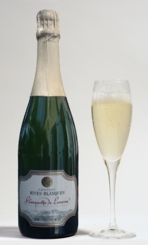 And so we find ourselves in an uncharacteristic lull at this time of year. Time on our hands, and time to pay attention to the quiet suggestion of some of our buyers that the world's oldest sparkling wine could do with a bit of a facelift – or, as they say in French, a 'relooking'. So this is how our Blanquette de Limoux looks now, after being 'relooked' this month – and we hope you will like it.  The medieval handwriting, copied straight from an early 16th century document, still remains the dominant feature.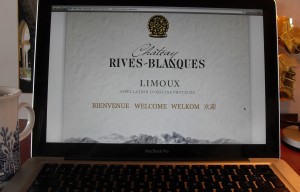 More relooking going on at Rives-Blanques, this one on the internet. Our brand-new trilingual website goes live today at the same old address: www.rives-blanques.com. If you have a moment, please do look us up and let us know what you think.
Or better still, come and visit us in person. Our Tuesday Tour, Tasting and Talk continues unabated, and will do so for as long as there is so much interest. Just one word of warning, apart from the obvious "sensible shoes": you may find yourself put to work if you come over the next four or five Tuesdays .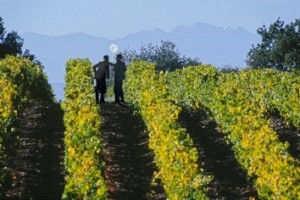 Speaking for ourselves, we will be glad to be put to work. Waiting, as everyone knows, is exhausting. There is a lot of talk and speculation about this vintage, but here at Rives-Blanques, it is still too early to tell. The grapes look good; the only problem is that they are not ripe enough. But as we write, the vines are gift-wrapped in beautiufl ribbons of bright, blue brilliant skies: warm days, cool nights and a westerly wind – perfect for white wine grapes, perfect for us.  You can hear them singing.  You can hear us singing!  And so, in the meantime and with optimism … on attend.
"It's Godot! We're saved! Let's go and meet him!"
"I've always wanted to wander in the Pyrenees…"
 September 24, 2013