No, this was not our idea. Normally at the beginning of September we are harvesting the grapes for our fizz. But this is not a normal year, and so we are not harvesting the grapes for our fizz. We are sitting here twiddling our thumbs, and scratching our heads. At least the month opened with a string of beautiful days, days that gave galloping hope … and then collapsed into chilly autumnal melancholy and a gently falling, though persistent, rain. But anything can happen yet. It could still turn out to be magnificent.

On the other hand, it also could not.

Wednesday 4 September
Tasting of the Month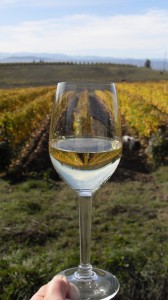 The month has hardly started, but it will be hard to beat today's tasting. We'll get lots of nice people, interested people, interesting people … but today we got the personification of the language of wine
Wine is so wonderful because it is multilingual, multicultural, multifaceted, and it speaks, sings, plays in multitudes of layers of language.
The couple who come by are English. We supplied the fizz for their wedding last year, and it is really nice to see them back again.
They are half of a rather well known quartet called Badke in the UK: Jon plays a 17th century Marino Capicchioni viola ("not as expensive as Stradivarius, but rather better") and Charlotte takes full possession of her 1685 Gagliano Stradivarius today (only 600 in the world … or was it 60?). Jon is, although he didn't say so, also a Professor of Viola & Chamber Music at the Royal Academy of Music, and has a long list of impressive teaching appointments to his credit.
Today's performance begins with the Blanquette.
How would he describe it?
He takes a sip and sinks into contemplation. "Debussy!" he shouts, "I've got it! Debussy! The Cathedral Engloutie!"
Why? I wonder.
"It's the light in the painting and in the piece", he explains, "the light is amazing."
(After they left, I played Ravel's Alborada del gracioso, Jon's tasting notes for the Blanc de Blancs. He was right: the Cremant is more Ravel than Debussy; you could just hear those bubbles trip over your tongue. And deeper, more complex notes. The Vintage Rose also poured Ravel, but the First Movement of his String Quartet, not the Alborada.)
We moved on to the still wines.
"Hmm," he says, "Trilogie is really complex. But it also dances."
"Smetner?" Charlotte offers
"Hmm, yes, but deeper. Bartok, maybe."
"Or perhaps Mahler? Yes! Early Mahler, Symphony No. 1 or 4…"
"NO!" Jon roars excitedly, "No, I've got it! It's Richard Strauss! Yes-yes-yes-yes, I've got it, it's the Alpine Symphony! It's a grand, luxurious harmony. Luxurious, that's it!"
Later, I knew what he meant. Alpine Symphony is a huge piece – complex, complete, of many players and many parts. So … luxurious. Huge complexity built on luminosity. Rather like our very own Pyrenees.
And rather like our very own Trilogie.
Thursday 5 September
Going for gold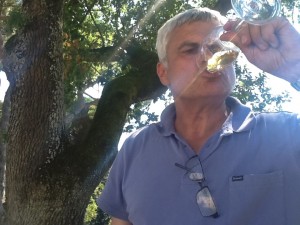 Eric does it again. Our New York importer comes to spend the day with us. He is tall, immaculately dressed, polished shoes, pressed suit and as cool as a cucumber. We are dishevelled, hurried, harried and a bit out of control. We have a simple lunch under the tree in the garden. At the end, by the time we have slowly pulled ourselves together, Bertrand asks about the wines made at Rives-Blanques before the vineyard was called that.
We open Eric's chardonnay, Terres Blanches 1991 and 1997.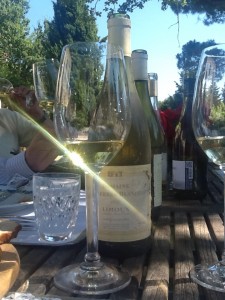 1991 … that makes it 22 years old. Will it be drinkable?
Eric has the first taste. I watch him swirling up the liquid gold in his glass. "Surprennant" he says, unable to hide a little smile of satisfaction.
Surprising? We took a sip and the full force of Debussy (light), Strauss (harmony), Mozart (balance) flooded over us. A bit oxidised, but still magically musical.

Friday 6 September
Jancis Says
Jancis Robinson says that the white wines of the Languedoc should be taken as seriously as its reds. Jancis Robinson is one of the world's most respected wine writers.
We admire her enormously.
And if any single phrase is music to our ears, that one is it.
Plus of course her kind review of our wines in her Purple Pages today.

Sunday 8 September
Friends visit us from Australia. We should like to show them our magnificent Richard Strauss horizon, but it is not there. It is raining. Oh no, oh yes, it is raining. The harvest keeps getting pushed back further and further. This time last year all our fizz was already in …
Tuesday 10 September
First Step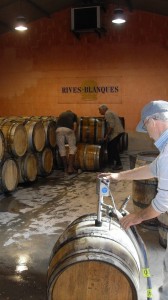 We go on, business as usual. All the barrels are brought out, cleaned, dried, and put back again in the cellars. It takes us two days to finish the job. But for all the hurry we are in, it could take a week, or two. The rain just keeps falling.
And nobody at Rives-Blanques is singing in the rain.
Wednesday 11 September
Second Step
Some of us, including friends from Holland staying with us, go into the fields to pick grapes at random. The idea is to test them for sugar and acidity levels. It's a pro forma exercise, because the answer is perfectly clear.
Particularly when Bruno rushes between the vines, smelling the grapes. But not eating them.
The Infallible Nose knows. Harvest is no where near in sight.
Friday 13 September
I find I don't even want to go into the vineyard any more. Simply don't want to know. For the first time, little seeds of serious doubt are planting themselves in my mind. Will rot set in if this rain continues? Will the grapes have time to ripen?
You look to the sky for an answer but it is grey and it scowls back at you. And a soft, light, drizzly rain continues to fall.
The harvesters keep phoning to ask when we'll be starting. If only we had someone we could phone for the answer.

Saturday 14 September.
Hallelujah! Sunshine! Yes siree!
And suddenly you know that everything is going to be okay. You can hear the grapes singing in the vineyard
And the mountains smile their accord in happy symphonic harmony.

Sunday 15 September

Patrick Dussert-Gerber, a French winewriter who makes many claims about his wine guide, does not appear to make any claims about his tasting notes. And yet they are extremely good, accurate and precise. He says that he has promoted Rives-Blanques up a rank in his latest 2014 edition, though from what to what we are not quite sure. However, we are delighted with his (very good) tasting notes, and of course, very pleased to be one of the two Languedoc "coups de coeur".
…/to be continued