November fell in through the roof, as huge swathes of the Languedoc were covered in enough water to launch a ship.  The rain over Rives-Blanques was infinitely kinder, what we call a 'bonne pluie',  just what the doctor ordered for the newly seeded oats and vetch to grow between the vines  – not to mention colonies of coveted and ruthlessly hunted wild mushrooms.  The vineyard becomes a free-for-all; people will kill for a girolle or a trompette des morts.   We continue our work unperturbed but mushroom-less, as we dig holes  for new vines to replace dead or tired ones, while the vineyard itself glows like an offering of a million candles – Autumn has come, and brought with it a mantle of glorious colours.  It is no hardship to be outdoors.  Surprisingly, the beginning of the month also finds us indoors, contemplating some barrels that are still fermenting: the 2011 vintage is becoming a very long labour of love indeed….
Saturday November 5 and Sunday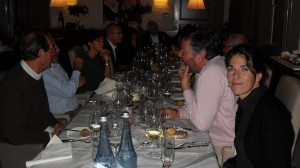 Always love the Open Door days at our Dutch importer's, Leon Colaris in Weert.  And this one seems almost better than ever.  There's a steady stream of people passing our table and tasting our wines all day long.  They ask interested questions.  They're appreciative.  In fact, they're doing all the right things to make us feel really, really happy.  But the happiest moment of all comes after I had been speaking to a small woman with a big smile about sulphites.  Sulphites is something you can't talk about in just two minutes.  It ended up being a conversation of about half an hour, at the end of which she suddenly burst out, quite spontaneously:
I am so proud of you!
I was stupified.  This was a wine tasting "first" for me.
Why on earth? I asked.
Well, you Dutch winegrowers!  Making such wonderful wines!  In France!
Absolutely adorable, I was truly touched.  That sort of thing really makes your day.
And what also makes it is the dinner at the end, where all the winemakers from all over the world sit down and eat and drink together.  And this being the south of Holland, the food and wine are absolutely  great.  And of course the conversation even better: it is all about what we all best like talking about.
Tuesday November 8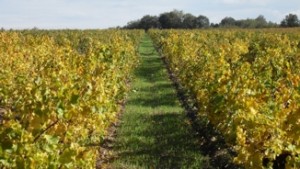 Come back home glad to find Rives-Blanques still afloat.  The rain has been a 'good' rain, and all the oats and vetch planted between the vines have really taken off.  If it weren't for the gorgeous burning, burnished leaves, you would think it was Spring.
We have always planted crops between our vines: they enrich the soil, they keep weeds down, and when they're cut, they also keep the damp in.  Plus they add traction for tractors, which is the unexpected bonus.  And it also looks very pretty …
Wednesday 09 November
Different Kettle of Fish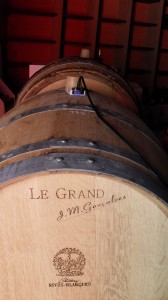 Spot what's odd about this barrel.  Actually, spot what's odd about this whole 2011 vintage, which is turning out to be a very long labour of love indeed.
Some people say it was extraordinary because of the hot weather during "veraison" when the berries ripen. That's  "extraordinary" in the positive sense.
Some say it was extraordinary because of the huge downfall of rain in early September.  That's 'extraordinary' in the negative sense.
Some say it was extraordinary because of the waning moon as from 12 September, which sent sugar levels rocketing.  That's extraordinary in the pure sense.
But whatever the reason, it is pretty extraordinary to see a barrel fitted out with an aquarium heater, as we try to warm up the wine and chivvy it along into finish fermenting.  And it's pretty extraordinary that it is still fermenting two months after the grapes were picked.
Next we'll have goldfish in that nice warm aquarium.  After everything else we've been through, that would hardly seem extraordinary at all.
Friday 11 November
Extraordinary indeed.
Check into the Radisson Hotel in a place called Hasselt, in Belgian Limburg.  A clock on the Church tower next door starts chiming.  We realise it is 11 am on the 11th of the 11th of the 11th.  The receptionist gives us our room card.  "Room no. 11″ she says cheerfully, "on the eleventh floor".
Saturday 12 November
Pro ProVino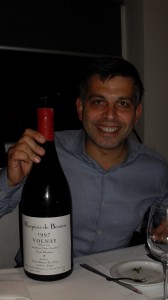 Limoux is sitting and supping with Burgundy.  This is very nice, being sandwiched between Domaine Alain Chavy (Saint Aubin 1 Cru/Puligny-Montrachet 1 Cru) and Domaine Buisson-Battault (Meursault 1 Cru), with Domaine de la Chapelle (Pouilly Fuisse) opposite, and thankfully sans chapeau.  I've been looking at his hat all day long.  It's funny how all the chardonnay-producers have naturally drawn together at the close of day.
The wine in my glass is theirs, to be followed shortly by some brilliant reds, including Justin Monard's own Hospices de Beaune Volnay 1997.  It's at moments like this that you realise how much you love your job.
We have had to sing for our supper though.   All day long on our feet, telling the hundreds of people filing past about our wines.  This is our Belgian importer, Justin Monard ProVino's annual tasting, and as always, it is fantastic.  And as always, it's no problem to talk endlessly about our wines either… particularly to people who are interested.  At moments like this you realise how much you love your job.
Sunday November 13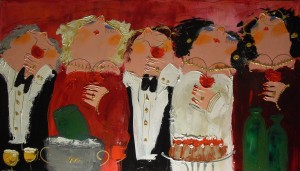 It's becoming a marathon,  we have been at it for three days now. Across the room, Domaine La Chapelle has his hat on again.  People keep coming … and coming … and coming.  And the band keeps playing … and playing… and playing.  And the wine keeps pouring … and pouring … and pouring.
"This is a favourite wine for aparagus" I tell the the man holding out his glass.  "A barrel-vinified sauvignon blanc, made in oak barrels".
"That's for me then!" he exclaims.
"What, are you in asparagus?" I ask him, surprised.
"No, I am asparagus" he trumpets, and flourishes his driving licence under my nose.  Asperge it says, Mr. Asparagus.
"And …" he continues, "my wife has a plant nursery.  Her name translates into Vineyard."
Well, I have to say, another  first for me.  He moves on, and the next one moves up.  He is passionate about slow food, slow wine, slow fish.  This is talking right up our street.  He tells us he is a marine biologist, and in the thick of the crush we have a quick and focussed discussion about fishing rights; about having two 'proper' scallops instead of four farmed; about artisanal coastal fishing; about regulated trawling on the high seas. Then he moves on and the next one moves up, holding out her glass …
It's at moment that these that I really understand why I love my job so much.
Monday 14 November
Belgium is Beautiful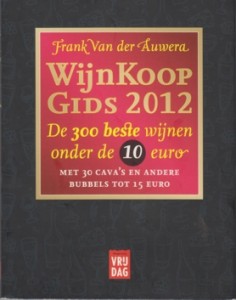 So we had bright sunny days.  But sunniest of all was the timely publication of Belgian wine writer Frank van der Auwera's Guide to the best 300 wines under € 10.00 in that country.  For the I don't know how many-th time,  he has again selected our chardonnay-chenin country wine.  This is wonderful indeed.
I have never met Frank van der Auwera, but I like him enormously.  His well-written tasting notes are quirky, original, lively.  I think he must be all of the above himself.  He has always been a resolute defender of our 100% mauzac, Occitania, which also says a lot about him – and all of it favourable.
Click on the book above to see what he says about us … in Flemish, of course.
Wednesday November 30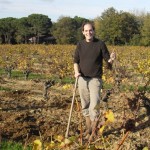 November's morning mist unwraps another unseasonably warm and sunny day. The vetch and oats planted between the rows of vines makes you think spring has come: it's green, it's lush, and it's growing. Great weather for doing what we're doing – ploughing, planting, and pre-pruning. There is an uneasy feeling that we'll have to face pay-back time sooner or later.
We look forward to December a little uneasily.
…/to be continued.