——————————————————————————————————————————————————————————————–
We will be showing our wines during the first half of the year at several different events and locations. If you would like to taste them and to meet us, please do get in touch. Details of the various tastings are below the calendar.
JANUARY 2015: BARCELONA (International Wine & Spirits Convention, January 22-25, 2015)
If you are attending this event, please check the World Wine Meetings website for information about our white and sparkling wines. We would be delighted to meet you there.   www.wwm-barcelona.com
JANUARY 2015: MONTPELLIER – The Vinifilles reach for the Stars (Town Hall, Montpellier January 25)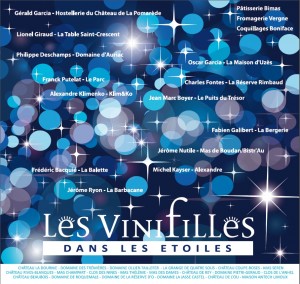 20 stellar female winegrowers of Languedoc-Roussillon  team up with 13 Michelin-star chefs for an unforgettable wine tasting in the City Hall's official reception room.  Caryl will be (wo)manning our stand there, and looks forward to hearing from any wine  professionals who would like to attend.  Over 16 appellations from the length and breadth of the world's most exciting wine region will be on show.
JANUARY 2015: In with the Outsiders  (La Panacée, Montpellier January 25)
At the same time, Jan will be in charge of pouring the Rives-Blanques wines at the Outsiders tasting held in the centre of the old town, at the very cool Panacée cultural centre.  The Outsiders is a group which unites dynamic winemakers who have come to the Languedoc from outside, with fresh ideas and clear views of great wines to be created.Please click here for more information about the event and the participating winegrowers..
JANUARY 2015: Forum International d'Affaires (Montpellier 28, 29 January)
We have submitted four of our wines for this international market place.  To make an appointment to meet us and to taste our wines, please consult the FIA website
FEBRUARY 2015: SCOTLAND (Edinburgh, Hotel du Vin February 9, 2015)Another Outsider trade-only event, bringing some southern sunshine to Edinburgh in February.   Please meet us there, and click here for more information about participating vineyards.
"FEBRUARY 2015: USA (New York City, Maison du Languedoc, 24 February, 2015)Our wines can also be tasted in the USA at the special event organised in the Maison du Languedoc in New York city in February 24.   Not only Rives-BLanques, but a number of Vinfilles will be there with their wines too.
MARCH 2015: GERMANY (Die Messe, Dusseldorf March 15- 17, 2015)
ProWein time at Dusseldorf again.  We shall be sharing Stand 11C90 in Hall 11 with our friends and colleagues from the iconic Mas du Soleilla in La Clape.
APRIL 2015: LONDON UK:  April 22, 2015). The daughter of the house, Xaxa, will be pouring our wines at the French Trade Day Tasting in the French Embassay in London.
APRIL 2015: USA Chicago (World Wine Meetings America,  April 25 – 27, 2015).
If you are a participating American wine importer looking for white and sparkling wines from Limoux, then please do contact us ahead of this event.       
APRIL 2015 BELGIUM: Our winemaker-in-waiting Jan-Ailbe will be pouring Rives-Blanques wines in Mons at the Melchior Vins tasting for restaurateurs and private individuals (April 25, 26, 27)
APRIL 2015 CANADA: Raspipav, Quebec (April 28, 2015): We will be showing our wines with our Montreal importer/agent, Agence Benedictus at this must-visit event.  Please contact Benoit le Cavalier, or us, for further information.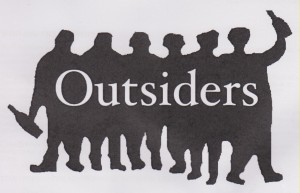 MAY 11 2015: LONDON UK: The Outsiders is a group of forward-looking wine growers from Languedoc-Roussillon who pride ourselves on a creative attitude and open-minded approach. And good wines: seven of the producers earned 90+ 'Parker Points' in The Wine Advocate's last Languedoc write-up. For this triumphant return to London some wine-making friends have joined up for a tasting of 50 wines that will knock your socks off. At the Maison du Languedoc, Cavendish Square, London.
MAY 2015 TOKYO: If you would like to meet us and taste our wines, please get in touch or contact the importer of our Limoux still wines, Dis-Export Japon (May 23 – May 30)
JUNE 2015 HONG KONG & SINGAPORE: We will be in HK and Singapore during the first week of June, showing our wines to the restaurateurs of those places. If you would like to taste them too, please contact us.