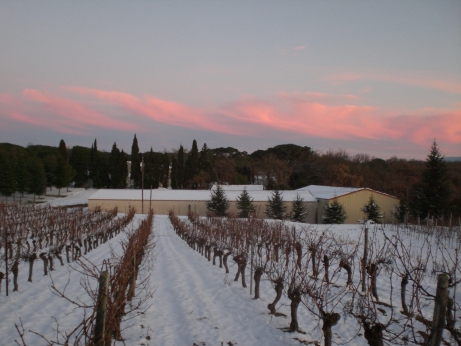 March seemed over and done with before it had even begun. At the beginning of the month, Spring and ProWein, coming in on one single breath, were far away and manageably distant, yet with each day they gallop ever closer like an unreined double-headed horse. The rider is Limoux's carnival, also headed for the exact same day, and at the exact same speed: an untamed trio, hurtling towards the end of the month with breakneck speed. Spring marks the beginning of the vines' cycle, when they turn their attention inwards, expending energy and effort on a great outward burst of life, pulling us all inexorably towards the harvest. ProWein, on the other hand, coming in on exactly the same day, has the opposite effect: it internalises all the surrounding energy and effort … and leaves us pretty much dead on our feet. And then there's Limoux's famous Carnival, a slow dance of introspection and contemplation, which expires – after three long months – with a sigh and a note of sadness at the bonfire on the Nuit de La Blanquette, also the first day of Spring. But what of Spring itself? Difficult to believe in the early snowclad days of March that it will ever come … but it will. The whole of March is upon us before we know it, and we know too, even before the month has begun, that it is already basically over …
Wednesday 3 March
White is Right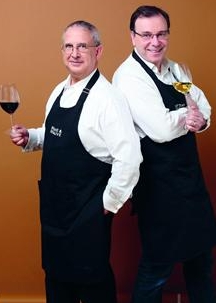 Chapeau! to Mr Bettane and Mr Desseauve, the two most renowned wine writers of the country, for their spirited defence of white wines in the March/April issue of the glossy Terre de Vins! White wine has an image problem, they suggest, which needs to be redressed, and who better than these famous Messieurs to point out the great complexity and diversity offered by white wines? We can say it a million times ourselves, but the sad truth is that people listen only when Bettane & Desseauve say it … So take note, it's not us saying this, but them, in black and white, and in France's award-winning wine magazine: only two Languedoc wines were singled out under the category of wines with great freshness and vivacity, and they both come from Limoux! Now that is pretty amazing, considering that at last count Languedoc was still the biggest vineyard in the world. That actually says more about Limoux than we could ever hope to say ourselves. Attached to this is one bit of good news … and one bit of bad news:
The good news: one of those two 'fresh' Languedoc wines was our chenin, Dédicace
The bad news: both Bettane and Desseauve had their own, very revered noses, in a glass of red wine.
Tuesday 09 March
A Blight of White
You could be forgiven for not correctly identifying this as a vine in the south of France. A vine of mauzac, to be precise, neck-high in snow just ten days before Spring. It fell, thick, fat, fast, furious and fluffy, all day yesterday from pre-dawn to post-dusk: the worst in 40 years. Some of the old people around here say helpfully that this kind of cold surprise can go on surprising us until the Saints of Ice have passed, at the end of May. The end of May! So today yet again we find ourselves completely cut off from the world – but beautiful, oh so beautiful: quiet, cold, white, complete and utter silence, and the only tracks are those of the dogs and ourselves… trying to reach civilization
Wednesday 10 March
Raining Red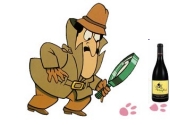 Logically speaking, there are three options: either it blows up, blows out or blows over. Today it looks as if it may blow up. A number of producers in Limoux and a spokesman for the body governing Pays d'Oc wines throughout the region, were quoted voicing their very serious concerns that Sieur d'Arques, Limoux's beleaguered Wine Cooperative at the heart of the fake Pinot scandal, is appealing the Court's 'guilty' verdict. At the same time, in the USA, a completely separate court case is being prepared for another attack on the Cooperative and its partners in this deal. Fear that the fallout could throw a very nasty, very red stain over Pays d'Oc wines generally, and Limoux particularly, certainly has some justification. But apart from a few local voices raised in outraged protest, life in Limoux toodles along happily enough, as the town prepares itself for Sieur d'Arques famous Toques & Clochers barrel auction of chardonnay on Palm Sunday. Beyond our shores, in the cyberworld of Twitter, there was but one single heartfelt complaint: "I hear I have to wear a Tuxedo!" The party goes on …
Saturday 13 March
White All Right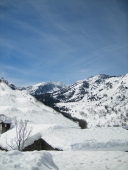 Snow still lying around all over the vineyard like unwanted litter… but at least the sun is shining, and there's a bracing, almost spring-like breeze bounding over the vines. We decide to make a pilgrimage and head into the Pyrenees. Destination? The peak of Rives Blanques, or rather, the base camp. Along the way, fishermen are out in their droves along the banks of the Aude, even along the small tributaries, as the road and the river alike become smaller and clearer the more inland and upland we go. The car comes to a thankful stop at Mantet, a village of iced paths and snowclad rooves, with not a soul in sight. Looming over it, three peaks. One of them, Rives Blanques. Its rives are truly blanques.
It is quite daunting.
It looks quite serious.
It looks like a lesson in life
Friday 19 March
Spring in the Air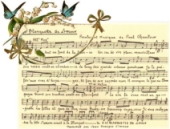 … Well at least it's not snowing. And the calendar tells us Sunday will be Spring. Sunday is also the day of the Night of the Blanquette, the final high hot-point of Limoux's famous carnival, which ends then with a huge bonfire in its Place de la République. Burning on the pyre/fire is the King of Carnival, who will be tried and assuredly condemned to this fate – although with the whole proceedings in the ancient language of Oc, no one can be too sure. And the carnival dancers, who rejoice in the reputation of having participated in and survived the world's odlest and longest carnival, sit around the bonfire singing: Goodbye poor Carnival. You leave us, and we have to stay … and eat garlic soup.
There are many things about Limoux's carnival that defy description or comprehension. And that is probably why it is so charming, and so close to the hearts of the Limouxins.
But unfortunately, we won't be here to see it all.
Tuesday 23 March
ProWeining and Dining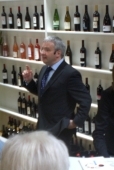 Everything they say about the Germans is true: the organisation at this enormous winefest in Dusseldorf is impeccable. Purely for pro's, it runs as smoothly and efficiently as the U-bahn underground that whisks us effortlessly from the doors of die Messe convention centre to the doors of our hotel. No hours of snarled traffic (Vinisud) or mile-long queues of exhausted exhibitors lining up for taxis or train tickets (London). Just smooth German efficiency – and with a smile too. We love ProWein!
And ProWein loves us – a very pro wine ProWein, this one. There's a palpable feeling of what the French call le buzz de business, just as there was at Vinisud. Could things be beginning to look up?
Jan looks down from his great height and sees a very small woman intently studying the pictures at our stand of Dédicace and Occitania flying with the wings of Aer Lingus and KLM.
"Can I help you?"he asks, hoping this might be an importer in search of chenin or mauzac.
"Oh no!"she says, "I'm just looking at these pictures… my father's a pilot".
Oh well, you win some, you lose some.
But what we won was high praise from Germany's sommelier of the year, Markus del Monego, who tasted the region's wines and selected two whites for his presentation at ProWein: a Picpoul de Pinet and … a chardonnay from Limoux, our Odyssée, Now, that did get us off to a good start. Take into account that the gentleman is not only a Maitre Sommelier, Germany's Sommelier of the Year and winner of the prestigious Best Sommelier in the World award, but also the only person alive to hold all those distinctions plus Master of Wine, and you begin to understand our delight.
The show kept going, relentlessly. We came to meet German buyers, and seemed to meet the rest of the world, instead: China, Australia, Curacao … Die Messe becomes the proverbial oyster.
But three days later we are completely ProWeined and pro-dined out, ready to be put to bed under a big Do Not Disturb sign.
Thursday 25 March
Riotous Assembly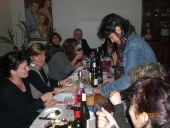 An unusually large sheep enthusiastically bounds over intent on envelopping us in a woolly welcoming hug. This is one of those moments when you need to know how to say Sit! or Heel! in tones and terms understood by a sheep, We are at Marie's vineyard, the Reserve d'O in the Terasses de Larzac. Needless to say, we are deep in bio-dynamic country.
The house is strewn with musical instruments – guitars, banjos, pianos – lying around in relaxed abandon under the eyes of a slightly off-centre portrait of Jango Reinhard at one end, and a painting of flamenco dancers at the other. The table stretched between the two is full of women – opinionated, feisty, festive, dyanmic, utterly driven winegrowers from all over the region. The scene is set for another meeting of Vinifilles, a complete mix of artists, enthusiasts, and idealists, in short, a bunch of soloists coming together to make an orchestra. The music can be shaky at times, but the overall harmony always prevails.
After three hours of this, Pacale the President, puts down her baton – and because we are women, lunch is on the table in no time at all. A very good lunch, full of very good food made from very good locally sourced produce. With a lot of very good bottles on the table, not so much to be drunk as to be tasted.
The whole wonderful diversity of the Languedoc expressed in these people and on this table.
…/To be cont'd NEXT MONTH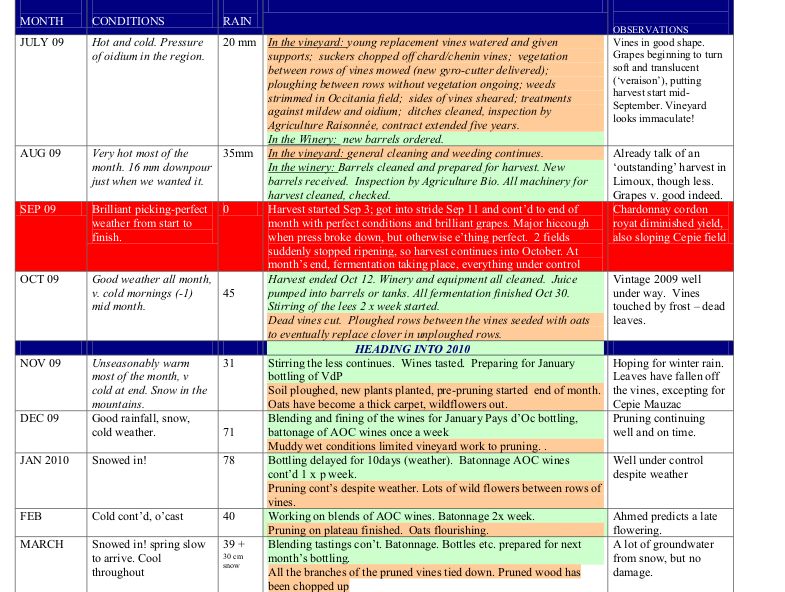 PS The comments in this diary may sometimes be irresponsible, or even silly or stupid, and do not necessarily reflect the sensible views of Rives-Blanques.