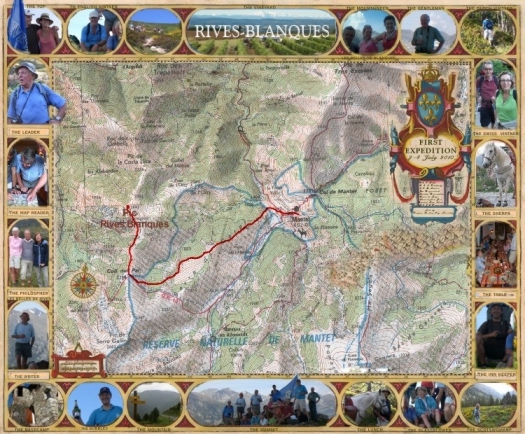 The high point of the month comes right at the beginning of it: a harebrained idea to climb the mountain called Rives Blanques, which is tall enough to look Canigou in the eye, in the French Pyrenees. This, in order to mark the approach of the Tenth harvest at the eponymous Chateau Rives-Blanques, which approaches with frightening speed. The expedition will be led by Lt Col Dougie Keelan, who (safely) took 54 men up Mount Everest and then marched them back down again – all of which was recorded and immortalised for ever by the BBC. Accompanying him will be Major Guy Sheridan, who can be found on a map of South Georgia, labelled as the mountain that was named after him. He has climbed every peak from here to Timbuktu, and has survived to write about it as well (Taxi to the Snowline).. We should be in safe hands. The trouble is, you can surround yourself with experts, but you still have to do the climbing yourself. A bit like taking on a vineyard, you could say. And it's uphill all the way … Plus, the weather forecast is lousy and the Pyrenees are on orange alert, but isn't it always like that, in life as in wine ?
Thursday July 1
So as the 2010 harvest approaches – our tenth – we get together with our experts to taste the 2009 wines bottled last month. There is Monsieur Le Grand, our 'petit tonnelier', a big man from a small barrel making company with the nose of a bloodhound and the palate of a prince. And of course, the home team including Georges Pauli and Eric.
"I hate wood" le Grand announces, surprisingly – well any way, surprising for a barrel maker. "But this is … remarkable". He's talking about the Odyssée. We're all over the moon about it. Probably our best ever. He is less enthusiastic about the chenin blanc, saying it's not quite ma tasse de the, another surprising comment coming from a wine man, come to think of it. Not his cup of tea? We can't believe it, we all think it's great. In fact, all the wines are showing really well, excepting for our top wine, which is still a bit stressed out by the bottling and needs a few more weeks to settle down. So, a good start to a month which is scheduled to take us to unprecedented heights …
Saturday July 3
The High Point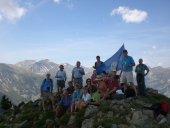 I have discovered that I am not a walking talker. Either it's walking, or else it's talking. I have also discovered that there is absolutely nothing on earth quite like a glittering glass of cool, sparkling, fresh Blanquette de Limoux on the summit of Rives Blanques at 2544 m after a five-hour climb. I will never, ever forget it, that explosion of beautiful bubbles and pristine mountain air, a heady cocktail of un-corked elation. And I have discovered the truth of what Dan – who broke the world record for climbing three British peaks in 21 hours – said early on in the day: "Yes, of course you'll make it to the top if you just think you will".
What a huge metaphor this mountain is!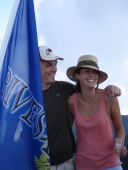 We have all the makings of a book here: the Glassblower's Tale, the Vintner's Tale, the Inn-keeper's Tale, the Philosopher's Tale, the Writer's Tale, the Soldier's Tale … there are 20 or so of us, a complete mixed bag, each with our own stories, steadily putting one foot in front of the other, working our way up. There is a profusion of wild flowers: gentian, azalea, broom, orchids, forget-me-not; overhead wide-winged eagles swoop and slide; wild deer and mountain goats slip into the shades of the woods. A crystalline, mirror-clear stream gurgles alongside. This is magic. It is absolutely unbelievable. Incredible
It is also awfully steep.
The orange alert was lifted last night and the sky is a blameless blue. From the top of Rives Blanques you can see the world stretching out to infinity. We plant our flag and have that magical, totally unforgettable glass: a big moment in the life of a small vintner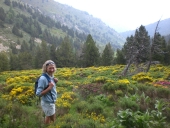 The way down is pretty painful, in life as on the mountain. Mist rolls up suddenly and unexpectedly. Clouds draw rank and start spitting fat, wet drops. The Glassblower sits down and whips an umbrella out of her rucksack, like Mary Poppins. Next, you think, she'll be offering us a nice cup of tea, but then, she is the mother of an adventurer whose wedding dress was made by Gortex. That explains quite alot, umbrellas in rucksacks included. The Inn-keeper, who has impressed our leader with his fitness and cheerfulness, now comes bouncing past, still fit and still cheerful. (Our leader, being a Royal Marines officer, puts a premium on fitness and good cheer.) The Philosopher follows, rather more gingerly. The Accordion Player is next, humming a Scottish reel.
We all make it back to the basecamp, and what is waiting for us there?
A lovely, sparkly, exuberant, explosive, exhilarating glass of Blanquette de Limoux! Never better served or deserved. But still not quite like the one at the top. Nothing ever will be quite like that one again.
(Some pictures of the expedition and the mountain here and even better ones from the Manufacture Royale here)
Sunday July 11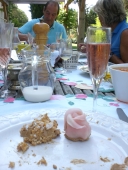 Thirty-five years of marriage, ten years of Rives-Blanques: good reason enough for a Vintage Rose breakfast. Then the Holland v Spain game, probably the only time in the history of the World Cup that one team sings its allegiance to the King of the other team, but even that didn't help them win. No good reason for the Hollanders in the house to finish the day with another Vintage Rose.
Tuesday July 13
Viva Vinum!
"Anyone on a discovery tour will land on their feet in Limoux" says the leading German wine magazine, Vinum. "The untypical Languedoc … a trove for treasure hunters."
The May issue of Vinum hit our desk rather belatedly today. "Self-assured," they say, "these wines shine even more through their minerality, their aristocratic texture and their aromatic complexity".
"Corporate identity and modern marketing techniques don't mean anything to these winegrowers; here they believe in quality, terroir and climate."
"Limoux freaks think they make the best chardonnay in the world", they added.
Included amongst those chardonnays is our Odyssée, described as eine Bombe … not much lost in translation here. In fact, the whole Rives-Blanques range of AOC wines was cited, but the tasting notes we enjoyed the most were for Dédicace, the chenin blanc: "full of feeling and temperament".
Which is how many of us are, quite a lot of the time.
Thursday 15 July
Porsche Posh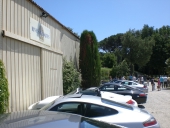 Not every day do fifteen streamlined Porsches pick their way down the little winding road that leads up to Rives-Blanques. This is causing quite a commotion in the commune. Our courtyard looks like a particularly prosperous dealer's showroom, chock-a-block with cars all a-gleam and a-glow with confidence. The air even smells of leather seats, mingling with innocent wafts of the jasmine blamelessly climbing up the wall. This is a very jolly lot out on a jolly, and even the weather conspires to cooperate. It's a wonderful day, the first in ages that we've actually seen the mountains.
"But I want it with a cork, not a screwcap" one of the drivers complains, looking not at the mountains but at a bottle of our Chardonnay du Domaine.
"I'm sorry, it only comes in a screwcap".
"Well, can't you put a cork on it?"
Oh well, one sale lost. But a very jolly tasting, none the less.
Friday 23 July
Fame at Last!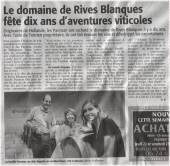 Two local newspapers, the Indépendant and the Midi Libre, source of all the news that counts, both carry the same article today, about the approach of the tenth harvest at Rives-Blanques. Which makes it twice as newsworthy, presumably. With the same picture, twice over – but not on the peak of Rives Blanques, where we took the most dramatic photo that has ever been taken of a bottle of Blanquette – probably in its whole 600 year-old history, come to think of it – but in our cellars in the winery, where, as the newspapers kindly report, we were able to develop the vineyard and its market over the past decade "in all calm and quiet."
Calm and quiet??
You must be kidding. But if it's in black and white, twice over, it must be true.
…/to be continued