The world's most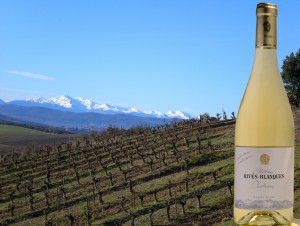 important trade fair of organic wines, Millésime Bio,  takes place in Montpellier from January 28 – 30.
After three years of 'conversion', Rives-Blanques will present a barrel sample of its 100% mauzac, Occitania 2012.
Occitania is made from uncloned 50-year old vines, in a south-facing field surrounded by woodland on the edge of the vineyard.
It is, to date, the only 100% mauzac made in the Limoux appellation, and therefore claims to be a truly unique wine.  Mauzac is a grape that has been growing in LImoux for over 600 years.
In 2012 Occitania won the gold medal of the Sommelier Wine Competition, and the silver medal from Decanter World Wine Awards.  It was also included amongst the top wines of the vintage by La Revue du Vin de France.
Sharing our stand will be Brigitte Chevalier of Domaine de Cébenes, with her lovely gold medalist Faugeres
The Sunday evening  before Millésime Bio, Languedoc's irrepressible female wineg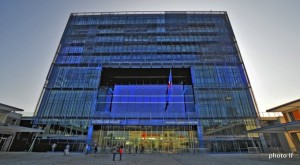 rowers, the Vinifilles, will hold a gala tasting of their wines at the stunning new Mairie of Montpellier, considered one of the most important examples of modern architecture in France.  All the Rives-Blanques wines willl be on the table then …. along with over one hundred other wines produced by 19 other Vinfilles in 16 appellations of the Languedoc-Roussillon region.