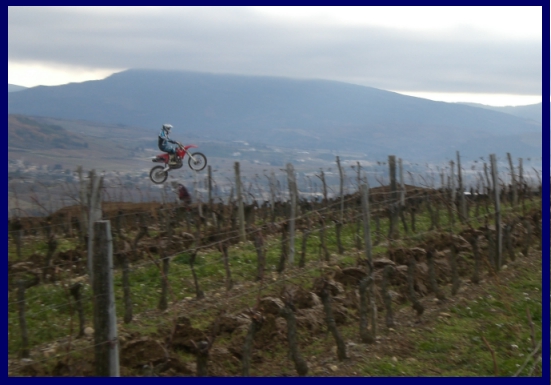 The calendar's clock moves its hands from 10 to 11: enter the second decade of Rives-Blanques. The first ten years were spent establishing a name and a reputation. The focus of the second decade, starting from today like a good resolution, is to make wines that are a closer and finer expression of their 'terroir'. And we really mean it. In the mean time, the month brings us enough other things to think about as well: the bottling of the first of the 2010 wines, tasting and tentative blendings of the other 2010 wines, wine tastings with importers and wine merchants … and of course, the pruning of the vines, which goes on … and on … and on. Any time you idly open a bottle of wine, think of the lonliness of the long-distance pruner …
Wednesday January 05
2010 In the Bag
… Well, actually, in the bottle. And safely under screwcap. That's the first of the wines from the last vintage to be bottled: new year, new wine – it almost sounds like a proverb. And this morning was a good 'fruit' morning for it too, if you believe the lunar calendar (click here for this month's best wine days). The first sip of our newly minted wine, just before my breakfast boiled egg early this morning, seems to confirm it – though the final proof will be in the proverbial pudding: this afternoon slides into a "root" day, and once the wine has settled, we can try to taste and test the difference. If any.
Thursday January 06
In the Barrel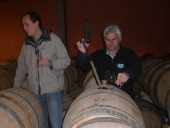 First thing this morning we taste yesterday's wine. Its colour calls for words beyond our everyday lexicon. It is … chatoyant. It … coruscates. In short, it is beautiful: clear and crystalline. Then we move into the cellars to taste the rest of the 2010 vintage, still sitting it out in their barrels. This is an interesting one. There is a definite difference between the Chenin blanc planted in 2004 and the old vines. The interesting thing is that it is the wine from the young vines we all fall for. We taste our way through all the barrels, grading them as if dishing out exam results, and by lunchtime the day's work is done. Amazingly hungry business this is, we're famished and fall on our food like a pack of starved dogs.
And emerge to see that the day is still shrouded in mist and melancholy. Our new importer in Texas comes this afternoon, to see our famous view. Of which there is none to be seen. All we can offer is just a single glass of coruscating, crystalline, chatoyant white wine containing the perfect pure clarity of all that is hidden from sight.
Monday 10
In the Pink

The colour specialists Pantone tell us the colour of 2011 is … pink. Not soft gentle pink, not the discreet pink of an English country garden, but a flamboyant, bright, dynamic pink: the pink- thinking antidote to stress, depression and countries going bust. So we have undressed our pink fizz right down to its pinkety-pink essentials as the latest vintage – 2008 – comes on line. Here is more information about it. Trouble is, the camera hasn't met Pantone, and can't quite catch the colour.
Wednesday 12
In the Dumps
Awful weather continues: uncomfortably mild, depressingly wet, gloomily overcast. We find ourselves wasting our time doing something we never would normally confess to doing: taking the labels off 600 bottles, then sticking labels on 600 bottles. By hand. Self-adhesive labels, to make matters worse. A mistake was made in the labelling line some time ago, and now we have to put things right. It sounds incompetent, stupid, impossible but it's true none the less … and I don't know a single winery that this hasn't happened to.
Thursday 13
In the Middle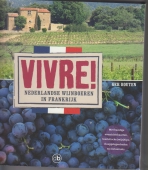 This new book has just come out, written by a retired Dutch journalist with more than just a passing interest in wine, who took the time to hunt up his compatriots who make wine in France. The surprising thing is there are forty-four of them, spread right across the country from Bordeaux, Burgundy and the Loire, to the Languedoc, the Rhone and the South West, all of them waving the tricolor the wrong way round. Right slap bang in the middle of the book is the centre-spread four pages dedicated to Rives-Blanques – click here to read the inside story of a Dutchman who goes French.
Monday 17 January
In the Belfry

Thinking vaguely about introducing a new wine, but that's a secret. Do we really want to add another one to the range? That is not at all certain, but like mothers who are a 'little bit' pregnant, you can't help fantasising. Thinking about the name. Thinking about the label. We have a brilliant idea: Rives-Blanques is part of a European designated Natura reserve, because it is a 'woodland site … favourably situated between Atlantic and Mediterranean influences', in short, a Site of Community Importance. The reasons for this are threefold: the forests and grasslands, the wild orchids, and certain protected species, including the Grand Rhinolophe and the Petit Rhinolophe (who is rather like the Grand Rhinolophe, only smaller). Now, doesn't Grand Rhinolophe have a certain ring to it? Nice name for a wine? Nice picture for a label?
No, not when you meet the Rhinolophes face-to-face. Big or small.
Maybe better to search out a nice orchid instead (also on the protection list).
Tuesday 18 January
In the Press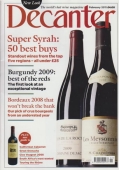 It is in black and white, so it must be true. Particularly if Decanter says so, the authorative voice of the wine world: Limoux is the "unheralded Languedoc AC" where you can "unearth whites of real interest". We've been saying it all along, but people are more likely to listen to James Lawther, Master of Wine, when he writes in Decanter.
He describes Limoux as "an island of white in the Languedoc's sea of red", saying that "the best of the fizz offers outstanding value" while "good dry white wines offer a freshness and complexity not easily achieved in the warm south".
Both a fizz (Blanquette de Limoux) and a 'good dry white' (Occitania) with the Rives-Blanques label were included amongst Decanter's choice of the best wines from Limoux. Both are based on the indigenous local grape, Mauzac.
So that puts the ruby in our Tuesday.
Thursday 20 January
In the Wild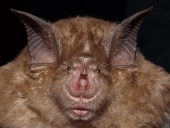 Really becoming quite fond of this guy, a Grand Rhinolophe close up. (Possibly the best friend of the bat zooming around our bedroom as we slept under sheets pulled well over our heads the other night.) Today we had a good look at him, and at the other protected fauna and flora, as we were given a presentation, in a freezing cold community hall, about Limoux's biodiversity. Did you know that Limoux has the highest conversion rate to Agriculture Biologique (organic) of the whole Languedoc? That the Mediterranean is one of the 34 most important biodiverse hotspots on our planet? That 70% of French fauna and flora can be found in its part of the Med? No sir, I did not. (But I do know that I am freezing.)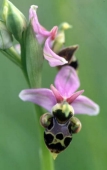 Even more interesting, Limoux is a partner of Natura 2000 and BioDiVine, two European programmes centred on the problems and the protection of Europe's biodiversity. Enter the Rhinolophe, the deciduous forest, the non-coniferous evergreens, the dry grasslands, the Royal Eagle, the Busard, the woodpecker, the sword-leafed orchid, the pyramid orchid …
Enter the vineyard, that adds to but can also detract from this biodiversity. We talk about pesticides, planting crops between the rows of vines, preserving old walls, making hedges …
One young grapegrower, certified Sustainable Viticulture, shifts in his seat. He puts up his hand and says "That's very interesting. We do everything we can. But there's one endangered species you haven't talked about".
The representative from the Ministry lifts his head and looks at him enquiringly.
"The grape grower."
There was a titter of approving laughter.
"Quite honestly, we haven't got the time. We haven't got the money".
And to this there was no answer. Not even from the wise old head of the Grand Rhinolophe.
Monday 24
In a Crush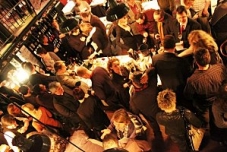 The place is called Chez Boris, and it is just around the corner, down a splendid tree-lined boulevard, of Montpellier's airy and elegant Place de la Comédie. It's a wine bar/restaurant, and tonight it has been invaded by a bunch of Outsiders. Incroyable! muttered an astonished customer who had dropped in for a bite to eat, as he pushed past a battery of bottles and a spitting, swirling, tasting, talking crowd in the faint hope of reaching his table.
Incredible, indeed. There were just under a dozen winemakers from, but not of, the Languedoc (hence the name Outsider), each accompanied by four of his or her wines, squeezed around a table probably intended for as many sedately seated diners. And the crowds just kept on pouring in. Writers, sommeliers, restaurateurs, importers, and possibly a number of free-loaders as well. How could you tell?
As far as parties go, this was a good one.
Friday 28
In a Rush
Very very early start to be back in Montpellier even before most people have reasonably got their day going. Or even got out of bed. It's the Forum International d'Affaires, a jamboree designed by Sud de France to bring wine importers and wine producers together. The big difference is, the producers pay for the privilege of having a meeting – though you have little idea about who is waiting for you there. Like a TV Blind Date programme. The only trouble is, this particular date from Venezuela had a good time last night, and keeps verging on toppling into sleep. A glass of bubbles will wake him up, but he can't face tasting.
…/to be continued.