BEKIJK DE VIDEO  hier!
Friday 26 September marked the official start date of the 2014 harvest at Chateau Rives-Blanques.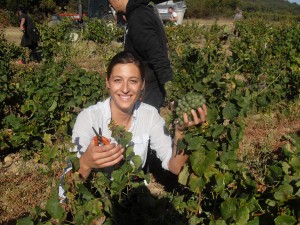 As always, we started with the hand-harvested mauzac, chardonnay and chenin blanc grapes for our sparkling Blanquette de Limoux,  and  Crémant de Limoux.
Conditions could not have been better.   A brisk westerly wind, brilliant sunshine and lots of bonhomie accompanied the harvesters.  The grapes rolling down the sorting table could not have been more pristine or more perfect.  It seems a very propitious beginning.
The lead up to the harvest has been complicated: a warm winter followed by a cool spring and a wet early summer meant that although the vines flowered according to the textbook, the ripening process became a very long and drawn-out affair.  Because we place the utmost importance on not harvesting the grapes until they have achieved the balance between sugar and acidity that best suits our wines, we delayed starting the harvest until today.
For a day-by-day account of the harvest, please read our Diary of aVineyard.  A less regular account can be followed on FaceBook or on Twitter.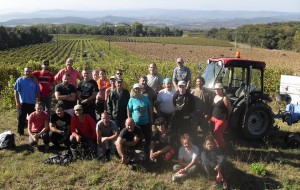 Wednesday 8 October:  today at noon we finished the harvest.  We have already dubbed 2014  The Good Luck Harvest;   nothing went wrong and everything went right – not so much because of good management, but more because of good luck.  Intermittent hail in the region did not fall o n Rives-Blanques, and the terrible floods that bedeviled the heart of Languedoc's vinelands did not touch us.  Instead, we had unremittingly good weather, blue skies, and a brisk westerly wind throughout.  The grapes were beautiful.  It is already clear to us that this will be another vintage blessed by exceptionally good acidity, which lends freshness and elegance to our wines, and also endows them with good ageing potential.  We sighed a huge sigh of relief as the last grape rolled down the sorting table and into the press: it all looks very promising.