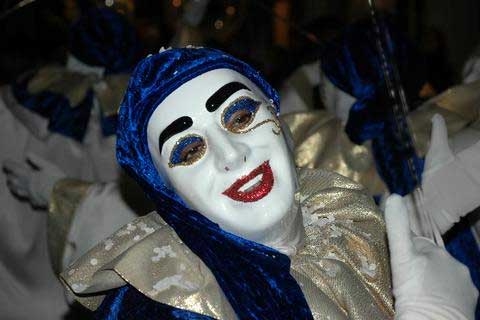 Just when we were beginning to wonder if the vines might get the wrong idea and think Spring had already started, a cold snap snipped right through our warm days, cutting them into ribbons of ice. Winter is still winter after all. We are reassured. The first days of the month were too cold to venture away from the hearth, but soon bolts of bright blue unrolled over us, and the sunshine banged on the windowpane again. The mountains on the horizon are irresistible … once again we tumble outdoors to play. Maybe winter's not so bad after all. Excepting for the carnivaleers, of course, who endure it all – rain, shine, sleet and snow – every Saturday and Sunday, as the world's oldest, longest and longest-running carnival gets into its stride again. Limoux is famous for this, as it has been since the 16th century, and we look at our grape-growing neighbour, an enthusiastic trumpeter who trumpets his best behind the carnival dancers, with renewed respect and interest. Endurance …. a word that contains an end but has none in sight. Quietly but steadily, the vines prosper, and we expect to have them all pruned by the end of the month. They look neat and tidy as they stand in well-ordered rows, shoulders hunched against the cold, or arms widespread to embrace the warmth. February is a nice calm month for us, and calm reigns over the vineyard.
(Famous last words …)
Wednesday February 2
A Cool Pause in a Warm Place
Andrew Jefford is one of the best known British wine writers/critics/tasters … he's also the Louis Roederer 'International Wine Columnist of the Year', and if you read his website you get an idea why. A lot of people have written a lot of words about Limoux, an 'intriguingly unique … fresh, green, unexhausted part of the Languedoc', but seldom as lyrically and with such fluent ease as this. So yes, how flattering that the pen pauses to set our Mauzac to music. A great review, as well worth reading for its content as for its style.
Tuesday 8 February
Extraordinary & Plenipotentiary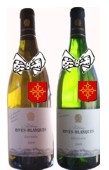 Great news – infact, extraordinary news, with plenty of plenipotentiary … Wines from across the length and breadth of the Languedoc, still the largest wine region in the world, were tasted last month by an expert panel in the United States to determine which wines would best represent the Languedoc in their country. Of the thirty chosen 'Ambassadors', two come from Rives-Blanques. This is a big deal for a small vineyard. They are our Chardonnay, Odyssée (2009) and our chenin blanc Dédicace (2008): an interesting choice, as both grape varieties are normally associated with other regions in France – the chardonnay with Burgundy, and the chenin blanc with the Loire Valley. Which just goes to show, as we always say, how well the great grape varieties can express themselves in the foothills of the Pyrenees…. excepting this time, it's the wines who said it.
Thursday 17 February
At home with Chenin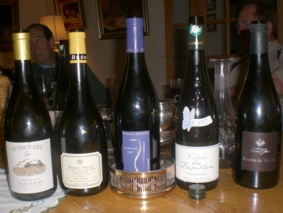 We always said our terroir was exceptional for the chenin blanc grape … and never has chenin flowed so fine or so elegant as today at Rives-Blanques.   Excepting that it wasn't our chenin blanc.   We lined up wines from 2001 up to 2009 from some of the best houses in the Loire valley, the natural and historic home of this grape, to taste our Languedoc version (Dédicace) alongside the benchmark bottles made by the great, the good  and the glorious.  Chidaine, Blot, Huet, Beaumard, Baudouin, Saulaies, Saint Just … bottles from Vouvray,  Savanniere, Montlouis, you-name-it,  just about every region was there. (And Limoux of course.)  It's a tough job sometimes, but someone's got to do it.  We commiserate with each other over lunch afterwards.  Our colleague, friend and competitor, who used to make wine for Tracy in the Loire, grabs a rapidly emptying bottle: "the trouble with this business," he says, "is that when it comes to selling your wine, it's only one quarter of the bottle you're selling.  The rest is just the story behind it."  He looks at the absolutely fabulous Quarts de Chaume 2007 from Beaumard still in his hand.  It happens to be exactly one quarter full.  But one doubts that Beaumard needs three quarters story to sell it.
Friday 18 February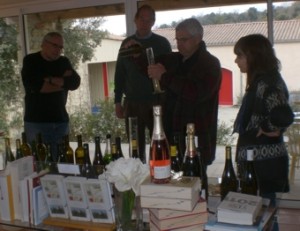 Everyone rather astounded yesterday how good our chenin 2005 was: a robust denial to anyone who thinks Languedoc white wines have no staying power.  But today our thoughts are with the wines that are no more than a gleam in a glass: the 2010s.  We continue tasting and selecting the wines still happily ageing  in the barrels, and then come up to the warmth of the tasting room to do just that: taste them.  A bit of this, a bit of that … less of that barrel, more of the other.  Hmm, like that.  Perhaps just a touch more chenin needed?  This is a fascinating business.  By the time we close shop, we have a pretty good idea where we are going.
Saturday 19 February
Again we wonder if it's worthwhile putting wines into wine competitions.  Again we say it is not.  Again we are glad we didn't.  Again, at the great Concours Général de Paris, the granddaddy of all wine competitions, some producers and their oenologists were seen judging their own wines.  Again they came home with bags stuffed with gold. Again we swear we'll have nothing to do with it.  And again another wine competition comes around … and again we say, well, maybe this time … just this once …
…/to be continued.