We were getting more than a little worried last month.  It was cold, it was rainy.  The grapes were sour, and so were we.  The sky scowled (and so did we).  And then suddenly the calendar's page turned, and the month's mood with it. Right now the sky is a brilliant blue, the grapes are singing, the wind is blowing a dry westerly blow, and the sun is shouting  hallelujah's all over our fields.  We could not possibly have a better, bolder, more beautiful or brilliant ushering into harvest 2014.
Monday 1 September
Step One Harvest-wards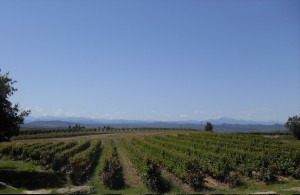 Now I ask you, could you have a better day than today?  It is difficult to imagine you could possibly go wrong.  Experience reins in our enthusiasm: anything can go wrong.  And probably will.  But in the meantime, we're all soaking in the sunshine, and enjoying it.  Grapes included.
Tuesday September 2
Step Two Harvest-wards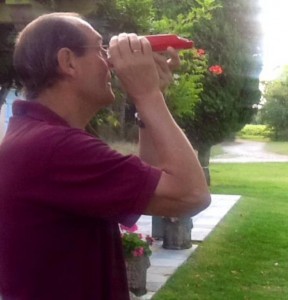 The early morning embraces us with a smiling face.  Another great day coming up. We go up and down the rows of vines in a couple of fields, picking and tasting grapes at random.  Bacchus, the fat Labrador, accompanies us, tasting the grapes with a lot less discernment.  It's clear to us that the acidity is still to high, and the sugar levels too low, so we'll probably have to wait another week before starting the harvest.  Just to be sure, and to monitor their progress more scientifically, we take the grapes back to the house, squeeze them and then read the sugar and acidity levels.   Nope. Not there yet – no where near.
Wednesday September 3
Step 3 Harvest-wards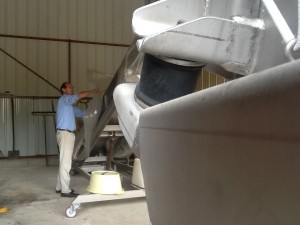 It feels like Christmas, as we wheel out all the toys and start unwrapping them.  The tractors get a thorough revision, the press is polished up, the sorting table and vibrating trailors are unpacked and hosed down.   And outside, the sun continues to shine brilliantly.  What we're loosing at night with our famous cool nights, we are making up in the daytime.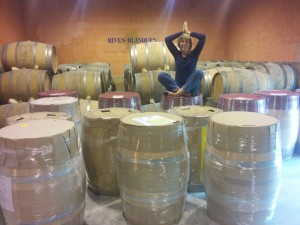 The last of our new barrels arrive: beautiful, artisanally-made works of art.  We have a total of about 200 barrels, ranging from brand-new to about three or four years old, made for us by three different coopers, plus a new and unknown fourth who is being tried out this year.  Each barrel and each cooper adds his and its own je ne sais quoi to our wines. And here's Caryl on a barrel, adding her own je ne sais quoi as well,  before they are unwrapped and put to work.
While outside, the sun continues shining …
Thursday September 4
Step 4 Harvest-wards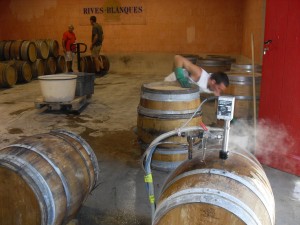 It took three tough men three tough days' work to get all the barrels cleaned.  First they were all hauled out into the courtyard (the sun hits us with a friendly slap as we step into the dazzling day – shine on!).  Then each one is meticulously cleaned both inside and outside – the former with a 90 degree pressure hose, and the latter by pure manpower.  Steamed, cleaned and pristine , each barrel is then carefully put back into place, its row and position carefully noted on a data base.  The end result : an immaculate winery (for as long as it lasts).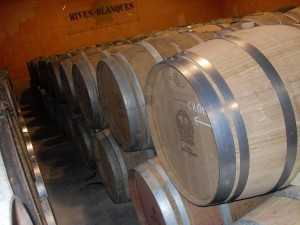 Visitors who came here for our Tuesday Tour, Talk & Tutored Tasting earlier this week and saw the hard work going on, were astonished  when they came back this morning to find such orderly peace and calm.
As they left, they paused and looked at the stunning view.  "I hope this weather lasts until we leave on Saturday!" they say.
"I hope it lasts at least for the next three or four weeks," I agree, fervently.
Friday September 5
Step 5 Harvestwards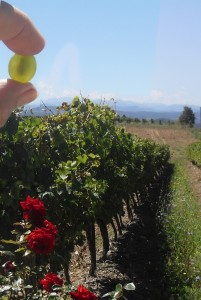 The day gets off to a shaky start: we had a bit of rain last night and a sullen layer of haze sits on the horizon.   People have been harvesting all around us, which is a bit unnerving.  We pick and taste the grapes again.  When you hold them to the light, you can see the pips through the skin.  When you bite them, they crunch satisfyingly between your teeth.  The grapes are ripening …  slowly.   We mentally begin revising our start date.  Maybe next week we'll nip in for a quick little foray, make some really crisp juice as an energizer for the Vin de Pays d'Oc.   On vera.
The grapes will tell us when,  all in their own good time.
Sunday September 7
In the Purple 
Literally a day of rest, we pick figs, pears, and table grapes as there is nothing else to pick, and make mountains of jam, jellies and ice-cream.  The weather holds out happily

And then, as we watch the sun downing with a glass of Blanquette de Limoux in our hands, we come across this:  Jancis Robinson, the world's favourite and most famous female wine-writer, has published the results of her Languedoc Assortment tasting in the Purple Pages.  Yay!     Absolutely wonderful tasting notes.  "The Panman family is going from strength to strength" she says. We are hugely encouraged.
Though the truth is, she's probably giving us too much credit, and the vineyard/vintage not quite enough.  But there you go, signed, sealed and delivered by the great Mrs Robinson herself.
And the more we read and re-read what she has written, the broader our smiles.  Our chardonnay and chenin are compared to their aristocratic cousins in Burgundy and the Loire, our mauzac is a textbook example of what a mauzac should be.  Our wines are wines with ageing potential.  And they are given wonderful scores.
Oh happy Sunday!
Monday September 8
Heartstop Monday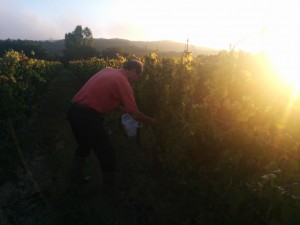 Out early to taste and test more grapes.   The  string of gorgeous days we've been having has paid off: sugar levels rising nicely.  If this goes on …
But will it?
Jan's favourite weather forecast says storms.  Mine has pictures of grey clouds with drops of falling rain, and symbols that are unmistakably lightening.  The sky becomes grey and stormy.  There's hail in Carcassonne, torrential rain all around.  It's closing in on us …
And then it passes.  Not a drop falls on Rives-Blanques.  And the sky smiles on us sunny side down.
Tuesday September 9
Step 6 Harvestwards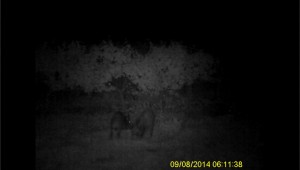 This (click here) is what our biodiversity camera caught last night – boars having a ball.  First the mama boar, then the papa boar, then one … two …. three …. four boars or more.  All out having a  nice little feast on our rapidly ripening grapes.   They have abandoned the table grapes and homed in on the wine grapes: that means only one thing.   The time to pick them is imminent – the grapes, that is.  We'll get the boar later.
Wednesday September 10
Pre-Harvest Harvest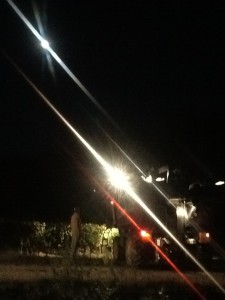 It's not really V-Day, just almost.  We do a quick foray into the chardonnay, the machine, the men, the moon and me –  way before the day has even broken.   We're after some fresh, bracing chardonnay for our Vin de Pays d'Oc.   The grapes roll down the sorting table like a textbook illustration of what perfect chardonnay grapes should look like.  "Magnifique!" Eric exudes, "impeccable!"
And they really are, too.
Outside the day begins to break.  The grapes are still very cold to the touch, but you can feel the day beginning to warm up around you.   The light is shaping,  shifting and lifting, and we've already worked our way through four tractor loads of magnificent, immaculate grapes.   "Where's Christophe?" I ask, wondering why the driver of the harvesting machine is no where to be seen.
"Oh my God, has no one told him to stop?"
No one has told him stop.  Christophe is happily harvesting away.  Unstoppable until stopped.
So we got in a bit more fresh, bracing and utterly beautiful chardonnay than we may have  originally intended.
Saturday September 13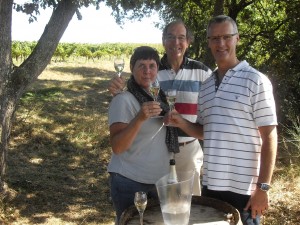 How long can this amazing weather go on?   Paradise, we are living in paradise.
Henk Bart, one of our Dutch importers and his wife Wilma come by to visit us.  They are in holiday mode.  We are in holiday mode too:  celebrated with a glass of Blanquette de Limoux, aged two and half years on the lees.  And the  vines are sniggering behind our backs, because they are the ones who have put us on this compulsory holiday.
Monday September 15
Step 7 Harvest Backwards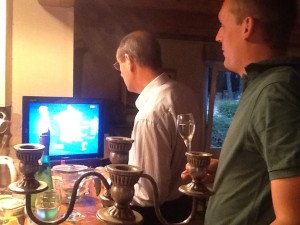 Slow ripening is supposed to be a virtue, but this is very slow indeed.  No way we'll be harvesting this week.
The weekend did something terrible to the weather.  Suddenly overcast, dark, threatening.  We can see storms flashing around in the Pyrenees.  The wind has changed: it's the dread marin, bringing the soupiness of the Mediterranean our way.  Not what we want.  The weather forecast on TV offers no consolation at all, no matter how cheerfully delivered.  Storms are forecast throughout the region.
And then the lightening whips a threatening crack just to the left of us, followed by an immediate growl of thunder.
Hail hits just 10 km away.
Wednesday September 17
Step 7 Harvest-wards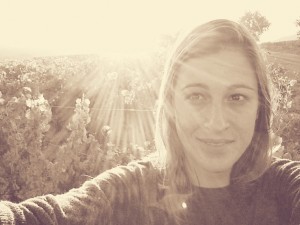 Up before the sun to taste and test the grapes.  Really humid.  The horizon is romantically  misty, which doesn't help at all.  But while we're out there walking between the vines, it seems to lift and blue skies push through.  Maybe things will be okay after all.  The good news is, the grapes look good.  Xaxa takes this selfie of Xaxa, the sunrise and the vines while picking and tasting the grapes.  Acidity is droppping.  Slowly.  Sugar is rising. Slowly.  One thing looks certain: we're on a compulsory holiday until next week for sure.
Thursday September 18
Busman's Holiday
So we're cooling our heels.  Playing the waiting game.  The grapes will tell us when they're ready, all in their own sweet time.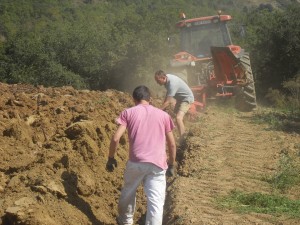 But it's not much of a holiday.  We start preparing a field called Blaise – named after a certain Monsieur Blaise who owned it once  upon a time – to be replanted with mauzac vines.  It's been lying around waiting for a day exactly like today, so we seize the moment.  Or rather, the moment seizes us.
Friday September 19
Picked some more grapes for the lab early this morning.  They are looking great, which is a happy thought when  you consider that the weather we've been having hasn't been. Or not particularly. For as far back as we can remember,  we would be harvesting now, excepting for last year.  A month ago I said this was shaping up to be like 2013, and I wonder if for once I was right?
Sunday September 21

Hot, hot, hot.
Good, good, good.
Monday September 22
Everybody's goin' surfin'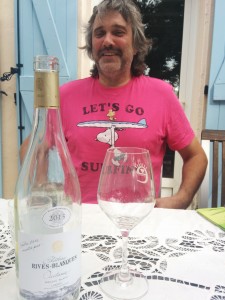 Valts really puts us in the holiday mood with his bright pink T-shirt.  He's our importer in Latvia, and he has brought his family to come and spend the weekend with us.  A 4  m surfing board isn't the kind of kit most people bring when they come to Rives-Blanques, specially not on the eve of the harvest, but then Valts is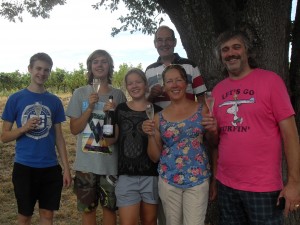 married to Ilona Grinberga, the Olympian race boarding World Champion from Latvia, and they are on their way to the 2014 World Championships in Girona.
We waved them off this morning, and then went out to count our grapes again. "Surfing and wine"  he says happily, "wine and surfing … it's a lifestyle thing."
Friday September 26 
V-Day Hurrah!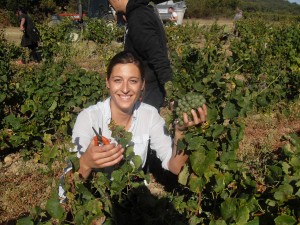 It's the vendanges!  C'est parti!! We're off into Harvest 2014 today.
And what an incredibly gorgeous, brilliant day it is too.   What a way to go!
The harvesters are up and around even before the sun is.  We haven't seen them for a year.
"The patrona has become even younger and more beautiful!" says Daniel, hereinafter named Oh Danny Boy.  He sure knows which side his bread is buttered on.
Laurent, the baker, is beaming. He is a slight man, and the force of  Jean Paul's back-slapping greeting nearly sends him reeling.  Jean Paul is the one who works in the catering office of the Mayor of Carcassonne, and was told to go harvesting for health reasons.   To lose weight, to put it more succinctly.
"It's our fifth harvest here!" says Oh Danny Boy proudly, establishing his right of leadership as is befitting an ancien légionnaire.
"My sixth" sniffs Jean Paul.
"Oh, seventh or eighth, can't remember" Laurent shrugs his slight shoulders.
They've all been with us for a long time, and it's great to have the team back: the nimble-fingered hard-working Si-Fun and her husband, Patricia and her gang, Nicholas the nonchalant porteur, Ahmed, our ever-amiable right-hand-man for all seasons,  and many others – our extended harvest family.   As always, there are a couple of new ones introduced by the old ones, and one of them is a dancer.  I shall have my camera ready when he does a saute arabesque in the vines.
Trouble is, one of (nonchalant) Nicholas' team hasn't shown up, and Jan-Ailbe has to replace him: a big man picking a small vine, poor fellow.
At the sorting table we can inspect the grapes one by one.  The mauzac rolls past our fingers like wonderful, gleaming throws of emeralds.  The grapes are impeccable.  It's a brilliant day in every way.
 Saturday 27 September
 Man and the Machine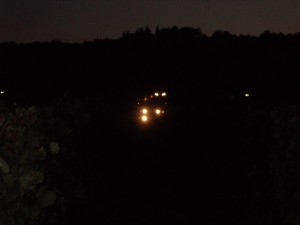 Very early start this morning as we machine-pick the last of our grapes for our chardonnay-chenin Vin de Pays d'Oc.
Again the grapes roll down the sorting table like perfect marbles.  Numbingly ice cold to the touch.  They look stunning. We are doing splendidly, getting through two tractor loads at great speed, when the harvesting machine's conveyor belt breaks. (Click on the photo for the video).
Everything comes to a halt.  The sun rises and the day clears into magnificent blue-skied opulence.
And that is how, despite our best intentions, we end up finishing the machine harvesting in the early afternoon.
And why I have the time to taste our wines with a couple of amiable Germans who drop by, closely followed by a group of lovely Swedes, who were overwhelmed by an Irish eightsome and then seven Englishmen.  Just as well the harvester broke down …
Sunday 28 September

Day of rest.  Our importer in Taiwan drops by for a cup of coffee.  He wants to know when he can come and take harvest photographs.  Not today, no.  Not tomorrow either. And not Tuesday.  Wednesday, all going well. Wednesday will be the day.
The forecast for tomorrow is dreadful.   I look up the Norwegian website in the hope they will be more optimistic: it's better, but it's still not good.
Hmmm.
Tuesday 30 September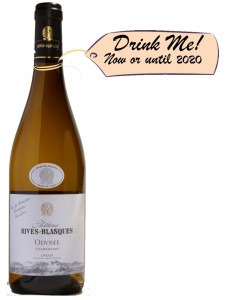 In London, it's smiles all round at the Trade and Press Tasting of a selection of Languedoc wines in the Maison du Languedoc.   Our Odyssée 2013, for which 'you'd happily pay twice the price if it said Puligny on the label', according to Jancis Robinson, is amongst them.  The Languedoc is buzzing in Cavendish Square.
But back home, the Languedoc staggers to its feet, shakes itself dry and gets on with life after the worst, most devastating rainfall ever recorded.   We remained high and dry, so to speak,  thanking our lucky stars.  But the humidity is heavy, cushioning and cossetting a new crop of mushrooms: bad news.  Some of the grapes are showing the very beginnings of botrytis: even worse news.  We need sunshine, clear skies and a clean wind.
We need to get on with it.
…/to be continued next month