We woke up and found it was December.  Which is odd, because a few recalcitrant barrels are still fermenting … so it should be late October, or at a pinch, early November – at the very, very latest.  When this is all over, 2013 will go down in our books as the Year of the Grumpy Grape.  In the mean time, though, we continue calling it "interesting" and "challenging" and "quite unlike any other" – all of which are true.   And another thing is true: we shall never, ever forget Vintage 2013.
Sunday December 1
Talents of the South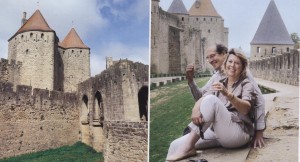 December took off with a bang.  The glossy, highly respected magazine Terre de Vins  published a beautiful and really interesting supplement on the Languedoc's Pays d'Oc wines called Talents of the South.  Of course, it is very nice we were included, thanks to our chardonnay-chenin which is an official "Ambassador" of the Languedoc.  But they wanted to photograph us at the UNESCO World Heritage site down the road, the old medieval city of Carcassonne and not at the vineyard, so in October, the day before we started harvesting, we went down and walked the ramparts with their photographer.  Considering that it was rainy, misty, drizzly, windy  and just generally damp and miserable, he did a pretty good job.  The picture links through to the article they wrote about us.
Tuesday 3 December
Freefalling into the first bottling.  Everything topsy-turvy: the latest harvest in our history, the earliest bottling in our history.  Now we've blended in reality what we played around with in test tubes, this is the real thing – or as real as it gets before it's bottled.  And it seems perfect, absolutely ready to be bottled.
Thursday 5 December
International Wine Challenge cheer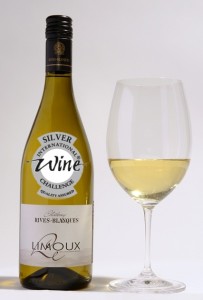 And now we have won our first medal of 2014 … and it is still only 2013!  (Par for the course, you might say.)  Wine competitions are fickle, unpredictable friends.  Also, expensive company to keep.  But I have to say, it is very satisfactory when you  put one wine in, and you get one medal out …  and we are very pleased with this one.   Particularly since it is one of the only two silver medals awarded to the region.
A quick count shows 16 white wines of the Languedoc won medals, (which as we learned in the Terre de Vins  supplement, is the world's biggest wine region),  and nearly half of them come from Limoux.  That too, is pretty stunning.  (Less stunning is the fact that not a single Languedoc white wine won a gold medal.)
Friday 6 December
Turning on the tap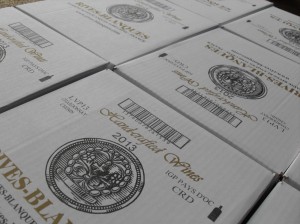 We have been without our Pays d'Oc Chardonnay-Chenin for four months – worse than being a pub with no beer.  So today is  a happy day, we're bottling the first of our 2013 wines.  Jan dares to say, "It's all under control, everything's going brilliantly", and I fear for the worst.  Positively tremble.  We've been there before, we know how much can go wrong.  But it doesn't.  The bottles clink in happy harmony, sedately passing on from cork to capsule to label to carton to pallet.  It's a doddle.
At the end of the day we have a glass.  Wow!  The wine pours out a huge sunny smile, and then knocks us sideways with its knock-out nose.
What's that I said about the Year of the Grumpy Grape?
Monday 09 December

Today Jan-Ailbe presents our wines to a group of  wine buyers and journalists from Hong Kong, Taiwan and China.   The first one he meets, a certain Emily Pan laughs when she looks at his visiting card.  "We have the same surname!" she says, and indeed, the Chinese characters on Jan's card for his surname are the same as hers.
Then along comes Wu Jiemei, who also answers to the English transliteration,  Jan.  "My goodness!" she says, "We have the same first name on our cards!"
And indeed, the characters matched.
He won't forget them.  Let's hope they don't forget him …
Friday 13 December
Friday Fizz

It may be Friday the 13th, but we are feeling quite bubbly about it.  Today the Dutch wine magazine Perswijn published the results of its enormous fizz tasting, rounding up the Champagnes and sparkling wines from all regions, and put our Crémant de Limoux at the head of Limoux.  Makes a nice end of the week and a good beginning to the weekend.
Makes it time to open a bottle and drink to Friday the Thirteenth.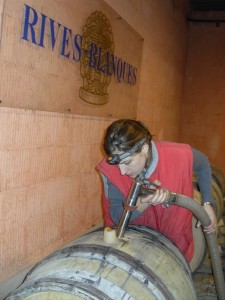 Tuesday 24 December
Twas the Night Before Christmas 
… and Xaxa is put to work, filling barrels.
Wednesday 25 December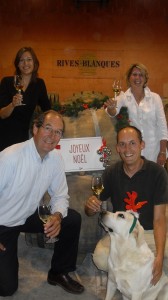 And so we raise a glass to absent friends, to peace in our times, to the joy and happiness of being a family together, and to … wine.
Wine that bridges continents, fosters friendships, stimulates conversation, spans generations, and celebrates  the great moments of our lives.
Friday 27 December
Building Vintage 2014
The new year hasn't begun yet, but we have already embarked on it.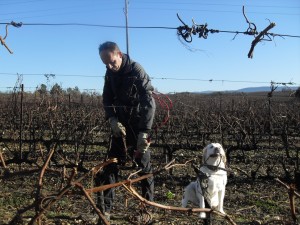 Pruning is the most important of the basic building blocks.  As you prune, so shall you harvest.  A lousy job promises a lousy result.   A good job puts you on the right road to a good harvest … though of course, not even the best pruner in the world can do anything about the weather.
So Jan-Ailbe is out there today.  Fifty vines done, another 87,950 to go …
Ahmed can prune 700 a day.  Monsieur Le, whom Eric calls the Pruning Machine, does rather more.  But Jan does rather less.  Even with the help of Bacchus.
Sunday 29 December
Life in the old dog yet …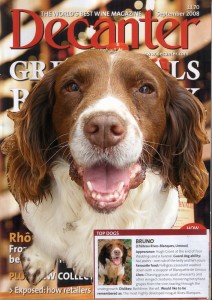 Christmas at Rives-Blanques was remarkable for many reasons, but not least of them was Bruno.
Bruno is already famous, well known to wine lovers all over the world: in fact, Bruno is such an exceptional dog that the word 'dog' should only be used in his context by genuine dog lovers who know Bruno to be something vastly superior to a mere 'dog': a super-human nose with a smile that knocks out even the most seasoned and hardened wine critic; a huge and winning personality blessed with toughness, kindness, and compassion – in short, a Truly Exceptional Dog.   More column inches have been devoted to Bruno than to our wines, and the canine compliments in our Guest Book outnumber the vinous ones. Which must mean either most of the wine world is mad .. or Bruno really is very special.
He is 15 years old, which is very, very old for a Springer Spaniel.  Just before Christmas he decided to die, which was not very Bruno-like.  He lay down on a little Persian carpet in the kitchen and would not eat, would not drink, would not smile, would not wag his tail or lift his head for a whole week.  We told each other, "Well, he is 15 after all … " but as he seemed not to be suffering unduly, we left him there in peace, lying on the little Persian carpet .. dying on the little Persian carpet.
Finally we decided things had gone too far.  "Tomorrow" we said, ' tomorrow we must take him to the vet for the fatal jab.' We discussed what flowers we should plant above his grave.  I composed some sensible syllables in my head for Twitter (he has a big fan club).  We resigned ourselves to the inevitable, 'because he is 15, after all'.
And then tomorrow came, and Bruno raised his head from the little Persian carpet and wagged his tail.  He smiled his famous smile and asked for something to eat and drink.  He took himself out on wobbly legs for a wobbly little walk.  And he never looked back. Now he is manning his post at the door to the tasting room, ready to welcome all comers.
Sentimentality does not fit Bruno well, so it would not be fitting to be sentimental now.  But it did make our Christmas very much merrier.
Tuesday 31 December
2013 finished fermenting!
"I want peace in the cellars!" Eric declared, "no more fermenting wine by the end of the year!"
And the wine listened.
The very last barrel holding the very last of the still fermenting wine stopped today.  We can now say 2013 is over, finished, a done deal.
And tomorrow, on to Vintage 2014!
May it be a Very Good Year.
…/to be continued