Tuesday August 1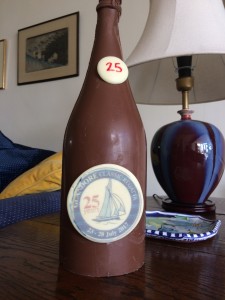 The weather has been blowing hot and cold.  Right now it's cold in the South of France.
And it's raining in the south of Ireland, where we are.  It's almost a comfort to know that in a world of changes, some things never change.  Like Ireland's weather: full of scattered spells and sunny showers, as always.
The two Jans did not distinguish themselves in the Classic Boat Regatta in Glandore last week, and the beautiful  boat Blanquette did not fizz and frolic and froth forth as she would do in a glass.  But they did win a prize, because the folks at Glandore are charitable, and it was both apt and delicious.
Friday 11 August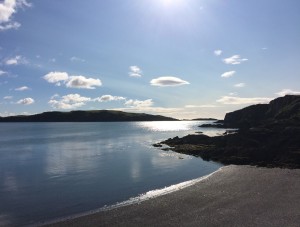 Truth be told, Blanquette did not distinguish herself at the South Cork Sailing Club championships either, though she gave her skipper a good run for his money.  However, the folk at the South Cork Sailing Club are less charitable, and there was no consolation prize …
And then Ireland gave us some more  of her scattered spells, as a parting gift: blue days, blue seas, shooting stars and the Milky Way reaching right down into the phosphorescence in the sea.
Saturday 12 August
All of which, of course, not a patch on the Irish Times' parting present: a nice in-depth article on Limoux wines, and some kind words about our Chardonnay.
Monday August 14
We get home for one day only, and Jan-Ailbe tells us its the first day of sunshine in two weeks.  What does that mean for the grapes?   The month is slipping through our hands at an alarming rate.  And we have to leave for Belgium tomorrow.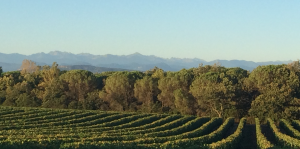 Saturday 19 August
Back home after midnight last night, and up early to pick more grapes and test their acidity and sugar levels.  Jan-Ailbe says we have to start harvesting next week.   The lab analysis confirms that.  Next week?  Next week!  That will make it one of the earliest harvests ever.
The whole vineyard seems to be holding its breath in hushed expectation.
Wednesday 23 August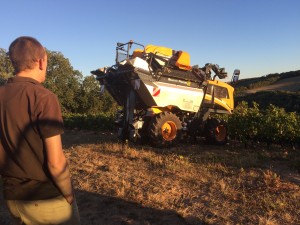 Even at 07h00 you could tell that today was going to be a scorcher.  And it was: blue skied, very beautiful, picturesque and panoramic, but hot.  Very hot.
Christophe arrived in his brand new harvesting machine, only the second time he's ever used it, for the first day of our harvest.  Frightening thing, it's completely automatic, making its own life-hanging decisions like what speed to go down the slope,  all by itself.  I wouldn't go down that slope in it if you paid me, but Christophe is happy, flushed with proud possession.  He slaps its flanks affectionately, and tells us the whole crop of the steeply sloped field we call Lesseigne Chardonnay is only 60% of his machine's capacity.  It has told him so, that's why he knows to the last percentage point.
So the the field we call Lesseigne was picked in under an hour, and then off he galloped to the field prosaically named Chardonnay 2001, to strip all the grapes off their stalks in a twinkling of his machine's electronic eye.
In the cellars we're finding our way around the sorting table and the press again. Incredible to imagine that a year has gone since we were last here… There's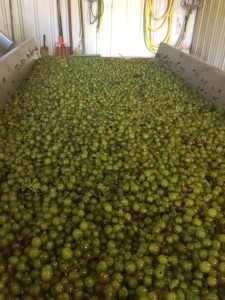 something wrong with the press, not hugely wrong but a bit wrong, and we must get that right before the harvest goes into full swing.  Then the conveyor belt that conveys our grapes from the sorting table into the press groans and dies. We kick it, and shocked,  it jumps back to life. That will have to be checked again too. The cooling system is working fine, even though the electrician who finally installed it yesterday, still hasn't returned to check it, as he promised: "I'm busy" he says, 'it's harvest time you know,  and everyone needs me!". Yea, we think with a degree of muted fury, why didn't you come when we asked you three months ago?
And we get down to sorting four loads of Christophe's machine's output, which arrive steadily  one after the other, commensurate with its own idea of what speed we should  go at – but not quite our idea of how fast we can actually work, we're being kept on our toes.  By 10h30 it's over for the day: we raise our eyes and see the Pyrenees in picturesque panoramic splendour.  The Tuesday Tour , Talk and Tasting  tour-ists arrive just two minutes after the last grape has rolled into the press and find us admiring our view as if we have nothing better to do.
Thursday 24 August
Day starts sultry and cool, but it's just being deceptive.  No more harvesting this week, we're holding off until Monday, and then we'll go into full swing.  Jan eyes the sky and mutters, "I hate this humidity, we've got to watch the grapes like a hawk."
Yes we do, but what good will that do them?
Yellow storm alerte jaune doesn't improve our mood.
The label designer drops in to check on the new labels for our fizz.  He drops into vineyards all over the Languedoc, and has nothing but gloom and doom to report.
"So-and-so has left a whole hectare standing, it's cheaper to not pick than try and do something with what he's got" he says.  "Others are reporting 30% – 50% less yield.  "It's hopeless.  Everywhere."
Now, there's a happy thought for the day.  But then he's just a label designer, what does he know about it?
Friday 25 August
Hate this heavy heat!
Jan bumps into Monsieur Lee in the vineyard.  He's our pruner, and it's not the right time of year for him to be here.
"Just  looking at the vines" he says, "you're lucky!   Most of my customers don't have anything left.  Just wanted to check what there was for me to prune.
"But it looks good.  That's because this is a harmonious place.
"We always say, Buddha looks after good people."
Thank you, Monsieur Lee, but will Buddha look after our harvest as well?
Saturday August 26
We're off!  Now we're in for the long haul.  Christophe arrives bright and early and picks chardonnay for the Pays d'Oc from a field usefully called "2000".   That makes the calculation easy:  the vines are 17 years old – as old as the number of harvests we've done at Rives-Blanques.  The grapes look gorgeous.  They taste delicious.  They're lovely and cool to the touch as they pass through the sorting table, and slide happily into the press.   We clean up the cellars and slide happily into the pool.
And when the press is finished we see that the yield was only 36 hl/ha, about half of what is allowed.
VVG  (very very good) I put in my notes, about the grapes –  but very little too: there's not much to go around.  High quality, low quantity: is this the theme of Harvest 2017?
Sunday August 27
We finish off the chardonnay for our Pays d'Oc today, starting a little later, at 08h00.  It's Sunday after all, and Christophe insisted,  As he's the one with the machine, there's not much we can do about it.  He arrives on the dot, as he always does, cheerful but a bit muted.
It becomes clear early on that there's something wrong with the machine.  We go into overdrive on the sorting table, slowing it down to a snail's pace to pick out all the leaves,   while in the vineyard, the machine continues relentlessly with its unthinking picking.  There are four of us on there table, and by 10h00 we're all done, before the day's  extreme heat kicks in.  The grapes are still cool to the touch, which is the most important thing.
Again, VVG for the grapes, and very little of them.  Is this becoming the theme for Harvest 2017?
Then we splash around with the water, doing our housekeeping and cleaning all the buckets and baskets for tomorrow's hand harvesting.
The forecast for tomorrow is hot, hot, hot.
The forecast for Tuesday is hotter, hotter, hotter.
Monday August 28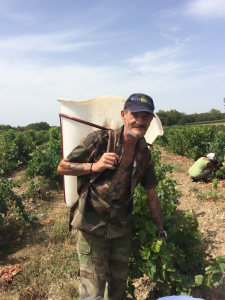 First day of the hand-harvesting: now the fun begins.  And it begins well …
We all meet in the cool of the early morning.  Lots of old hands and kissings and handshakings – Ahmed, Dany, among Christine them, who have all done more than ten harvests with us, and are each  given a Rives-Blanques cap by way of saying "chapeau"! – plus some newbies on the block.  One or two who were expected didn't show, one or two who were not, did.  So it evens out, more or less.
The smouldering, smokey-eyed Estelle clearly was not going to last: vaguely rifling through the vines as if flipping through clothes hanging on a rail, she would select a bunch of grapes, inspect and think about it, pick it, then amble over to her bucket as if wandering off to the changing room.  The untried items were just left hanging there as she drifted to the next rail.    Dany became so frustrated that he threw down his porter's basket and attacked the unpicked vines behind her.  By noon she was gone.
By noon we were dead.  Temperatures soaring to 35º C and that is not a joke.  But not a complaint, not a whimper.  Just lots of requests for water, which was drunk or poured over very hot heads.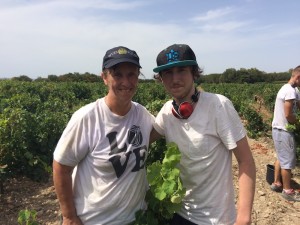 In the cellars, Xaxa had an unexpected cold shower: the pressure of the juice sent the cap of a tank flying, and the juice gushing out over her.  She slapped her hand over the opening, and stood the
re, stuck, like the little boy with his finger in the dyke.   The closure lay on the ground, tantalisingly just out of reach.
The mauzac was magnificent, but when it started radiating heat back at us from the sorting table, we called it a day.
Tomorrow, a pre-sunrise start.
Tuesday August  29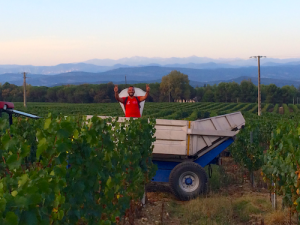 What a way to start a day!
It is amazing.
We're picking the chardonnay on 3 Pechs rive-gauche.   These are our youngest vines and this is the first time they're being picked – and they are going into world from the most beautiful view in the world.
We watch the sun rise, and then slowly but surely, the day begins heating up.  Until it's too hot to hold out.
This unrelenting, horrible, heavy heat is no good for the grapes, and it's no good for us.  So we stop.  The crew are amazing, they haven't complained once.
Wednesday August 30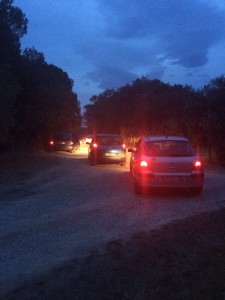 We start early today, to get the job done before it becomes too hot.  It's like Piccadilly in the early rush hour, as we drive out to our top chardonnay field.  Odyssée is being picked  today – at least a month earlier than it ever has been picked in all the seventeen harvests we have done.
Will this heat ever let up?
We finish in the early afternoon, before it gets even hotter.  But the last grapes rolling down the sorting table are beginning to feel warm to the touch, and the leaves coming through as well show how tired the harvesters are becoming.
Free metro, the Norwegian yr.no and acu weather all say the same thing; it's going to start raining, and it's going to get colder. Normally we follow the forecast that suits us best, but in this case, there's none to prefer: they all say the same thing.  Rain.
So no harvest tomorrow.
Thursday August 31
It's cold, yes, but where's the rain?
To be continued …