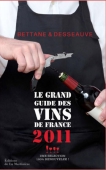 The monumental tasting of 50,000 wines across the entire French vineyard by Bettane and Desseauve with their team of assistants resulted in the 2011 edition of a heavy tome entitled The Great Guide of the Wines of France.
Limoux was well represented, with the inclusion of its top fifteen producers.
Among them, the Rives-Blanques range caught the attention of the tasters' palates. Its chardonnay-chenin Vin de Pays d'Oc was also selected as one of the guide's top price/quality wines.
To read the full text, please click on here.